Israeli military preparing for possibility of IS attack on Syria border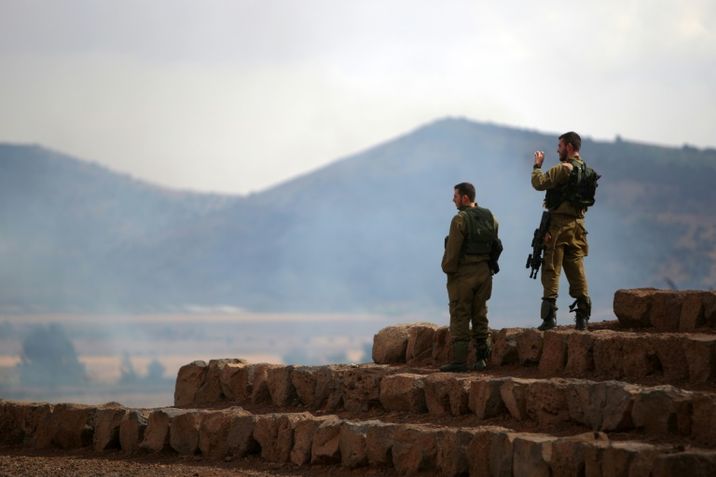 Des soldats sur le plateau du Golan le 28 juin 2015
Jalaa Marey (AFP/Archives)
IDF closely monitoring heavily armed Islamic State-affiliated militia near Israel-Syria border
The Israel military has said that it is preparing for the possibility of terror attacks being carried out on the Israel-Syria border by extremist jihadists, Israeli media reported Wednesday.
The IDF's 210 Habashan Division, which is responsible for defending the Golan Heights, is also closely monitoring an Islamic State-affiliated militia, made up of around 600 members armed with tanks, mortars, and other weaponry.
According to military estimations, the group, called Shahaha Yarmuk (The Yarmouk Martyrs Brigade), could launch an attack on Israel in the future.
Shahaha Yarmuk currently controls the area where three national borders (Syria, Lebanon and Israel) meet in the southern Golan Heights, in territory estimated to be about ten to fifteen kilometers from the Israeli border.
The group is considered by Israel to be an extension of Islamic State and according to an assessment by the IDF Northern Command, it is possible that it could carry out a strategic attack in the border region.
The organization rules over some 40,000 Syrians, and though it is affiliated with Islamic State, it maintains some autonomy as well.
Earlier this month, senior Israeli security officials said that it is only a matter of time before Islamic State targets Israel.
IS has released a series of videos threatening attacks around the world, including Israel. Some of the videos referenced recent clashes between Israelis and Palestinians at the flashpoint al-Aqsa Mosque in Jerusalem and the Islamic State's Sinai branch threatened to carry out an attack on Israel's southern port city of Eilat.
Israel's defense establishment believes that as Russia and the US-led coalition up the concentration of attacks against the group, the harder they will attempt to carry out attacks outside of Syria. They suspect that this reasoning is behind the terror attacks recently carried out in Lebanon, Egypt and Europe.
The sources say that organizing preemptive Israeli strikes against IS is trickier than in other strikes against terrorist groups such as Hamas or Hezbollah.
Israeli security forces uncovered eight incidents involving Israeli-Arabs in IS activities in 2014 and in 2015 another 14 incidents and 34 arrests occurred linked to the extremist group.
Read More:
Arab-Israeli paraglided into Syria to join militant group