Iran launches third Holocaust cartoon contest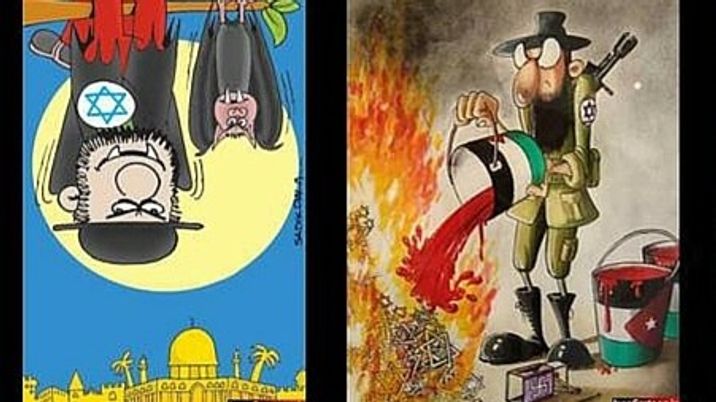 A drawing submitted to an Iranian Holocaust denial cartoon contest in 2015
Courtesy of Israeli mission to the UN
Israeli officials issue stern condemnation, call on UN chief to denounce 'anti-Semitic' competition
Iran announced that it will be holding another cartoon contest aimed at creating caricatures denying the Holocaust.
The contest, which will be held for the third time this year, will have a grand prize of $50,000, up from $12,000 last year. 
Organizers claim the purposed of the competition is designed to highlight the world's double standard in defending caricatures of the Muslim prophet Mohammed, whose depiction is forbidden in Islam.
The competition, scheduled to be held in June 2016, is expected to draw submissions from artists from some 50 countries, Iran's semi-official IRNA news agency reported in December.
Israel's Knesset Speaker Yuli Edelstein on Wednesday urged UN Secretary General Ban Ki-moon to denounce the 11th Tehran International Cartoon Biennial.
In a stern letter to Ban, Edelstein said that "words cannot describe the revulsion and protestation of the state of Israel and many across the world at the recurring proof that Iran continues in its policy of Holocaust denial."
Last week, Israel's ambassador to the UN Danny Danon also called on Ban to condemn the competition, charging "this anti-Semitic act represents the pure evil of the Iranian regime."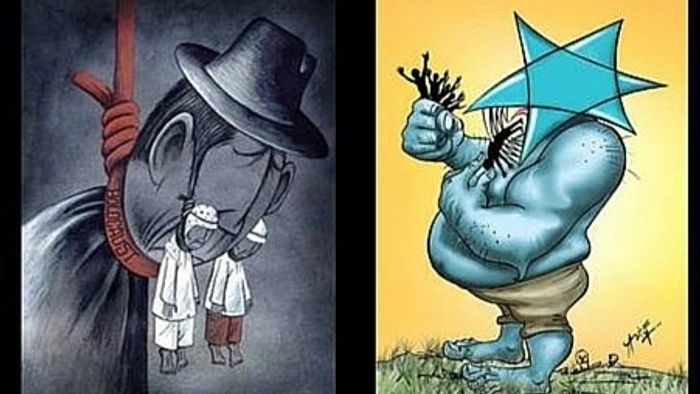 "Denying the Holocaust is one of the most powerful expressions of anti-Semitism, which legitimizes the deaths of millions of Jews," Danon wrote to the secretary general last, noting the upcoming International Holocaust Remembrance Day on January 27.
"While the world will remember the atrocities of the Holocaust which are still fresh in our collective memory, one member state will be hosting a contest which desecrates the memory of the 6 million Jews murdered in the Holocaust," he wrote.
"The United Nations must resolutely stand up against this hatred and harshly condemn this heinous act."
Holocaust denial is not uncommon in the Islamic Republic, an arch-foe of Israel, which held similar contests twice before.
Last year's competition in Iran was launched by the Tehran-based House of Cartoon and the Sarcheshmeh Cultural Complex, the Iranian newspaper Tehran Times reported at the time.
The first one was launched by the Iranian daily Hamshahri in 2006, in response to cartoons depicting the Prophet Mohammed in the Danish newspaper Jyllands-Posten published that same year.
At the time, the House of Cartoon's Masoud Shojaei-Tabatabaii, a driving force behind cartoon initiatives past and present, said the contest exposed the "West's double standards when it comes to freedom of expression… which forbids any debate about the legitimacy of the Holocaust."
More than 750 cartoons were sent to Iran from around the world for the contest's first edition, including entries from the United States and Britain, Iranian organisers boasted.
Around 200 of those cartoons were then selected to be part of an exhibit in a Tehran museum.
The first contest and associated exhibit was firmly condemned by the United States, Israel and many Jewish organizations.