Israel, US finalizing 10-year memorandum of understanding on defense ties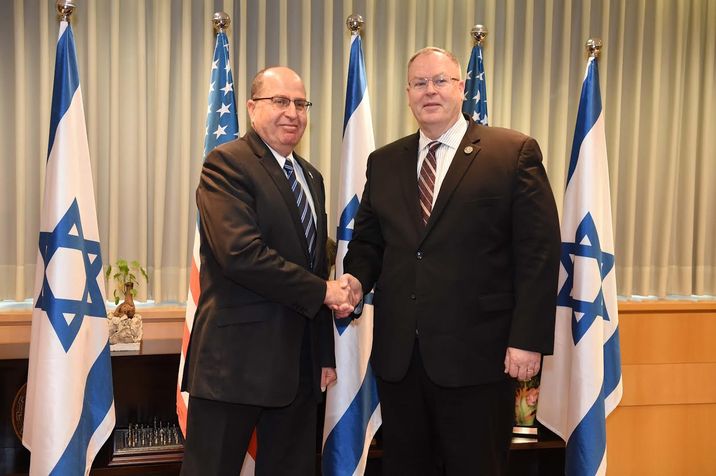 US Deputy Defense Secretary Bob Work (R) meets with Israeli Defense Minister Moshe Yaalon (L)
Eden Moldavsky/Ministry of Defense
Key Pentagon official in Jerusalem reaffirms US's 'steadfast commitment' to Israel's security
US Deputy Defense Secretary Bob Work "reaffirmed the United States' steadfast commitment to Israel's security" during meetings with senior Israeli officials in Jerusalem and Tel Aviv this week, a spokeswoman for Work said.
Work's visit came as Israel and the United States are finalizing another 10-year memorandum of understanding extending the defense assistance relationship. The current defense assistance agreement, due to lapse in 2018, provides Israel $3 billion a year in defense assistance.
Prime Minister Benjamin Netanyahu said at a meeting with the foreign media in Israel that Israel is "discussing now, perhaps in advance stages the completion, a memorandum of understanding between my government and President Obama's administration of American support for Israel's security for the next ten years. Remember all those predictions about the collapse of the Israel-America relationship? You know the only thing that's collapsed is the predictions of collapse. "
A bitter public fight between Netanyahu and Obama shook a decades-old alliance. After acerbic clashes over the US-backed nuclear deal with Iran, the two leaders recently discussed a deal expected to be worth more than $30 billion which will include a string of advanced weaponry systems, officials said.
The White House had been infuriated by Netanyahu's decision to appear in Congress at Republicans' invitation and urge US lawmakers to vote against a deal to curb Iran's nuclear program.
Work met with Israeli President Reuven Rivlin, Israeli Defense Minister Moshe Yaalon and the director-general of the Israeli Defense Ministry, Dan Harel, according to a statement by Navy Lt. Cmdr. Courtney Hillson summarizing the visit.
"Their discussions focused on shared national security interests, regional security trends and ways to further strengthen Israel's qualitative military edge," Hillson said.
Work explored ways to continue to deepen cooperation on defense technology and infrastructure, according to Hillson.
"Additionally, the deputy secretary discussed the development of the department's Third Offset Strategy and advanced capabilities," Hillson said.
Meanwhile, US Defense Secretary Ash Carter has said that Army Gen. Joseph Votel, the general who heads his special operations forces, will be nominated as the next commander for the Middle East, the Associated Press reported. 
If appointed, Votel will take over leadership of US Central Command, which oversees military operations in Iraq and Syria against the Islamic State Group, AP said.