Second left-wing activist detained by Israeli police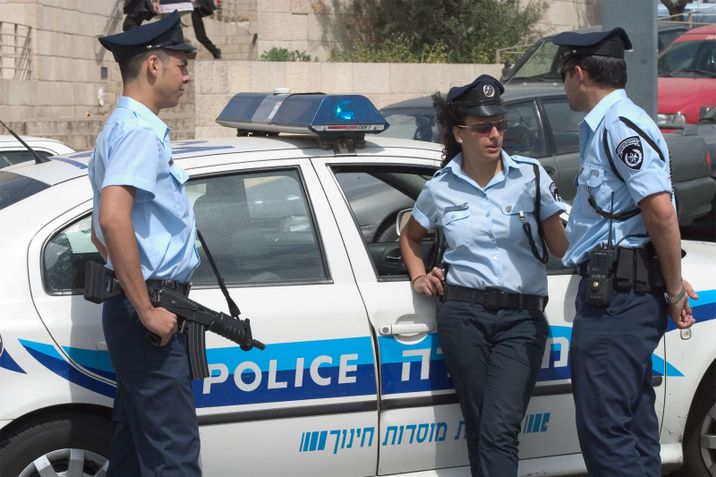 Israeli policemen
Wikipedia
Man suspected of links to another activist accused of informing on Palestinians selling property to Jews
Israeli police have detained a Jewish left-wing activist with links to a man detained earlier this month and suspected of informing on Palestinians selling property to settlers, media reported Tuesday.
In the Palestinian Authority, the penal code reserves capital punishment for anyone convicted of selling land to Jews. Palestinian Authority President Mahmoud Abbas published an order in October 2014 hardening the punishment for Palestinians who sell land to "hostile countries" and their citizens. The order amended the Palestinian penal code to include stricter penalties for those who sell, rent out or act as real estate mediators with "hostile countries." 
In several cases alleged perpetrators have been killed by vigilantes.
On January 11, police arrested a Jewish Israeli described as a "left-wing activist" as he sought to depart from Tel Aviv international airport, without naming him.
Media reports said he was suspected of informing on Palestinians selling property to settlers after being caught on hidden camera taking pride in handing details of sellers to Palestinian security forces.
Tuesday's reports said a second Jewish left-wing activist with links to the first man detained had been arrested, giving no further details. According to the Israeli daily Haaretz, a gag order has been issued on the details of the case.
There was no immediate confirmation from the police
The first suspect is a well-known far-left Israeli activist, who was recorded as saying that he aided Palestinian authorities find and kill Palestinians who sell land to Jews.
In a report aired earlier this month by Israel's Channel 2 television program Uvda, the activist was secretly recorded saying that he had turned in the land brokers to Palestinian security services, who would then kill them.
The activist belongs to the Israeli-Palestinian Taayush group, and was unaware of being recorded. He is heard during the report talking of four Palestinian landowners who contacted him, thinking he was also involved in the land trade.
"I give their photos and their phone numbers immediately to the [Palestinian] Preventive Security Force," He says in the recording. "The Authority catches them and kills them. But before they kill them they beat them up."
The report by Channel 2 investigated left-wing groups operating in the West Bank and the footage used was obtained by right-wing activists who infiltrated these groups.
(Staff with AFP)
Read more: Left-wing Israeli says he helps PA kill Palestinians who sell land to Jews