Israel's justice minister calls for independent Kurdistan: 'Time to help them'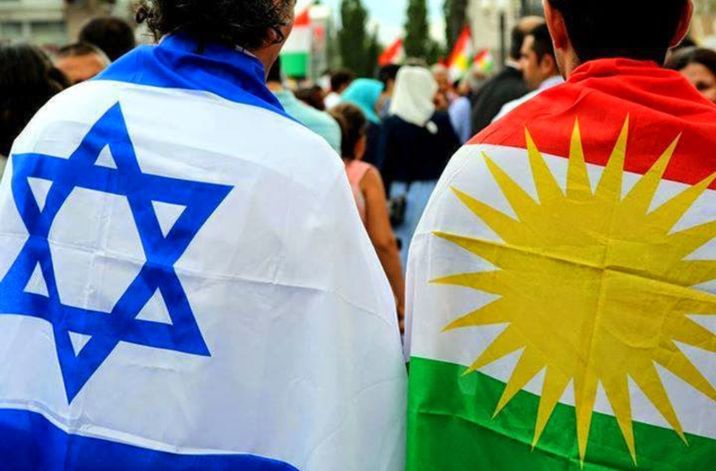 Israeli and Kurdish flags
Wikipedia
'We must openly call for the establishment of a Kurdish state, one which will be friendly towards Israel'
Israel's Justice Minister Ayelet Shaked called for an independent Kurdistan and urged an enhanced policy of Israel-Kurdish cooperation, an opportunity which will weaken Israel's rivals in the region.
Shaked, who was speaking at the annual INSS security conference in Tel Aviv said that "we must openly call for the establishment of a Kurdish state that separates Iran from Turkey, one which will be friendly towards Israel."
"The Kurdish people are a partner for the Israeli people," she said, adding that "the Kurds are an ancient, democratic, peace-loving people that have never attacked any country." To help them would help defeat the rise of jihadist Islamist groups in the region, Shaked stressed.
Although there are approximately 30 million Kurds in the Middle East, forming minority populations in Turkey, Iran, Iraq and Syria, there has never been a modern independent Kurdish state.
"It is time to help them," Shaked added.
While Israel and Iraqi Kurdistan don't have official diplomatic ties, despite close cultural ties and Israel's sizeable Jewish Kurdish community, there have been numerous claims of cooperation between the two governments.
Earlier this year it was reported that Israel purchased 77% of its oil import in recent months from Iraqi Kurdistan. The oil trade between Israel and the Kurds has been reported previously, but the report purports to reveal the massive scope of the oil traffic between northern Iraq and the Jewish State.
Israel has imported upward of 19 million barrels of oil between the beginning of May and August 11, the report claimed citing trading sources, shipping data and satellite tanker tracking. The transaction is worth $1 billion, based on international oil prices.
The autonomous Kurdistan region hiked its oil exports to over 400,000 barrels per day in order to raise funds for the ongoing fighting with the Islamic State terror group. The report alleges the will to assist Kurds in their war against the jihadists is a likely motivation behind Israel's massive imports.
Israeli Prime Minister Benjamin Netanyhau has also voiced support for an independent Kurdistan, praising the political commitment and political moderation" of the Kurds in a 2014 policy speech. The Kurdish people, he said, were "worthy of their own political independence."