Israeli President Isaac Herzog begins historic visit to UAE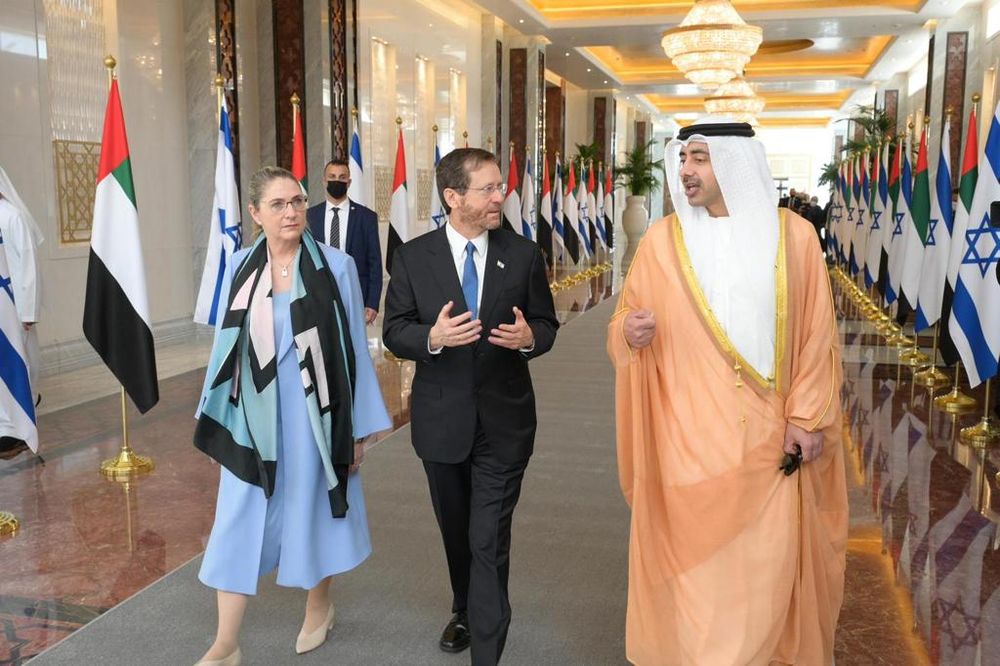 First Lady Michal Herzog joins husband for first trip to Gulf state by an Israeli president
Israeli President Isaac Herzog and his wife, First Lady Michal Herzog, arrived in the United Arab Emirates on Sunday for the first visit to the Gulf state by an Israeli president.
They were welcomed in Abu Dhabi by Minister of Foreign Affairs and International Cooperation of the United Arab Emirates, Sheikh Abdullah bin Zayed Al Nahyan.
Herzog said that he was "delighted and deeply moved by the warm welcome" the foreign minister displayed upon their arrival, according to a statement from Israel's Government Press Office (GPO).
"I am bringing with me a blessing of peace and a message of peace to the entire region, to the peoples of the region. Peace brings with it prosperity, progress, and growth for the benefit of the peoples of the region," Herzog said on the Ben Gurion Airport tarmac prior to Sunday morning's departure.
Herzog was invited by the de facto ruler of the UAE and Crown Prince of Abu Dhabi, Sheikh Mohammed bin Zayed Al Nahyan.
Israel and the UAE normalized relations in September 2020 with the White House signing ceremony of the Abraham Accords.
Before departing on the two-day visit, Herzog wished the Crown Prince well.
"I am grateful for his courage and bold leadership, carving out a peace agreement with Israel and sending a message to the entire region that peace is the only alternative for the peoples of the region."
While en route to the UAE, the pilot remarked on the significance of flying over Saudi Arabia. According to the GPO statement, Herzog entered the cockpit and looked over the Saudi landscape, calling it a "very moving moment."
During the president's visit to Dubai and Abu Dhabi, he will meet with senior UAE officials, as well as business leaders and representatives of the Jewish community.
Herzog is also expected to visit Turkey in early February, Turkey's President Recep Tayyip Erdogan announced last week.
This article received 1 comments