'Peace is possible:' Israel, Palestinian envoys clash at UN Security Council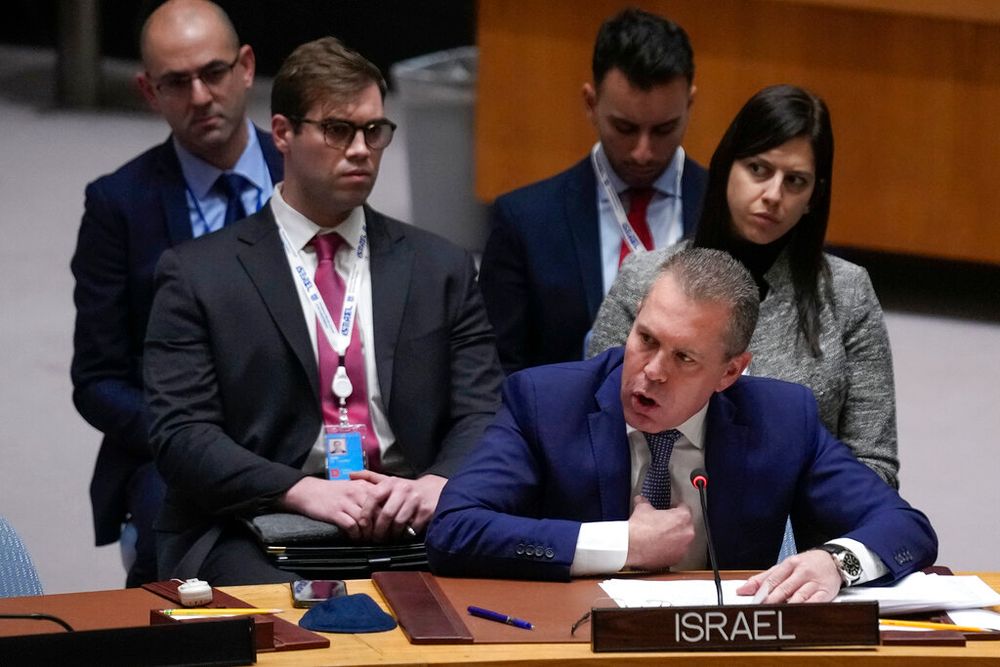 'Israelis and Palestinians remain on a collision course amid escalating political and inflammatory rhetoric as well as heightened violence in the West Bank'
Israel's UN ambassador on Wednesday accused the Palestinians of ruining any chance for reconciliation by seeking an opinion from the UN Security Council over the Israeli "occupation," while the Palestinian envoy condemned the Jewish state's new government.
To kick off the usually contentious monthly forum on the Israeli-Palestinian conflict, the United Nations Middle East envoy Tor Wennesland warned that a "dangerous cycle of violence persists on the ground, amidst increased political tensions and a stalled peace process."
"Israelis and Palestinians remain on a collision course amid escalating political and inflammatory rhetoric as well as heightened violence in the West Bank – both with potentially grave consequences," he added.
Violence in the West Bank and Israel has surged over the past year, with the recently sworn-in Israeli government – the Jewish state's most right-wing in its history – spurring concern among all parties that more will follow.
In the latest confrontation, the UN General Assembly requested that the International Court of Justice consider legal consequences for Israel over its presence in the West Bank and east Jerusalem, which Israeli officials condemned as "supporting terrorism." While the court's rulings are not binding, they do influence international opinion.
Israel's UN Ambassador Gilad Erdan accused the Palestinian side of drafting a "toxic resolution" that has the "sole purpose of destroying Israel as the Jewish state" while "playing the victim."
He pointed to what he called anti-Israel actions spurred by the Palestinians at the UN Human Rights Council and the International Criminal Court, and said with the adoption of the ICJ resolution, "the Palestinians stabbed a knife in the heart of any chance for reconciliation. They proved that they are not interested in dialogue."
Erdan also charged that the UN and Palestinians exaggerate Palestinian casualties and under-report Israeli ones: "This may have been the deadliest year for Palestinian terrorists, but it was also the year with the most terror attacks committed against Israelis in a decade.
"After all the hatred and bloodshed, they show up here at the Security Council and put on a show playing the victim. Well, I have a message for the Palestinian representative. Your charade is up. I see right through your lies, and soon enough, this entire Council will too," the diplomat concluded.
In response, the Palestinian UN envoy Riyad Mansour told the Council that Israel's new government has admitted to increasing Israeli settlements in the West Bank – which the international community considers illegal – and accused Jerusalem of pushing "annexation, systemic discrimination, and oppression."
"It does not recognize our rights anywhere, and proclaims a right for its settlers everywhere," he continued.
"Peace is still possible," Mansour urged, but only if the Security Council and the international community "stand up to the supremacists," ensure accountability for its annexation of Jerusalem, recognize the state of Palestine, and reject Israeli settlers.
This article received 0 comments