Likud MK attempts to find the diaspora's voice in Israel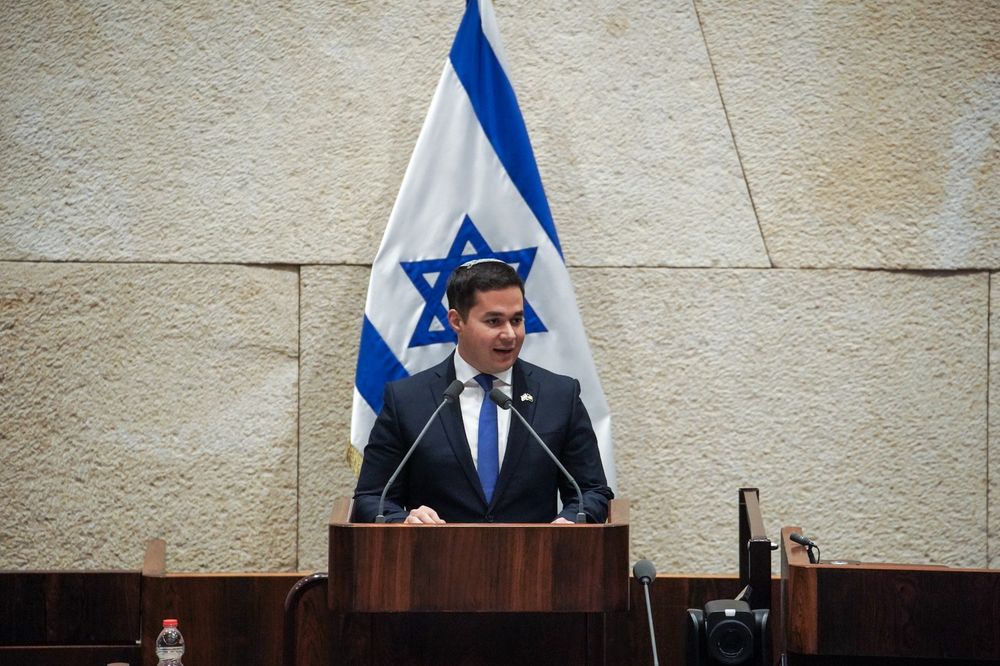 "I have set the goal of strengthening this crucial bond and I hope to see us move forward together as a united Jewish nation of Jews from all over the world"
Knesset and Likud party member Dan Illouz announced the formation of a caucus on Wednesday, which he says will attempt to strengthen "the relationship with the Jewish communities around the world."
A former Jerusalem City Council member, Illouz immigrated to Israel from Quebec over 13 years ago after graduating from Montreal's McGill University.
Illouz, who was chosen to the Oleh (immigrant) spot in the Likud primaries, said the caucus will focus on forming events where members of the international Jewish community can come together to strengthen bonds between Diaspora and Israeli Jews.
The Likud Party member said that Jewish people, no matter their location, share "a common destiny" and it is important for Jews across the globe to be united.
"We are one people from different countries with a common destiny. The State of Israel is the home of all Jewish people. It is probably the greatest achievement of our nation and it is something we ought to be proud of."
Illouz added, "It is important that the diaspora Jews stay connected to Israel at all times. I have set the goal of strengthening this crucial bond and I hope to see us move forward together as a united Jewish nation of Jews from all over the world."
The comments by Illouz come at a time when Jews in the Diaspora and many Israeli Jews disagree on key issues in Israel, with many Israelis saying that Jewish people abroad should not have a say in their internal political decision.
A vocal majority of Jewish people abroad have voiced their opposition to the judicial reforms currently being legislated by Prime Minister Benjamin Netanyahu's coalition, with protests against the proposed judicial legislation having spread to cities such as London, New York, and Rome.
Prominent Jewish figures abroad, such as lawyer and Professor Emeritus Alan Dershowitz, have warned that the proposed reforms to Israel's judiciary would make it difficult to defend Israel's status as a democracy across the globe.
Israel's Minister of Diaspora Affairs Amichai Chikli made it clear in an interview with i24NEWS this week that he believes it is important to listen to the Jewish diaspora abroad on Israeli political topics, but that the final decision should be decided by those in the Knesset, Israel's parliament.
Chikli said in the interviews on "The Rundown" that issues such as judicial reform need to be resolved by the governing parties, despite international pressure from Jewish groups abroad.
"When it comes to judicial reforms, we hear the voices, but that's an internal issue that needs to be decided within the Knesset."
Chikli's positions on many diaspora issues could make it difficult for his Likud Party counterpart's new caucuses to gain traction with Jewish communities abroad.
The Minister of Diaspora Affairs said he agrees with his governing coalition partners who say it is time to tighten the laws regarding immigration to Israel.
"There needs to be a correction (to the laws). Today, many people that are coming from Ukraine and Russia don't really have any relation to the Jewish people. After a year or two, 40 percent of them are leaving."
Any changes to Jewish immigration laws, including the proposed changes to what is known as the "Grandparent Clause," would affect Jews across the globe, not just areas affected by war or tyranny.
When asked what the bottom line on immigration law changes should be, Chikli answered, "We have to correct the process to make it a bit more difficult to get citizenship here in Israel."
While Chikli's views on immigration are viewed as mainstream in the Likud Party, Illouz believes that the high rate of return among new immigrants is partially the fault of the State of Israel.
"Immigrating to the State of Israel is a Zionist value of the highest order, and the State of Israel must ensure a comfortable and gentle reception for every Jew who chooses to immigrate to the land of his ancestors," said Illouz.
The McGill University graduate recently submitted a bill in the Knesset seeking to ease the process of immigrant absorption by recognizing medical professional licenses based on European Union regulations.
"As an [immigrant] myself, I see deep importance in settling this matter and I am hopeful that this change will make it easier for immigrants in the process of their absorption in Israel," he said.
"Many of the immigrants who arrive in Israel do not enjoy a successful absorption and return to their countries of origin after having given up on getting their licenses recognized, some of them veteran professionals. This is in addition to many Jews who choose in advance not to immigrate to Israel for fear that their licenses will not be recognized."
This article received 0 comments