Israel's FM Cohen discusses Iran, security cooperation in Sweden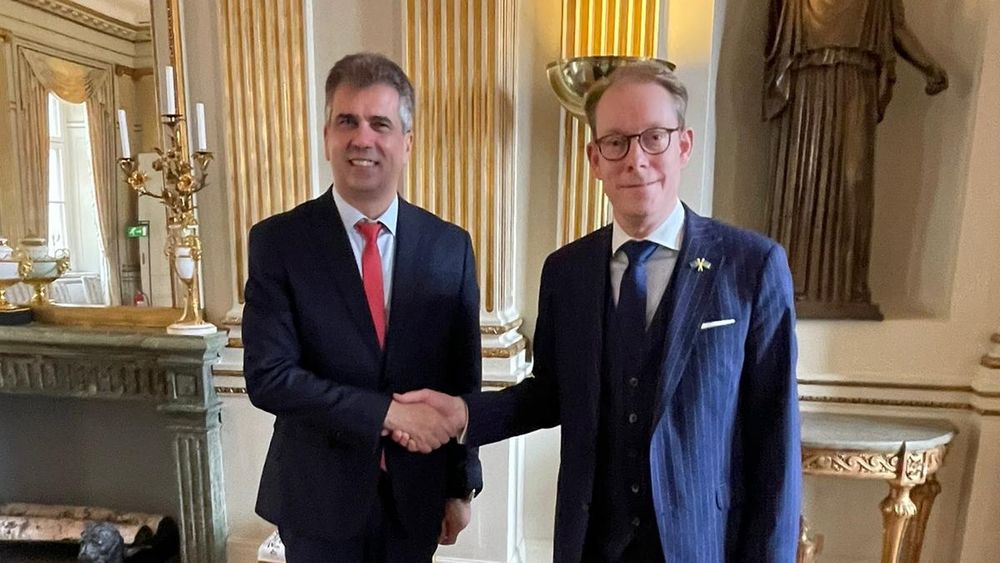 Stockholm's deputy prime minister met with the Israeli foreign minister, after insisting she meet him
Israeli Foreign Minister Eli Cohen declared "a new era" in ties between Israel-Sweden. Over 20 years have passed since such a visit to Stockholm, and the top Swedish envoy said it was "long overdue."
Economic and security cooperation was discussed, including the threat of a nuclear Iran, and the prosperity of the Abraham Accords.
Cohen stressed the importance of working closely with Stockholm, which currently holds the presidency of the European Union. He also brought up NATO, which Sweden is currently in the process of joining, but is facing obstacles from Turkey and Hungary.
In particular, the two foreign ministers discussed joint efforts to combat anti-Semitism, and the Israeli envoy emphasized that "aid funds must not be allowed to reach terrorist elements." In regards to economic ventures, "Kibbutz-Tech" was discussed as a key project that could bring hundreds of Swedish students to Israel as interns at Israeli start-up companies.
"We are opening a new page in relations between Israel and Sweden," said Cohen, and mentioned the opportunity now to "expand trade between the countries in the fields of security, innovation and fintech."
On a more personal note, Billström opened up about his special connection with Israel and the Jewish people, saying that his wife volunteered on a kibbutz in the 1990s, and his grandparents welcomed Holocaust survivors into their home after World War II. Cohen said of his counterpart, "[he is] a close ally of Israel."
More than just a positive shift toward Israel in the diplomatic arena, Sweden was also very welcoming at home. Swedish Deputy Prime Minister Ebba Busch insisted on a surprise visit with Cohen and said, "a new chapter is being written in the history of the relationship between our countries."
"Even after 2,000 years in exile, the Jewish people had not given up hope of one day returning to their homeland," said Busch, remembering the dark history of anti-Semitism in Europe.
"Today, there are rogue states that wish to wipe the country off the map and throw its inhabitants into the sea," the Swedish deputy prime minister said of the current security threats. "Despite all attempts to delegitimize the Jewish state, it has always been a democracy. Despite all the challenges, Israel remains a ray of hope in a dark world," she concluded.
This article received 1 comments