Israel and Zambia strengthen cooperation in agriculture, healthcare and technology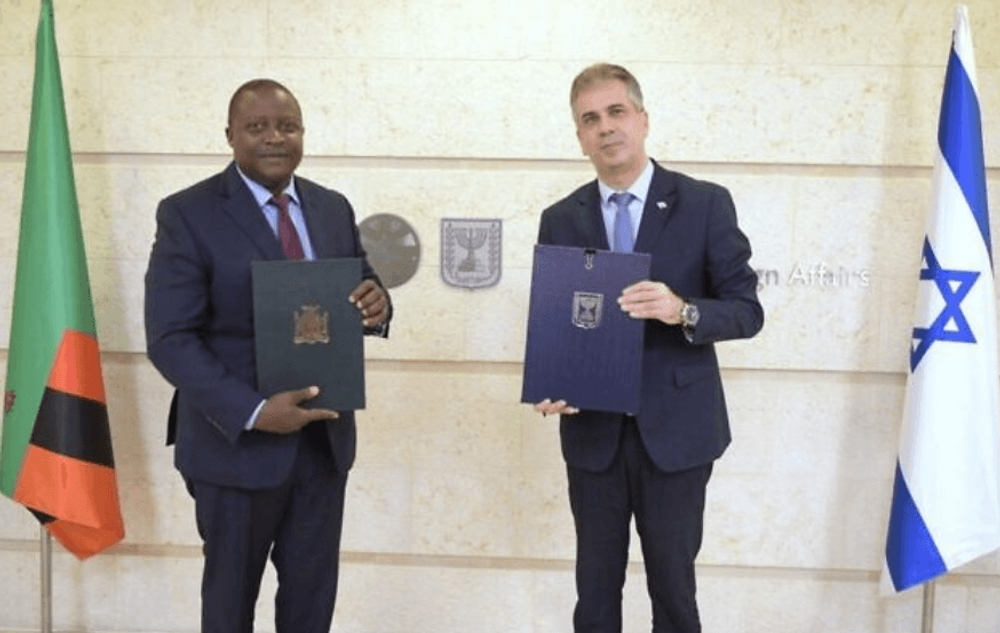 On Tuesday, Israel's President Isaac Herzog will host the President of Zambia, Hakainde Hichilema, who is making a state visit to Israel
Zambian Foreign Minister Stanley Kakubo met his Israeli counterpart Eli Cohen at the Foreign Ministry in Jerusalem on Monday.
The two ministers discussed bilateral relations and establishing Israel's position as an observer to the African Union and in the regional arena. During the meeting, the ministers agreed to strengthen their cooperation in the fields of medicine, communication, agriculture and culture, by signing a framework agreement between the two countries.
"Africa is growing and with it the potential of the State of Israel's relations with the countries of the continent. During my recent visits to East and West Africa, I have found genuine friendship with the State of Israel and support for our partnership," Cohen said.
"Zambia is an important country for Israel on the southern continent of Africa to strengthen ties with us. My friend Foreign Minister Kakubo and I have agreed that we will work together to bring about achievement and prosperity for the benefit of our people," he added.
Cohen made several visits to East and West Africa over the last week, including Kenya, Ghana and Ivory Coast. This approach bears witness to Israel's interest in strengthening its ties with the African continent and actively participating in its development.
On Tuesday, Israeli President Isaac Herzog was scheduled to host the President of Zambia, Hakainde Hichilema, for a state visit to Israel. The presidents will hold a diplomatic meeting and later in the day, Herzog will have his counterpart for a state dinner at the President's Residence.
This article received 0 comments