Senior Labor MK blasts leader Herzog for 'giving up on two-state solution'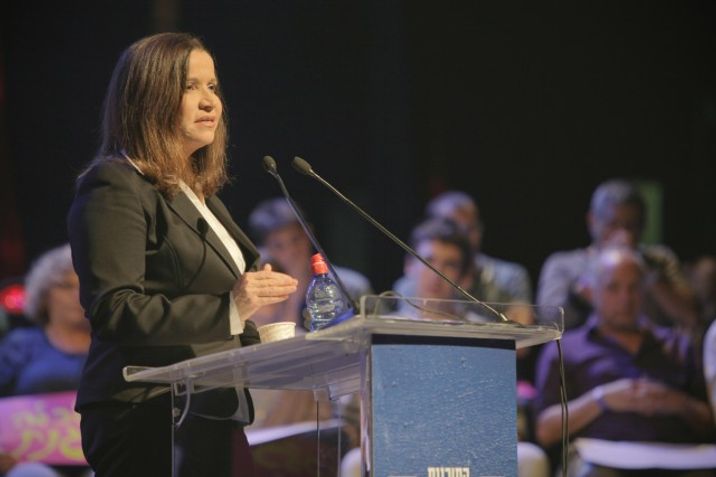 Shelly Yachimovich
Senior Zionist Union lawmaker says Labor party must offer alternative political dialogue
Senior Zionist Union lawmaker MK Shelly Yachimovich slammed the leader of her faction, Isaac Herzog, on Sunday for his proposal to unilaterally disengage from West Bank territories instead of holding negotiations with the Palestinians.
Yachimovich is a former leader of the Labor Party, which is one of two center-left parties, along with Hatnua, that makes up the Zionist Union.
"With a coalition being dragged along by the likes of [Jewish Home party MK Bezalel] Smotrich and [Likud MK Oren] Hazan, the Labor Party must offer an alternative political dialogue, not just to give up on it and use the common right-wing claim that 'there is no-one to talk to,'" she told Israeli radio.
Yachimovich said that Israel may be facing its "last opportunity to speak with a secular, pragmatic, Palestinian leader, and we can't lose this opportunity and play into the hands of [Prime Minister Benjamin] Netanyahu."
Herzog caused controversy last week when he said last week that under the current conditions a two-state solution with the Palestinians was impossible. This was a departure from the traditional view of his own Labor party, which has over the years pushed for a Palestinian state alongside the Jewish state.
"I wish to separate from as many Palestinians as possible, as quickly as possible" Herzog said at the Institute for National Security Studies in Tel Aviv. Instead, he said, several Arab neighborhoods in East Jerusalem should be separated from the rest of the city and the separation barrier in the West Bank should be completed to include all settlement blocs.
"The separation barrier will prevent attacks in the settlement blocs that remain in our hands," Herzog said.
"They will be over there and we will be over here; we'll erect a big wall between us. That is the kind of co-existence that's possible now. You exist there and we exist here. Ariel Sharon did the right thing when he put up the fence that prevented the infiltration of suicide bombers, but he didn't finish the job. We want to finish it, to complete the barrier that separates us. We call it the establishment of a security line, the red line … Israel must part from Netanyahu so that it becomes possible to part from the Palestinians."
Israel and the Palestinians are in the midst of a third intifada, Herzog said, adding that "if we continue denying the truth it can become an intifada that's crueler than the preceding ones, an intifada in the spirit of IS. But here people are still dreaming."
"Two nations with such a strong national consciousness, both claiming this land, can never live together in one state at peace. The nightmare in which Netanyahu is 'managing the conflict' blew up in our faces and stabbed all of us."
Read More:
Herzog urges France to stop promoting international moves against Israel
You need to be logged in in order to post comments. Sign up or log in
January 24, 2016 12:31 PM
Let's have the THREE STATE solution. Israel, West Bank (Fatah) and Gaza (Hamas), or the real TWO STATE solution Israel and The Hashemite KIngdom of Jordan.