Three Arab-Israeli MKs suspended for visiting families of Palestinian terrorists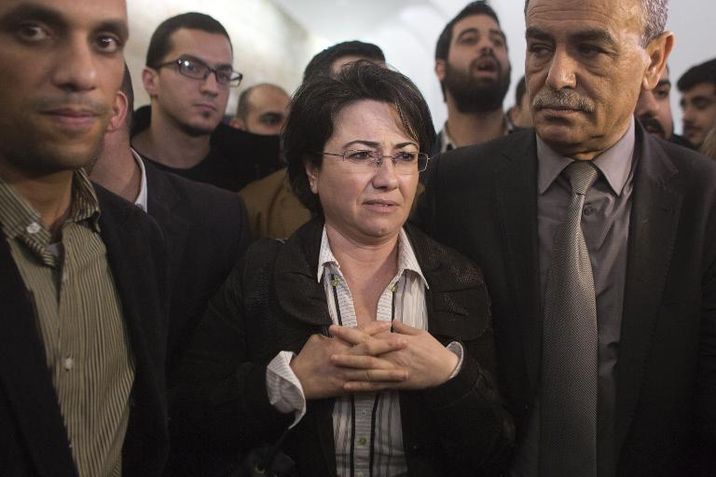 Haneen Zoabi le 17 février 2015 à Jérusalem
Menahem Kahana (AFP)
The move follows controversial visits Joint List MKs paid to families of Palestinian terrorists
Israel's Knesset ethics committee on Monday approved the suspension of three Arab-Israeli lawmakers for their controversial visits paid to the families of Palestinian terrorists.
Haneen Zoabi and Basel Ghattas were suspended for a period of four months and Jamal Zahalka for two months.
Israel's governing coalition on Monday approved an amendment to the country's Basic Law covering the Knesset, which allows for MKs to be suspended or even removed from their posts for engaging in "behavior inappropriate for their position as a member of the Knesset."
The amendment, an initiative of Prime Minister Benjamin Netanyahu, stipulates that the suspension of an MK will occur only with a necessary majority vote of 90 Knesset members, Israel's Channel 2 reported.
Yisrael Beytenu chairman, Avigdor Lieberman called the punishment a joke.
"Rather than impose on them the maximum penalty, suspending them from the Knesset sessions for six months and garnishing their wages, and thus really discouraging such actions, the ethics committee has turned the case into a joke and by deciding on a punishment that is not serious demonstrates incompetence and weakness," said Lieberman.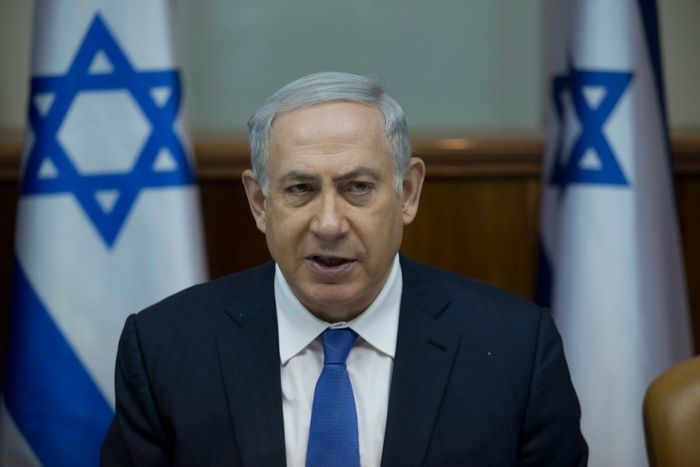 The Joint Arab List fired back the suspensions saying, "The Joint List condemns the incitement and agitation campaign led by Netanyahu, which prompted to the committee's miserable, anti-democratic and unethical decision. Even after the suspension we still demand the bodies held by the police to be released immediately."
The storm that led to the proposed amendment first erupted last week when three members of the Joint List party — MKs Haneen Zoabi, Jamal Zahalka and Basel Ghattas — went to visit the families of Palestinian attackers whose bodies have not been released by Israeli authorities.
Among others, they met with the family of Baha Alian from the East Jerusalem neighborhood of Jabel Mukaber. Alian killed three Israelis in a terror attack on a bus in the Jerusalem neighborhood of Armon Hanetziv on October 13. Over a dozen other passengers were also seriously wounded in the attack.
Speaking during Sunday's weekly cabinet meeting, Netanyahu said he believed that "many citizens do not feel that these Knesset members represent them" and accused the MKs involved in the affair of "building walls of hatred."
He also said that lawmakers who visit the families of terrorists should "not serve in the Israeli Knesset".
Slippery slope
A Knesset official said on Sunday that the Knesset Ethics Committee has received over 450 complaints against the Joint List MKs, including ones by Prime Minister Benjamin Netanyahu, Knesset speaker Yuli-Yoel Edelstein, other members of Knesset, and bereaved families of terror attacks.
The official said it was the highest number of complaints ever received.
As the coalition moves forward, leader of the opposition Isaac Herzog expressed his objection to the bill, i24NEWS' Tal Shalev reported.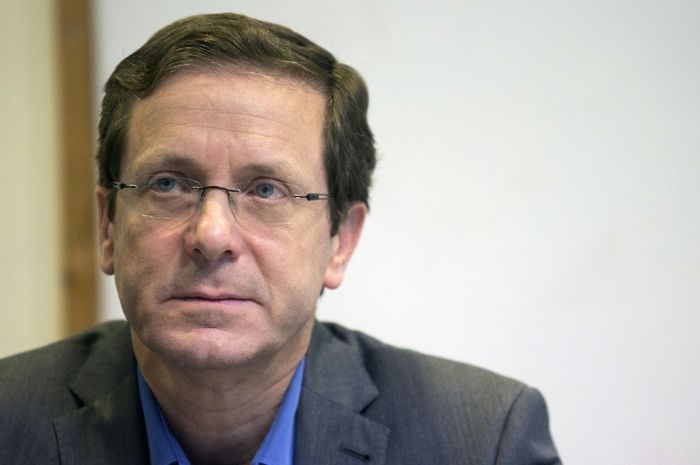 "The public's patience is exhausted," Herzog said at the Zionist Union's weekly faction meeting. "Balad MKs constantly provoke the state and support terror. They help the extremists that want to drag Israeli discourse to an abyss of hatred."
"Zoabi cannot protect the murderers of the three boys, Ghattas cannot provoke Israel's sovereignty by sailing to Gaza, and the public will not stand idle and see MKs commemorating heinous murderers who hurt innocent civilians," Herzog continued, adding that "This is a red line and we musn't stand idle. But the line cannot be set without thinking, it will start us on a slippery slope."
"The Knesset has many tools to take care of these phenomenon. We will wait for the attorney general's examination," said Herzog.
According to Shalev, Tzipi Livni of the Zionist Union party warned of the international damage the bill could cause to Israel's standing as a democracy. "Netanyahus bill to suspend MKs will crumble democracy. You can prevent someone from running for the Knesset but you cannot banish a sitting member," said Livni.
Today its the Arab MKs and tomorrow it will be another MK that doesn't suit the government. Its a slippery slope. I have condemned the Arab MKs behavior but if someone breaks the law there are criminal justice procedures," she added
"If someone supports terror he should go to jail and if someone acts against a Jewish and democratic state he should be prevented from running in elections. If we expel them from the Knesset it will only hurt their voters and will further fuel tensions in society," Livni said.
i24NEWS' diplomatic correspondent Tal Shalev contributed to this report.
You need to be logged in in order to post comments. Sign up or log in
"Netanyahu said he believed that "many citizens do not feel that these Knesset members represent them" and accused the MKs involved in the affair of "building walls of hatred."" MKs are elected to represent those that vote for them ... that's democracy, which Israel proclaims it is a champion of. If the bodies have not been returned that is cause enough for the MKs to be involved. What in their actions did the MKs do to encourage terrorism? Nothing. "walls of hatred"? Israel has almost completed its own, has it not ... sections encroaching on Palestinian land.
Ghattas and Zoabi's were elected by Israelis, be it Arab, Christian or Jew. They should be representing the best interests, safety and well-being of their Israeli electorate, and not Palestinian terrorists who endanger Israel's national security. This is tantamount to being a traitor to one's own country. Michael Farmer, had it not been for the Palestinian's hatred of Jews, rejectionism and violence, there would be no walls. Palestinians have themselves built these "walls of hatred", forcing Israel to build walls (well, actually a fence!) to secure themselves.
Neil, any MKs represent Jewish settlers living in the West Bank?
February 8, 2016 10:22 PM
Michael, since when are the settlements anything but part of Israel? There is no country called "Palestine" hence the settlement MK's cannot be anything but Israeli citizens. Besides, according to the PA, any future Palestinian state will be Jew free.
I s there some kind of law that lets these renegade (terrorist sympathisers) break the law with impunity? They should be prosecuted. Did the visit these killers homes to reassure the parents that their son/s daughters would be hailed as hero's. To promise that the money's that The PLO promised them if they killed jews and became "MARTYR'S would be forth coming. These MP'S should have been stripped of their status, and prosecuted for treason, or whatever crime it can be proven... Civilians who collude with each other to commit terrorist acts can be sent to jail,,so must these MP'S.
Michael Farmer. What in their actions did the MKs do to encourage terrorism? Nothing. Do you really believe that these members of the democratic Israeli parliament did nothing wrong? I am Uk born and bred. A Londoner. I would like you to respond to me if you dont mind. Not so very long ago several suicide bombers placed bombs on public transport in London..Some buses, and the London underground railway..know as the TUBE trains.. These muslim terrorists detonated those bombs on the trains and buses killing and injuring hundreds of ordinary every day citizens of London. Do you think it would have been appropriate for, lets say Tony Blair to go to the terrorists homes and comfort the parents of the killers? These muslims in Israel are killing/ and have killed innocent jewish people on buses. Do you think that Israel members of parliament are any different than English mp's.? both democracies. If I knew that a british mp would go. or had been to a muslim terrorists family home in London. (actually the muslim s in question were from Luton) I would be writing to the british houses of parliament demanding that they be dismissed and prosecuted..
Nameless person, were you present when the MKs visited the parents? .. are you privvy to all that was discussed? perhaps they were hoping to help end the holding of the bodies, another 'collective punishment' Israel vindictevly employs. If you have a link that gives us all the truth please provide it. You may like to see a post from a Mr. 'Eden-Balfour' .... ------------------- "1. Ayelet Shaked's recent visit to the the mother of an Israeli teenager accused of participating in an arson attack that killed three Palestinians in the occupied West Bank town of Duma last July. 2. In December, Shaked, a member of the ultra-nationalist Jewish Home party, met with the unnamed suspect's mother and Adi Kedar, a lawyer for Honenu, a group that provides legal support to Jewish settlers accused of attacking Palestinians. http://www.haaretz.com/israel-news/1.693756 3. Israeli Education Minister Naftali Bennett employs Nathan Nathanson, an Israeli who was a member of the Jewish Underground, considered a "terrorist" organisation by Israel. http://www.timesofisrael.com/.../zionist-union-mk-calls.../" --------------------- "both democracies"? Not so, the West Bank Palestinians have no votes in the election of those that rule them and order their lives. "dismissed and prosecuted"? For what? As a Londoner you will remember that talks between the Gov. and IRA have resulted in a virtual end to the violence. The Israeli gov. is far too bullish. It seeks to control the whole of the region and has been appeased for over 50 years now.
February 9, 2016 12:23 PM
Michael, that is nonsense! Utter nonsense! Israel releases bodies once they've completed the criminal investigation. Unlike the Palestinians who hold dead Israelis for ransom. I'm guessing if an Israeli farted in public it would be a war crime to you.
Neil, I see no reply to Israeli politicians visiting Israelis.
Michael, Haneen Zoabi and Basel Ghattas are Israeli MK's! They should first and foremost have Israel's best interests and national security at heart. Sympathizing with those intent on destroying the very country in which they live, claim benefits etc is traitorous. Yes, argue about internal problems but there must be a line between internal issues and encouraging terrorism.