Israeli Shas MK may be prosecuted by Ukraine over Crimea visit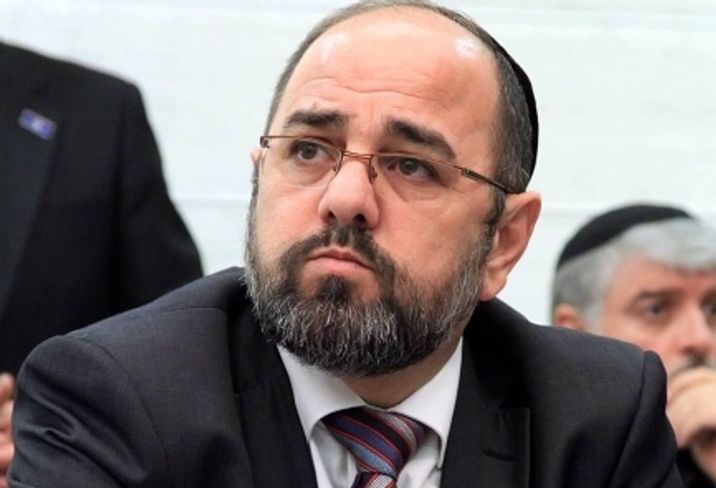 Le député Yaakov Margi
Ukraine says entering Crimea is violation of Ukrainian law, ignores territorial integrity
A visit by Shas MK Yakov Margi to Crimea last Wednesday has angered Ukrainian authorities and on Thursday they warned Israel that they may file charges against him, the Israeli Haaretz daily reported.
While visiting the peninsula, which is currently occupied by Russia, Margi met with Crimean leader Sergei Aksionov.
According to Haaretz, the Israeli foreign ministry received a letter of protest from the Ukrainian embassy which denounced the visit.
Last month the Ukrainian government threatened to place sanctions on Israeli citizens or companies doing business in Russian-occupied Crimea.
In an announcement published in both English and Ukrainian on its website, the Ukrainian Embassy claimed it obtained information that Israelis entering Crimea in violation of Ukrainian law were conducting business with "illegal authorities."
"The Embassy states that such actions are considered as the violation of the Ukrainian legislation, in particular the Law of Ukraine, 'on ensuring the rights and freedoms of citizens and legal regime of the temporarily occupied territory of Ukraine,'" the announcement read.
Thursday's letter to the foreign ministry stated that "MK Margi violated the law, and we are weighing to prosecute him."
"We ask that you pass on this message to the Israeli public, to government officials and elected officials," it read, said Haaretz.
Israel's official policy towards Russia's invasion of the Ukraine and the occupation of Crimea in February 2014 has been guided by restraint.
As opposed to most other western countries, Israel did not condemn Russia's actions or declare its support for Ukraine's territorial integrity.
Israel, however, maintained close relations with the Ukrainian government and even treated Ukrainian soldiers wounded in fighting with Russia in Israeli hospitals.
The visit was hailed by Russian and Crimean authorities as a diplomatic achievement, said Haaretz.
In a press conference following the meeting Aksionov said that "despite the difficulties, Margi's visit shows that we have managed to break the information blockade that has been imposed on us."
"I am certain at this time that our voice is being heard and that we are not alone. Thank you, Yakov Margi, who came here despite what people think - that Crimea is a dangerous place for members of parliament and business people," he continued.
"I am certain that he will return to Israel and tell people in his country that Crimea has returned to its homeland based on the will on its people," said Aksionov.
Margi addressed how international media covers the conflicts in Israel and Crimea acknowledged their similarities, said Haaretz.
"When [people] turn on the television, they think Israel is a place where everyone has a rifle, but the reality is very different. It's not enough to see the pictures. You need to read the fine print. I felt comfortable in Crimea and when a Jew feels comfortable in a certain place. That says a lot," Margi told reporters.
According to Haaretz, the Israeli Foreign Ministry officials said that they had not been notified about Margi's trip or meetings with Crimean officials prior to his departure.
The Knesset ethics committee had approved the trip as a private visit, upon the invitation of a Crimean rabbi to tour Jewish institutions in the city of Sevastopol, said Haaretz.
Knesset spokesman Yotam Yakir said that "this was not a trip on behalf of the Knesset and the Knesset was not involved in organizing it. Knesset members take work trips at the invitation of various entities."
"The Ethics Committee merely verifies that they do not involve business groups. In this case, Knesset member Margi presented an invitation from the rabbi of the city of Sevastapol in Russia, Rabbi Binyomin Wolf, and he noted that that Jewish community in the city was interested in inviting the Knesset member and funding the visit," he added.