Esther Herlitz, Israel's first female ambassador, dies at 94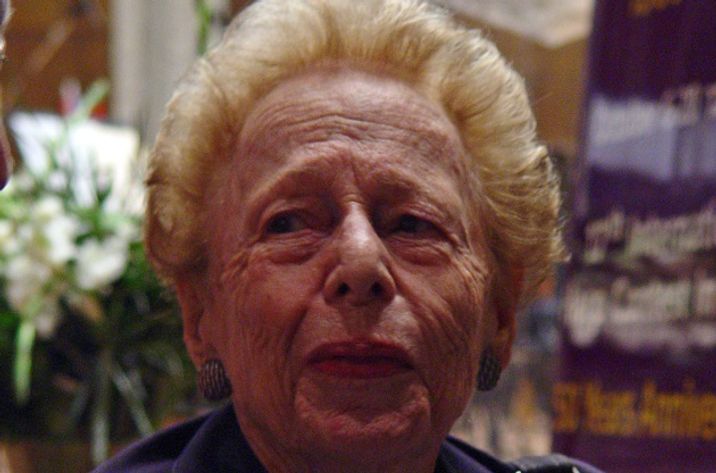 Served in the British Army in the Second World War and was important figure in Labor party
Israeli trailblazer Esther Herlitz, the first woman in her country to serve as an international ambassador, passed away on Thursday at the age of 94, Israeli news site Ynet reported.
Herlitz broke the glass ceiling for women in many respects. In addition to serving twice as a member of Knesset for Labor, she was the first woman to sit on the Foreign Affairs and Defense Committee, spearheaded the formation of the Committee for Immigration and Absorption, and last year won the Israel Prize.
Born in Berlin, Herlitz immigrated to Israel in 1933, Ynet reported. Her father was George Herlitz, who founded the Central Zionist Archives.
Herlitz joined the British army along with other Jewish women in 1942, when, she recalled in her memoir, German general Erwin Rommel was trying to fight his way through North Africa to the Middle East. She remembered that the women requested that all commands be translated into Hebrew, despite the fact that they understood English, to emphasize their national identity.
In 1945, as tensions between Jewish residents of the Mandate of Palestine and Great Britain were on the rise, the women announced their refusal to accept payment from the king. Told this was a criminal offense, they decided to resign from the British military.
Upon her appointment as ambassador to Denmark in 1966, Herlitz became Israel's first female ambassador. She also worked an Israeli consul in New York City.
Up to her death, Herlitz lived in Tel Aviv and continued to follow politics. According to Ynet, she was critical of Prime Minister Benjamin Netanyahu's policies and supported Isaac Herzog's bid for prime minister.
Herzog spoke of Herlitz's achievements following her passing. "Esther Herlitz was a teacher, a gifted diplomat and member of Knesset, a feminist leader whose leadership was a model of fortitude and honesty in a tough political world, and for that she won the Israel Prize," he said, adding that she was a personal friend of his family. "Esther is one of the leaders who shaped the path of the labor movement starting with the country's founding, and my condolences are with her family."