Israeli Interior Minister at center of 'severe' corruption probe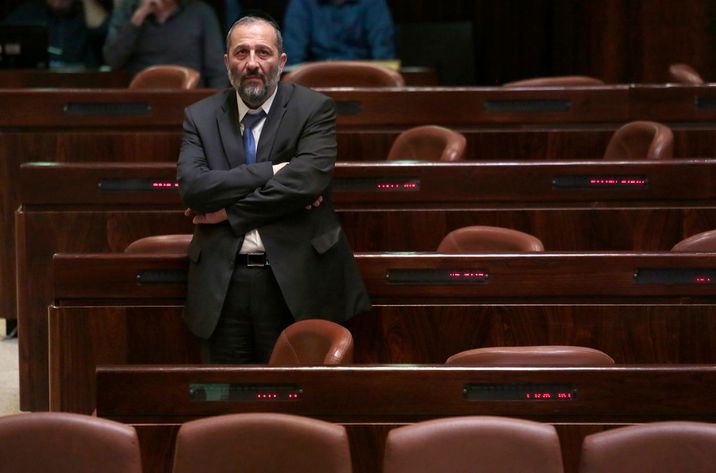 Israeli religious Shas party leader Aryeh Deri standing in the Knesset (Parliament) plenum in Jerusalem on 08 December 2014.
EPA
Attorney general approves preliminary investigation into minister previously convicted of taking bribes
Israeli Interior Minister and current chairman of the ultra-orthodox Shas party, Arye Deri, has been named as one of two Israeli politicians who are under investigation for possible suspected criminal behavior in two unrelated cases, it was cleared for publication Tuesday evening.
Attorney General Avichai Mandelblit approved the Israel Police fraud squad's request to investigate Deri, who was previously convicted and jailed for corruption while he served as interior minister in the 1990s.
At this point, however, no criminal investigation has been opened.
The investigation's details are barred from publication, but Deri has filed a request to make them public.
The investigation was made public following a report on Israel's Channel 2 News earlier on Tuesday which said that a senior political figure and a close associate of that figure were involved in alleged corruption.
Deri himself tweeted on Tuesday night, "I contacted the Attorney General tonight and asked that the gag order as it pertains to me be removed."
"I announced that I am available for any questioning and would answer any questions that I might be asked," he added.
So far, neither of the two politicians have been questioned under caution.
According to the report, Mandelblit held a meeting of top law enforcement officials Tuesday to decide whether to interrogate one of the politicians under caution.
One of the two cases involves suspicions of "severe" corruption, Channel 2 said.
The Israeli Haaretz daily wrote the second case, which was categorized as less severe, related to suspicions of illegal political funding by an "interested party."
It was not clear which case refers to Deri.
In the early 1990s, Deri was convicted and sentenced to three years in prison following allegations that he took bribes while serving in public roles.
After serving only two thirds of his sentence, he was released in July 2002 and subsequently returned to politics following a thirteen-year hiatus.
Deri headed the Shas list for the March 2015 Knesset elections, and was subsequently appointed Minister of the Economy and Minister of the Development of the Negev and Galilee in the new government.
He left his post as Minister of the Economy on 3 November 2015, reportedly over an unpopular gas monopoly deal and was replaced by Israeli Prime Minister Benjamin Netanyahu.
Deri was reappointed Minister of the Interior on 11 January 2016.
Read more: Opposition leader Isaac Herzog under police investigation