Israelis rally in support of soldier charged with manslaughter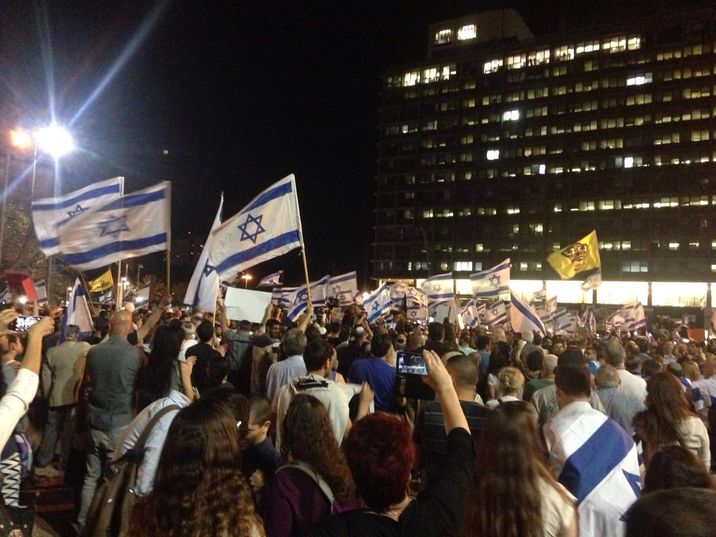 Demonstrators at Rabin Square on Tuesday
i24news
Demonstrators call for release of soldier who fatally shot subdued Palestinian assailant last month
Israelis poured into Tel Aviv's Rabin Square on Tuesday for a rally in support of Elor Azria, the Israeli soldier who fatally shot a subdued Palestinian assailant in Hebron last month, who was formally charged with manslaughter on Monday.
According to Ynet, a few thousand people had arrived by 8:00 PM, many wrapped in Israeli flags and with some calling for the soldier's release – and with others chanting racist slogans.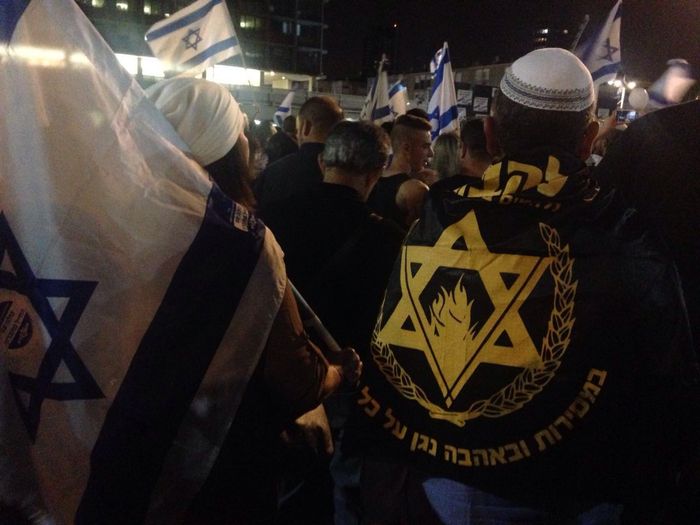 Video of the incident in Hebron in the West Bank spread widely online and the soldier was arrested, with rights groups labeling it a summary execution. The soldier shot Abdul Fatah al-Sharif in the head on March 24 as he lay on the ground while apparently seriously wounded from earlier gunshot wounds.
The video led to major controversy in Israel and sparked political tensions, with far-right supporters calling for the soldier's release
Controversial Mizrahi star Eyal Golan along with singer David D'Or originally said they would appear at the rally scheduled to take place Tuesday evening in Tel Aviv's Rabin Square, however, on Monday they announced that they would not take part.
"I'm coming to support the soldier and his family," Golan said. "The soldier is like the son of the entire nation of Israel."
MK Tzipi Livni (Zionist Union) condemned the planned rally and said "we live in a country where we don't hang people in the city squares and we don't acquit them in the city squares. Justice will prevail in the courtroom."
A reporter for the Jerusalem Post said organizer Sharon Gal told the crowd that the event was focused on "messages of love and positivity." He noted however that some demonstrators chanted "death to Arabs" and "release the kid or we'll turn the country over." 
Nava Boker, a lawmaker from Prime Minister Benjamin Netanyahu's Likud party who attended the rally, said that Azria "has turned into a scapegoat".
"At the end of the day, the message to soldiers should be clear -- a soldier who neutralizes a terrorist, even if he was mistaken, shouldn't be imprisoned," she said in a statement.
Earlier on Tuesday, Netanyahu said that he was "convinced that the court will consider all circumstances regarding the incident". 
"Our soldiers are not murderers. They act against murderers and I hope that a way will be found to balance between the action and the overall context of the event," he said.
(Staff with AFP)
You need to be logged in in order to post comments. Sign up or log in
"Justice will prevail in the courtroom."? 'Justice' is already being denied as the soldier is only being charged with manslaughter.
Did justice prevail when your very own Sergeant Alexander Blackman murdered a taliban militant in cold blood? Oh wait, no, this is different because the soldier is not Israeli... Another hypocritical opinion by master litigator Michael Farmer!
If Sergeant Alexander Blackman shot the wounded taliban fighter while the fighter was incapacitated then he indeed should have been charged with murder and jailed for life. That was found to be a deliberate killing ... as was the videod assassination of the wounded Palestinian assailant. I invite you to also condemn THAT killing.
I have condemned it in this forum, several times. Every army in the world has its rogue soldiers - but you cannot see past your Jew hated. I have yet to see you post on anything else but Israel. Israel can cure cancer and you'd still call it a Zionist conspiracy.
Don't 'hate' Jews. Condemn Israel's bullishness, aggression, total disregard for anyone not Jewish.