Arab MK Zoabi compares Israel to Nazis, refuses to attend Holocaust memorial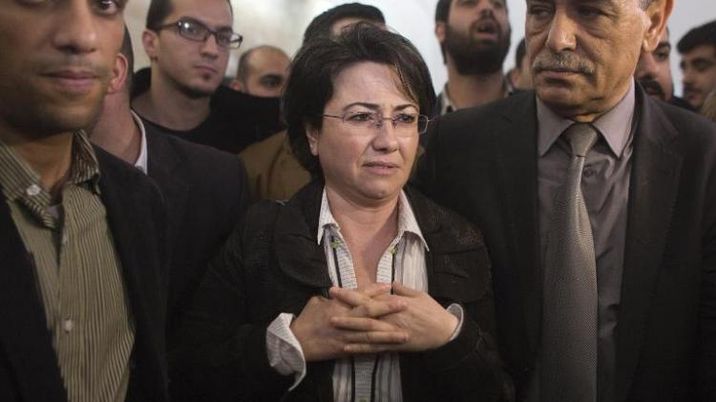 Haneen Zoabi, membre du parti politique israélien Balad
MENAHEM KAHANA (AFP)
Firebrand Israeli lawmaker claims Israel's teaching of the Holocaust is 'selective and manipulative'
Firebrand Arab Israeli lawmaker Hanin Zoabi (Joint List) declined an invitation to attend a ceremony marking Holocaust Memorial Day, citing the "alarming similarities" between Nazi Germany and current Israeli policies toward Palestinians and Israeli Arabs.
Zoabi wrote a letter to the organizers of the ceremony, which is due to be held next month, and compared the suffering of the Palestinians to the Holocaust.
"How can you teach the lessons of the Holocaust when you don't distinguish between the alarming similarity between what is happening today and what happened in Germany in the 1930s?" she wrote in the letter, which was leaked to Israeli daily Israel Hayom. "This is the danger: summary executions, detentions without trial, torture, gag orders, persecuting protesters and political activists."
Zoabi also claimed that Israel's teaching of the Holocaust is "selective and manipulative" in order "to increase the motivation to defend by humiliating and oppressing the other."
"I am honored to stand in memory of the victims, but it's equally important for me to warn about what preceded the Holocaust, and paved the way to it," Zoabi wrote. "Because of that, I find it necessary to refuse to attend."
Back in November, Zoabi caused controversy when she accused Israel of ethnic cleansing while speaking at a Kristallnacht commemoration event in Holland.
The Joint List MK spoke about racism in Israel at an alternative ceremony hosted by local left-wing Jewish activists and pro-Palestinian organizations in Amsterdam.
The Kristallnacht pogrom occurred on November 9-10 in 1938 when Nazi thugs plundered Jewish businesses throughout Germany, torched synagogues and rounded up about 30,000 Jewish men for deportation to concentration camps. At least 90 Jews were killed in the orgy of violence also known as 'The Night of Broken Glass', which historians say ushered in the start of the Nazis' drive to wipe out European Jewry.
"It is my honor to speak on behalf of the Kristallnacht victims...on behalf of all the Jews in history who have resisted oppression." Zoabi said, according to the report. 
"During Kristallnacht thousands of Jewish businesses and synagogues were burned, while the Germans remained silent. Today, as the homes of Palestinians are burned, as churches and people are burned alive - the majority in Israel remains silent," she said, drawing a comparison between Nazi Germany and and the current situation in Israel and the West Bank. 
"I am not an immigrant in my homeland," Zoabi said.
Drawing parallels between Hitler's genocide against the Jews and current Israeli policy against Palestinians and Israeli-Arabs, the lawmaker said: "I share their struggle."
"The central lesson of the Crystal Night has not been learned," said Zoabi. Accusing Israel of "ethnic cleansing" modeled on Nazism, she denounced half a dozen Israeli officials by name for what she referred to as recent efforts to "justify the use of violence toward Palestinians, according to the report. 
You need to be logged in in order to post comments. Sign up or log in
Why is this bile, terrorist supporter in the govt? Off to the Gaza with her and her's