Israeli ministers declare plan to expel pro-boycott activists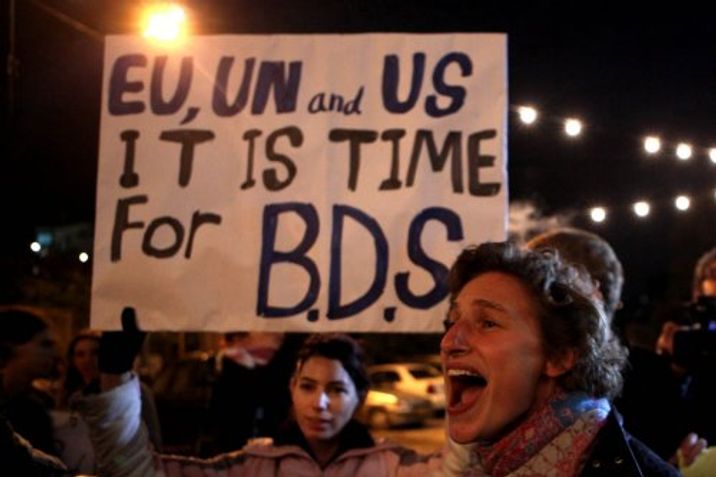 A BDS protest in East Jerusalem
AFP
Committee is to locate hundreds of anti-Israel activists and prevent others from entering the country
Israel's interior and public security ministers on Sunday declared that they plan to form a committee aimed at expelling and preventing the entry of activists supporting the Boycott, Divestment, and Sanctions (BDS) movement.
The committee is to be tasked with locating hundreds of such activists and keep new ones from entering, a press announcement said.
Dozens of organizations are working in Israel to collect information to be used for promoting boycotts and isolation of Israel, according to the press release.
The statement added that activists often enter the West Bank and provoke residents to take action against Israeli security forces, which it said the committee would prevent.
"The fight against the boycott organizations begins with those within Israel who wish to destroy," said Interior Minsiter Aryeh Deri. "We have the duty to do everything in order to dissolve the boycott and say in a clear voice that we will not allow harm to come to Israel, and forming the committee is an important step in this direction."
Public Security Minister Gilad Erdan said for his part: "We must not allow boycott activists to enter Israel. This is a necessary step given the malicious of these delegitimizing activists who work to spread lies and distort the reality of our area…"
Erdan added that a legal terma would soon bring forth recommendations for litigation against pro-boycott organizations and activists. "The boycott against Israel must have a price!" he said.
Upon Erdan's appointment in 2015, it was reported that he would oversee Israel's battle against international boycott efforts — traditionally the purview of the Foreign Ministry.