Israel's final founding father Shimon Peres dies at 93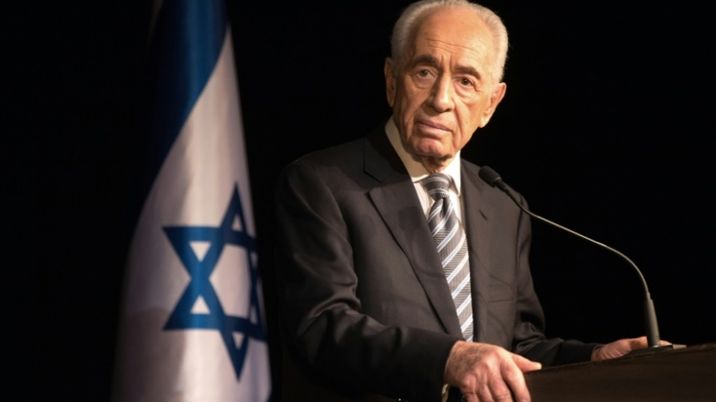 L'ancien président israélien Shimon Peres
AFP
Condolences pour in from around the world after former president dies at 93
Former Israeli President and Nobel Laureate Simon Peres died overnight Wednesday, aged 93.
Peres was hospitalized two weeks ago following a major stroke.
Born in 1923, in on August 2, 1923 in Wieniawa, Poland (now Vishniev in Belarus), Peres went on to hold nearly every major office in Israel, serving twice as prime minister. He was president, a mostly ceremonial role, from 2007 to 2014.
He won the 1994 Nobel Peace Prize jointly with prime minister Yitzhak Rabin and the late Palestinian leader Yasser Arafat for his role in negotiating the Oslo Accords, which envisioned an independent Palestinian state.
Numerous world leaders have paid tributes to Peres. 
Read more:
Full obituary: Shimon Peres 1923-2016
World mourns Peres: Friend, Visionary, Dreamer
In Photos: The life and legacy of Shimon Peres
Wednesday 28 September 2016
8:22 PM
The White House confirmed Obama will attend the funeral on Friday.
3:14 PM
"Melania and I extend our deepest condolences to the family of Shimon Peres on the passing of their beloved father, grandfather and great-grandfather. On the world stage, Peres was a visible and highly effective patriarch to another, much larger family — the people of Israel, whom he led as prime minister and president," Donald Trump says in a statement, adding "Peres' life always pointed toward peace.
1:33 PM
7,000 police and security forces to present at the funeral of Shimon Peres, Channel 2 News reported Wednesday.
12:31 PM
Jimmy Wales, the co-founder of the online non-profit encyclopedia Wikipedia, says he will attend the funeral of Shimon Peres.
11:39 AM
Mossad Director Yossi Cohen says Shimon Peres was a symbol of peace and brotherhood and as such, contributed greatly to building up the security of the State of Israel.
11:20 AM
Israeli flags at the Knesset plaza in Jerusalem were lowered to half-mast.
11:03 AM
Pope Francis said he was "deeply saddened" by the death of Shimon Peres, expressing hope that the Israeli statesman's legacy would live on through international peace efforts. "As the State of Israel mourns Mr Peres, I hope that his memory and many years of service will inspire us all to work with ever greater urgency for peace and reconciliation between peoples," Francis wrote in a telegram to Israeli President Reuven Rivlin.
11:01 AM
The UK's Queen Elizabeth said she "was greatly saddened to learn of the death of Shimon Peres." "Her Majesty warmly recalls her meeting with Mr Peres in 2008, and sends her heartfelt condolences to his family and the people of Israel at this sad time," read an official statement. "Her Majesty will be represented at the funeral of Shimon Peres by HRH The Prince of Wales."
9:47 AM
Israel police have completed security measures for the funeral of Shimon Peres scheduled for Friday morning and perpetrations have been made on a national level focusing on general security measures and public order. Police units will be deployed at major junctions and intersections across Jerusalem to give access to the different areas, police said.
9:04 AM
Bloomberg News reporter reports that Trump aides say he will not attend the Peres funeral.
8:33 AM
Palestinian President Mahmoud Abbas has sent a letter of condolence to the Peres family.
8:13 AM
An ABC News reporter says the Hillary Clinton camp has denied reports that she will be attending the Peres funeral.
7:56 AM
UK Labour party leader Jeremy Corbyn tweets: "Shimon Peres's role in Israel-Palestine negotiations won a Nobel Peace Prize & should be the spur for a renewed drive for peace and justice."
7:42 AM
UK's Labour party holds moment of silence in honor of Peres.
7:26 AM
UK Prime Minister Theresa May calls Peres a "visionary and courageous statesman, who worked relentlessly for peace."
6:58 AM
Hamas spokesman Sami Abu Zuhri says "the Palestinian people are very happy at the passing of this criminal who caused their blood to shed. Shimon Peres was the last remaining Israeli official who founded the occupation, and his death is the end of a phase in the history of this occupation and the beginning of a new phase of weakness."
6:43 AM
Palestinian Authority news agency says Peres was responsible for deaths of Palestinians and committed "crimes."
6:42 AM
Singer Barbra Streisand says Peres was a "father figure" to her.
5:57 AM
Putin praises Peres for 'courage and patriotism.'
5:57 AM
Canadian Foreign Minister Stéphane Dion adds his condolences: "Deeply saddened by passing of Shimon Peres: statesman and peacemaker."
5:37 AM
Peres's daughter says he wrote book to be published posthumously
5:13 AM
Zionist Union Member of Knesset Tzipi Livni gives exclusive interview to i24news, saying she hopes peace is not buried along with Peres.
4:43 AM
NATO Secretary General Jens Stoltenberg says Peres "lived the history of Israel and shaped the Middle East."
4:01 AM
A Palestinian Authority official quotes Palestinian President Mahmoud Abbas as saying the death is a great loss for humanity and the region.
3:42 AM
Report says Peres will be buried on Mount Herzl in Jerusalem between the graves of former prime ministers Yitzhak Shamir and Yitzhak Rabin.
3:25 AM
US Secretary of State John Kerry also said to be attending the funeral on Friday.
3:20 AM
Israeli President Reuven Rivlin says: "There is not a chapter in the history of the State of Israel in which Shimon did not write or play a part."
3:12 AM
Prime Minister Netanyahu says "there are few people who contributed so much to the state of Israel and her people."
3:08 AM
Pope Francis, Bill and Hillary Clinton, and Prince Charles are among the dignitaries who will reportedly attend the funeral on Friday.
2:54 AM
Norwegian Foreign Minsiter Børge Brende says Peres' "work for peace must inspire future efforts."
2:43 AM
Former Swedish foreign minister Carl Bildt tweets: "Shimon Peres was a man of brave vision and deep wisdom. Israel at its very best. And what it ought to be."
2:41 AM
Canadian Prime Minister Justin Trudeau reportedly plans to attend Peres' funeral on Friday.
2:35 AM
World Jewish Congress President Ronald S. Lauder says Peres "embodied the Zionist dream, he helped to build a free, secure, and prosperous state in the ancient homeland of the Jewish people."
2:31 AM
Austrian Ministers for Foreign Affairs Sebastian Kurz tweets that the death is "a big loss", Peres "shaped Israel's role in the world."
2:24 AM
Peres' coffin will lie in state in Israel's parliament on Thursday.
2:20 AM
Australian Prime Minister Malcolm Turnbull tweets his condolences: "Australia mourns the passing of Shimon Peres, his passion for the State of Israel as strong as his commitment to peace."
2:10 AM
US former president George H.W. Bush praises "innate humanity," says Peres "time and again helped guide his beloved country through the crucible of mortal challenge."
1:46 AM
Indian Prime Minister Narendra Modi says on Twitter that "we lost a key world leader & a friend of India. Pained by his demise."
1:44 AM
Peres is an organ donor and donated his corneas, doctors say.
1:42 AM
UN spokesperson tweets: "Even in the most difficult hours, Peres remained an optimist about the prospects for reconciliation."
1:40 AM
High Representative of the European Union for Foreign Affairs Federica Mogherini is "heartbroken" over death of a "man of peace" and "immense source of inspiration."
1:25 AM
Canadian Prime Minister Justin Trudeau says Peres was "above all, a man of peace. My deepest condolences to his loved ones and to the people of Israel on his passing."
1:25 AM
US President Obama is expected to travel to Israel for Peres' funeral on Friday.
1:21 AM
Airport authorities say they are preparing for the arrival of an international delegation for Peres' funeral.
1:15 AM
Former UK prime minister Tony Blair says Peres was a "man who was a political giant, a statesman who will rank as one of the foremost of this era or any era, and someone I loved deeply."
1:13 AM
Prime Minister Benjamin Netanyahu has announced a Cabinet meeting at 10:00 AM (7:00 AM GMT).
1:10 AM
Shimon Peres' son Chemi says his father "worked tirelessly for Israel from the very first day of the state to the last day of his life."
1:07 AM
Peres' son Chemi is speaking to press at the hospital.
1:06 AM
A press conference at Sheba Medical Center is now beginning.
1:03 AM
Israeli President Reuven Rivlin has decided to cut short his visit to Ukraine following Peres's death.
12:32 AM
Hillary and Bill Clinton have released a joint statement: "The Middle East has lost a fervent advocate fro peace, reconciliation and for a future where all the children of Abraham build a better tomorrow together. Israel has lost a leader who championed its security, prosperity and limitless possibilities from it's birth to his last day one Earth."
12:17 AM
US President Obama hails Shimon Peres as a friend who never gave up on peace. "There are few people who we share the world with who change the course of history, not just through their role in human events, but because they expand our moral imagination and force us to expect more from ourselves. My friend Shimon Peres was one of those people," he said.
Tuesday 27 September 2016
11:07 PM
Former president Shimon Peres has died aged 93, about two weeks after suffering a stroke.