Arab rapper to perform at Israeli festival despite culture minister's resistance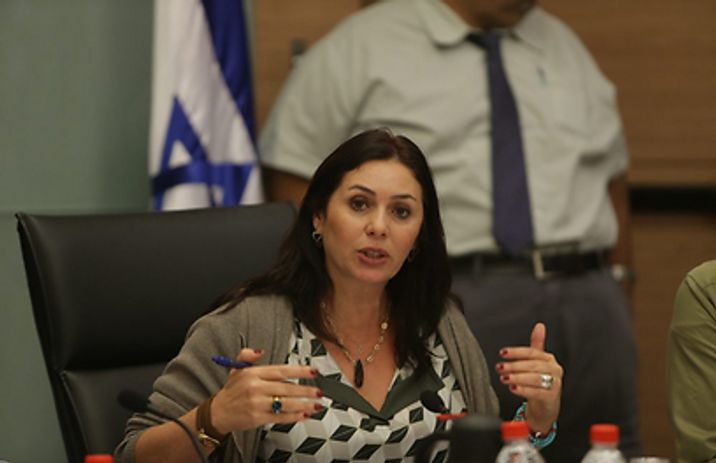 Miri Regev
Ynet
Minister had asked mayor to cancel appearance, arguing that the artist opposes Israel's existence
Arab rapper Tamer Nafar is set to perform on Tuesday at a festival in Israel's Haifa despite the culture minister's public call for the city to cancel his appearance, Israeli daily Haaretz reports.
Culture Minister Miri Regev had asked Haifa's mayor to consider canceling the performance, arguing that Nafar "chooses at every opportunity and on every possible platform to come out against the idea of Israel and its existence as the state of the Jewish people."
Media outlets then reported that the city had decided to shorten the planned performance or cancel it entirely – a claim that the municipality denied on Monday.
Last month, Minister Regev walked out of an awards ceremony when Nafar and a Jewish performer recited part of a poem by Palestinian national poet Mahmoud Darwish.
According to Haaretz, in a letter to Haifa's mayor Regev pointed to a song by Nafar called "Who's the Terrorist," which includes the words: "Democracy? Why? It reminds me of the Nazis / You've raped the Arab soul / And it became pregnant, giving birth to a child called terror attack / And then you call us terrorists."
Regev wrote that "public funds should not support activity that undermines the state, its values and symbols in the name of art and freedom of speech," Haaretz said.
Irene Abedi, a member of Haifa's municipality, told AFP that city officials had written to the mayor to ask him to reject Regev's request.
She said changing course would have gone against the city's "multicultural" heritage and pandered to "rightwing extremist views that do not represent the majority in the state."
Meanwhile, two activists from the country's ruling Likud party were questioned by police after writing online that they planned to "blow up" the performance. They said they were referring to legal attempts to halt the performance.
Minister Regev has throughout her tenure criticized state funding for artists whose work she deemed anti-Israeli.
In January, she proposed a bill referred to as "Loyalty in Culture", aimed at changing how cultural institutions are funded by the state. According to the bill, financial support would be conditional upon their respect towards Israel, and the support of those who deface the flag or other national symbols, incites racism, violence or terror will be revoked.
In June 2015, Regev threatened to cut funding to a small theater run by Norman Issa, a popular Arab actor, who refused to participate in a performance in the Jordan Valley, which is located across Israel's 1967 border line.
And this May, Regev called for a bill requiring all cultural and sports-related buildings built with state money to fly an Israeli flag.