Israeli MK demands probe into 'incitement' over mosque loudspeaker opposition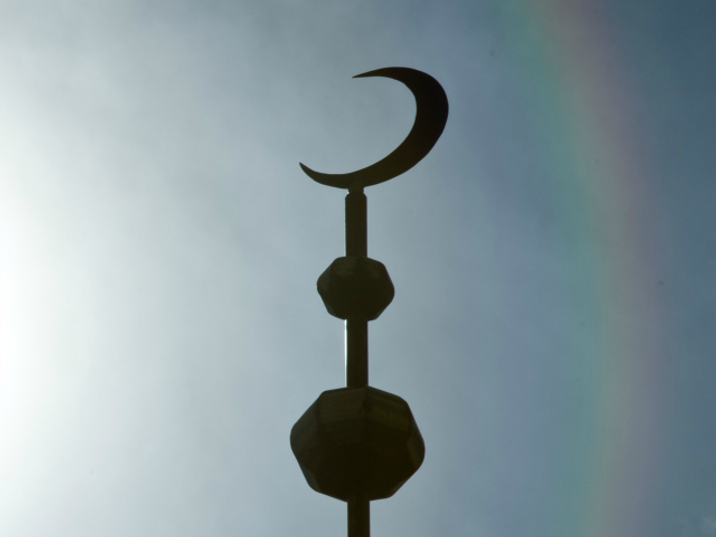 A rainbow is seen behind the minaret of a mosque during Friday prayer
BORIS ROESSLER/AFP
Joint Arab List MK under fire for calling for acts of civil disobedience in protest to the bill
The Yisrael Beytenu party on Tuesday asked the Attorney General to open an investigation against Mk Ahmad Tibi of the Joint Arab List, who is accused of calling for Arab-Israelis to revolt against the recently approved a bill that would prohibit the use of loudspeakers at mosques during the Muslim call to prayer.
In a letter to the attorney general written by Yisrael Beytenu MK Robert Ilatov, he drew attention to an interview that Tibi gave to the Lebanese Hezbollah affiliated al-Mayadeen network, in which he urged civil disobedience from Arab-Israelis in response the bill.
The bill, which passed in its first draft on Sunday, was originally put forth by Habayit Hayehudi MK Moti Yogev, and was initially intended to prevent the broadcasting of nationalistic messages and incitement over mosque loudspeakers. The bill was reworded following criticism and now cites excessive noise as the reason for prohibiting loudspeakers.
While the draft bill applies to all houses of worship, it is seen as specifically targeting mosques.
The call to prayer, or adhan, is broadcast five times a day between dawn and night-time, at different hours according to the time of year.
Ilatov said in a statement that "Ahmad Tibi constantly incites a whole community against Israel as well as terrorist groups who call for Israel's destruction."
"I will act on all levels to ensure traitors and terrorists will not be public representatives in the Knesset of Israel," he added.
In the interview with al-Mayadeen, Tibi called the bill a step towards "fascism," and encouraged Israeli-Arab citizens to take part in actions of civil disobedience in protest to the decision.
This is a developing story
You need to be logged in in order to post comments. Sign up or log in
November 15, 2016 5:47 PM
These accused don't belong in the Israeli government. They belong in gaza