Police question Netanyahu for three hours in graft probe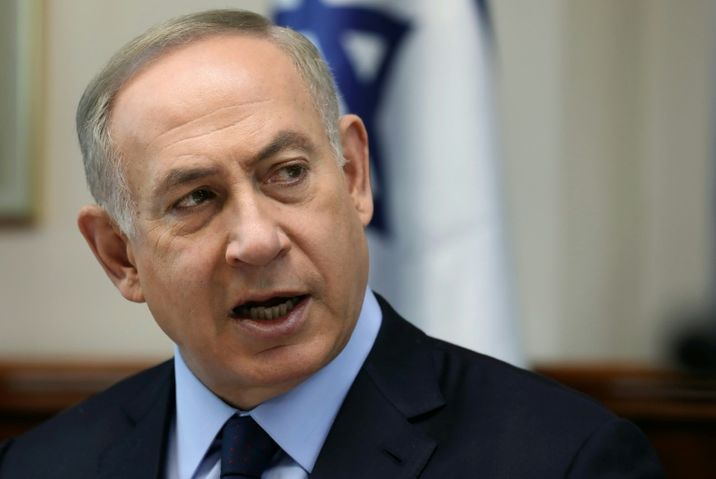 Israeli Prime Minister Benjamin Netanyahu chairs the weekly cabinet meeting in Jerusalem on January 1, 2017
GALI TIBBON (AFP)
Two businessmen linked to Netanyahu graft probe reportedly confess to giving PM kickbacks
Israeli police questioned Prime Minister Benjamin Netanyahu under caution for about three hours Monday evening over graft suspicions.
According to reports, three investigators arrived at the prime minister's residence on Balfour street in central Jerusalem at around 6:30 pm (1630 GMT). It is not clear when the questioning began, but police said at around 11:00 PM (2100 GMT) that the questioning had concluded and had lasted about three hours.
In a subsequent statement the Attorney General's office said they would further pursue the line of investigation, providing no details regarding its substance. 
The statement however pointed out that in a number of past allegations against Netanyahu, specifically in connection with funding of 2009 election, there was "no evidentiary basis" warranting further investigation.  
Media reports earlier said that Netanyahu would be questioned over whether he illegally accepted gifts from wealthy supporters, in a probe shaking the country's political scene.
Meanwhile Channel 10 News reported that two businessmen linked to probe confessed to giving Netanyahu kickbacks. The report did not specify the nature of the perks allegedly provided to the leader.
A few hours before he was due to be questioned Netanyahu addressed the allegations against him, urging his opponents to "wait with the celebrations."
At the opening of the weekly Likud party meeting Netanyahu reiterated that "there will be nothing because there is nothing."
Opposition leader Isaac Herzog meanwhile, at the weekly Zionist Union party meeting said that the prospect of the Prime Minister being questioned by police was not a cause for celebration.
"This is not a happy day; this is a difficult day for Israel," Herzog said. "We don't have a drop of schadenfreude."
Police suspect Netanyahu has received gifts from Israeli and foreign businessmen worth hundreds of thousands of shekels, Israeli daily Haaretz reported on Sunday. Some of those allegedly providing the gifts were friends of the prime minister, according to the report.
While Netanyahu is expected to say there was nothing illicit about the gifts, Haaretz claimed that the circumstances suggested otherwise – first because the gift-giving did not appear to be reciprocal, and second, because evidence suggests the prime minister was picky about the gifts and made specific demands.
The newspaper further said that the allegations pale in comparison to details of a second investigation into Netanyahu. This second case, whose details have been kept entirely secret from the public, has the potential to be "earth-shattering."
Attorney General Avichai Mandeblit approved the launch of criminal investigations against Netanyahu regarding two cases several days ago, prompting the prime minister to slam media reports of renewed allegations of fraud and bribery against him as "baseless."
"All these scandals have turned out to be baseless and so will the allegations being published in the media now," the premier said. "We keep repeating: This will come to nothing because there is nothing."
Channel 2 also reported last week that police recently received new documents as part of a probe involving the prime minister that began almost nine months ago. According to the report, among the suspected charges are bribe-taking and aggravated fraud.
The television station said police had been investigating the case for eight to nine months, with the interrogations of around 50 people leading to a breakthrough three weeks ago.
He has acknowledged receiving money from French tycoon Arnaud Mimran, who was sentenced to eight years in prison over a scam amounting to 283 million euros involving the trade of carbon emissions permits and the taxes on them.
Netanyahu's office said he had received $40,000 in contributions from Mimran in 2001, when he was not in office, as part of a fund for public activities, including appearances abroad to promote Israel.
He has also come under scrutiny over an alleged conflict of interest in the purchase of submarines from a German firm.
Media reports have alleged a conflict of interest over the role played by the Netanyahu family lawyer, David Shimron, who also acts for the Israeli agent of Germany's ThyssenKrupp, which builds the Dolphin submarines.
Mandelblit was last month reportedly examining a possible conflict of interest on the part of Netanyahu in a deal to purchase three of the German submarines, yet there was no suspicion of criminal activity.
MK David Amsalem of Netanyahu's Likud party has declared that he intendeds to submit a bill Monday which would amend current laws and protect a sitting prime minister from being investigated on allegations of bribery, fraud or breach of trust. It would allow the prime minister to finish out their term before facing an investigation.
Suspicions of security, sex, violence, or drug-related offenses would still be investigated under the legislation.