Netanyahu claims he recorded talks with media mogul to uncover graft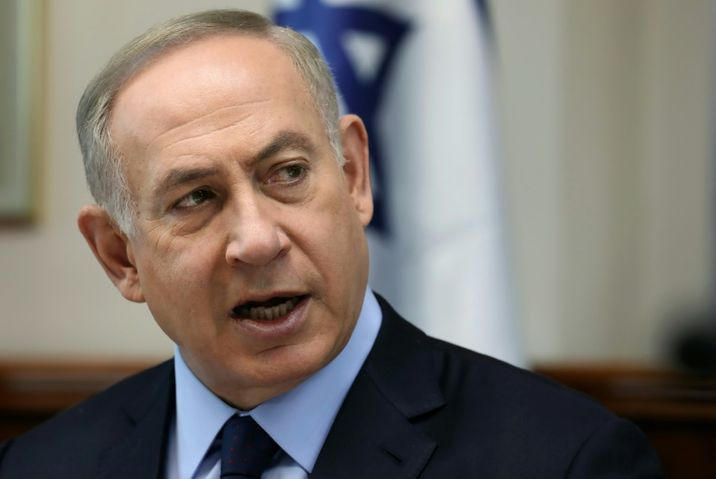 Israeli Prime Minister Benjamin Netanyahu chairs the weekly cabinet meeting in Jerusalem on January 1, 2017
Gali Tibbon (AFP)
two men apparently caught in audio recordings engaging in negotiations over a 'quid pro quo' arrangement
Prime Minister Benjamin Netanyahu recorded his private conversations with Israeli media tycoon Arnon (Noni) Mozes because he wanted to uncover the Yedioth Ahronoth's underhanded dealings, Israeli media reported Wednesday.
Mozes has been named as a central figure in a graft probe currently brought against Netanyahu with the two men apparently caught in audio recordings engaging in negotiations over a 'quid pro quo' arrangement that would have provided benefit to the mogul's newspaper in exchange for more favorable coverage for the premier.
According to the new claims, Netanyahu had deliberately misrepresented his position on the issues he discussed with the tycoon to extract compromising statements from him.
Channel 10 News cited officials as stipulating that this was not Netanyahu's original framing of the fact that he was recorded discussing the ethically questionable deal with Mozes.
Mozes is reportedly being investigated under caution along with Netanyahu over the deal. He is said to have been questioned in the case last week and released under certain conditions.
The daily Ha'aretz newspaper earlier on Sunday reported that Israeli police are in possession of "a series" of audio recordings which appear to confirm suspicions that the Prime Minister made a mutual benefit arrangement with the Israeli businessman that would help him maintain power in exchange for "achievements estimated to be worth a fortune."
According to Channel 2, Mozes had recorded a conversation in which Netanyahu offered to limit circulation of Yedioth Ahronoth's top competitor, Yisrael Hayom, in exchange for more favorable coverage.
Yisrael Hayom, Israel's largest daily newspaper, is owned by US billionaire and Netanyahu confidante Sheldon Adelson.