Israeli lawmakers move to ban anti-settlement activists from entering country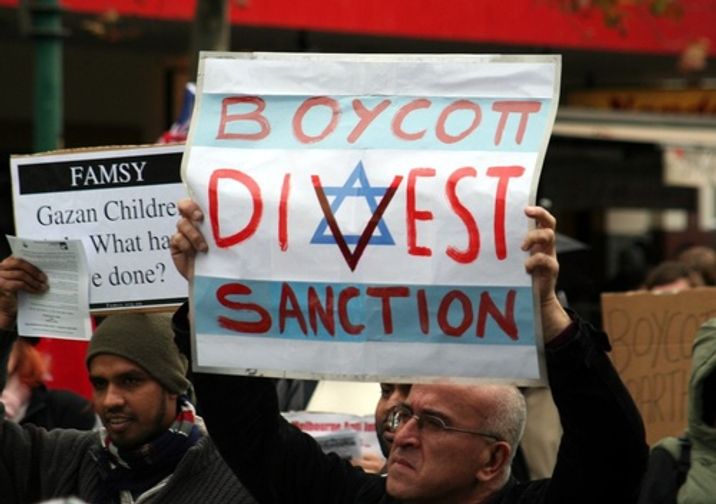 A Boycott, Divestment and Sanctions (BDS) protest against Israel in Melbourne, Australia, on June 5, 2010
Mohamed Ouda via Wikimedia Commons
Bill would bar foreign citizens who publicly voice support for boycotts against Israel from entering
An Israeli parliamentary committee on Wednesday approved a bill barring foreign citizens calling for boycotts against Israel from receiving entry permits, Israeli daily Haaretz reports.
The Knesset Interior Committee's approval means the bill now needs to be approved in two rounds of voting by a parliamentary plenum before it becomes law.
The bill would forbid foreign citizens from entering the country either if they publicly call for a boycott against Israel or its settlements or if they represent an organization that does so.
The committee rejected a Justice Ministry proposal to make exceptions for Palestinians residing in Israel who possess temporary entry permits in order to "strengthen [the bill] against possible judicial criticism," as a ministry representative put it, according to the report.
Lawmaker Bezalel Smotrich of the pro-settler Bayit Yehudi (Jewish Home) party, one of the two parliamentarians who sponsored the bill, also dismissed concerns that the bill would likely be struck down by the High Court of Justice, saying it was "completely proportionate".
Yael German, a lawmaker from the centrist Yesh Atid party, was among members of the opposition who criticized the bill on Wednesday. German said she opposed the bill because it was superfluous and would provide ammunition for Israel critics.
Under the proposed law, the minister of interior would have the ability to make exemptions. Under current law, the interior minister already has the right to prohibit individuals from entering Israel.
Read more: Bill that would ban BDS-activists from Israel passes first reading