Netanyahu steps aside from communications portfolio, names temporary replacement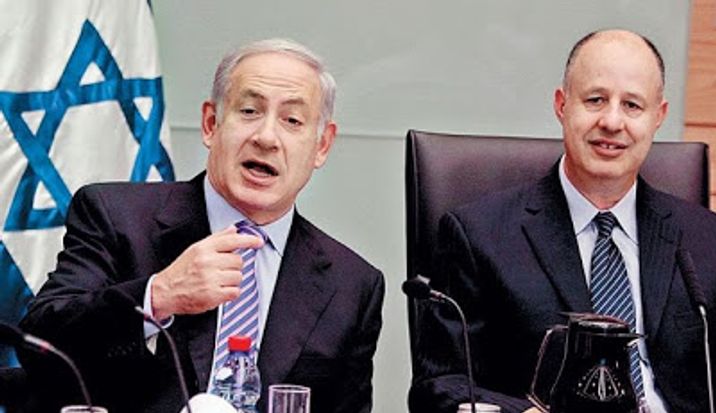 Netanyahou Hanegbi
Jstreet
Regional Cooperation Minister Tzachi Hanegbi to take over communications ministry for period of three months
Israeli Prime Minister Benjamin Netanyahu on Friday named Regional Cooperation Minister Tzachi Hanegbi as the temporary new head of the communications ministry, previously held by Netanyahu himself.
Netanyahu has faced increased pressure to relinquish the communications portfolio as he is under investigation for allegations that he negotiated a 'quid pro quo' arrangement with the publisher of the Yedioth Ahronoth newspaper that would have limited circulation of the newspaper's main rival, Yisrael Hayom, in exchange for more favorable coverage for the prime minister.
After leaked audio recordings of conversations between the two men were leaked to the media, Netanyahu claimed to have made the tapes himself, purposefully misrepresenting his position on the issues discussed in order to extract compromising statements about Yedioth's underhanded dealings.
Speaking to reporters before boarding a flight back to Israel from the United States, Netanyahu said he would step aside from the communications ministry for a period of three months, appointing fellow Likud member Hanegbi in his stead.
After that three months "then we'll see,"the Prime Minister added.
Opposition leader and chair of the Zionist Union party Isaac Herzog called the Prime Minister's announcement "a bad joke" that comes only after his party filed a petition with the Supreme Court arguing that Netanyahu should suspend himself from the ministry while under investigation.
"The Prime Minister's announcement on transferring communications portfolio to Hanegbi for three months is a bad joke," Herzog said, adding "It is only a temporary evasion from what is known in advance."
The investigation into the 'quid pro quo' arrangement has been dubbed "Case 2,000" and the Prime Minister is being investigated in three other cases as well.
Netanyahu and his wife, Sara, are currently embroiled in controversy over accusations the two had for several years received gifts of luxurious cigars and champagne worth tens of thousands of shekels annually from billionaire business mogul Arnon Milchan and other wealthy benefactors, in a case dubbed by police as "Case 1,000."
"Case 3,000" is reported to connected to what became known as the 'submarine affair', after allegations emerged in November that an Israeli attorney known for close ties to Netanyahu was appointed to the director's board of a subsidiary firm linked to German submarine producing conglomerate ThyssenKrupp, and used his personal relationship with the premier to push deals with Israel to the tune of billions of dollars.
The details of a reported fourth investigation, "Case 4,000," have not been revealed.
Last week Israel's Channel 2 news reported that police are likely to recommend an indictment against Netanyahu in "Case 1,000."
According to the report, officials are currently weighing whether to accuse Netanyahu of breach of trust only, or add the more serious charge of accepting a bribe.