Netanyahu supports proposal to include settlements as part of Jerusalem: report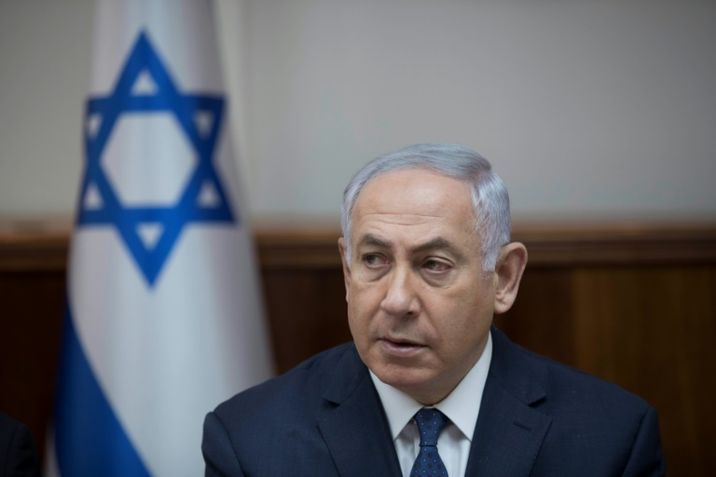 Le Premier ministre Benjamin Netanyahu, le 23 juillet 2017, à Jérusalem
ABIR SULTAN (POOL/AFP)
Proposal would exclude some 100,000 Palestinians living beyond security barrier from municipal census
Israeli Prime Minister Benjamin Netanyahu said he would support for a proposal that would absorb four West bank settlements to include them as part of Jerusalem, Haaretz reported Wednesday.  
The proposal also includes the absorption of a settlement bloc into Jerusalem and would remove 100,000 Palestinians from the municipal census, Haaretz reported on Wednesday.
The settlements of Ma'ale Adumim, the Gush Etzion bloc, GIvat Ze'ev, Beitar IIlit and Efrat are included in the porposal. Some 130,000 Israelis live in those areas.
The proposal dictates that the residents of the settlements would be allowed to vote in Jerusalem municipal elections but the settlements would not be defined as under Israeli sovereignty.
The move would make Jerusalem predominantly Jewish and, under the same proposal, some 100,000 Palestinians living beyond Israel's security fence would be excluded from the municipal census, with a new municipality to be built for them.
According to Haaretz, Netanyahu plans to go forward with the proposal after the Israeli parliament's summer recess.
Israel's intelligence minister Yisrael Katz initiated the proposal earlier this month.  
 "Those settlements, those towns -- Maale Adumim, Gush Etzion, Givat Zeev, Beitar Illit and Efrat -- will become part of Jerusalem but without changing their status -- without putting the Israeli sovereignty on those places," Katz said earlier this month.
Most countries deem Israeli settlements in the West Bank to be illegal. Israel disputes the charge, arguing that the status of the land is "disputed."
Many Israeli politicians think the largest settlement blocks in the West Bank will become part of Israel in any future peace deal
A number of countries, including France, the European Union, and Turkey, have condemned Israel's plans to develop 1,500 new settlement homes in east Jerusalem. They that the decision threatens the two-state solution and undermines trust necessary for peace negotiations with the Palestinians.