Former Netanyahu aide says Ari Harow could bring down the Israeli PM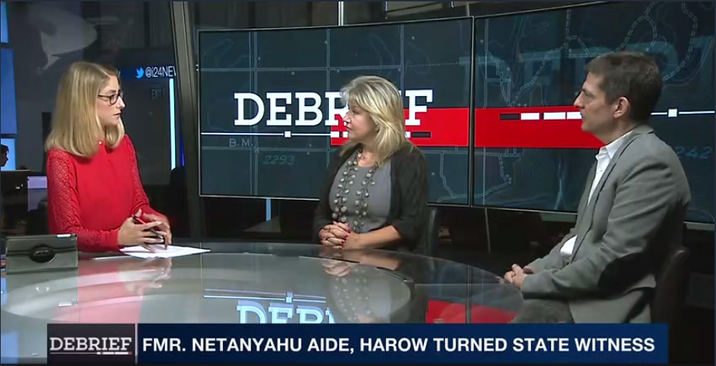 Former top aide for Netanyahu Odelia Karmon in an interview with i24NEWS on August 11, 2017
i24NEWS
'Everything that he did was what Netanyahu asked him to do,' Odelia Karmon tells i24NEWS
Former aide to Israeli Prime Minister Benjamin Netanyahu Odelia Karmon said Thursday that the Israeli premier's former chief of staff Ari Harow could be the man who will bring down the Israeli prime minister, in an interview with i24NEWS.
Karmon, who served as former foreign affairs adviser during Netanyahu's tenure as leader of the opposition and worked closely with the Netanyahu's on and off over the span of 20 years, asserted that Harow never acted out of his own volition but, rather, was carrying out orders from the Israeli prime minister.
"Everything that he did," Karmon told i24NEWS, "was what Netanyahu asked him to do."
Karmon explained that Harrow had no personal interests in the government's dealings and described him as a decent man who was surrounded by politicians with personal and political ambitions.
"Everything he did, and I saw it when we worked together, is Netanyahu's initiative that he delivered," Karmon reaffirmed. "Whatever he said, it's not something that he did on his own will."
"He acted only upon Netanyahu's request," Karmon added, "and I was in the room many many times together with both of them and I saw it happen."
In the past, Karmon has described working for the Netanyahu's as being "like Russian roulette. Nobody gets out alive."
Regarding Netanyahu's personality, Karmon told i24NEWS that "he's a fascinating person to work with but being fascinating and being impossible" are sometimes traits that "go together."
"The public doesn't even know the tip of the iceberg, but I guess slowly but surely the investigation are going towards revealing things the public would be very sad and surprised to find out," Karmon said.
Israeli Prime Minister Benjamin Netanyahu's former chief-of-staff Ari Harow, who signed an agreement to turn state's witness in ongoing corruption investigations allegedly involving the prime minister, reportedly told associates earlier this week that he is not planning to bring the Israeli premier down.
Harow, who resigned from his post in the Prime Minister's Office in January 2015 in order to work on Netanyahu's election campaign, has been under police investigation since December 2015 on suspicion of fraud and breach of trust.
Police have recommended he be indicted on those offenses, but the Attorney General has yet to file formal charges.
In exchange for the testimony, Harow will avoid serving prison time and instead be sentenced to half a year of community service and likely pay a fine of NIS 700,000 (around $193,323).
Read more:
Ex-Netanyahu aide says 'panicked' PM tried to obscure salary arrangement: report
Israeli PM's former chief-of-staff: 'I'm not looking to bring down Netanyahu'