Israeli MK criticizes Trump's original statement on neo-nazi march in Virginia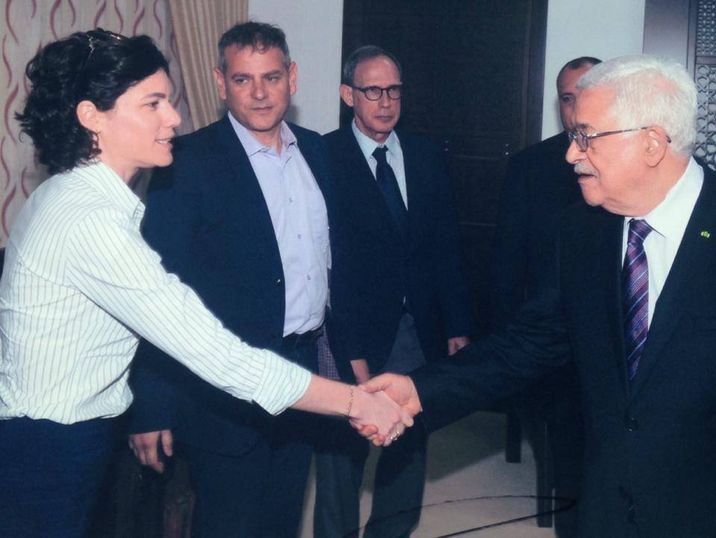 Israeli MK Tamar Zandberg (Meretz) and Palestinian Authority President Mahmoud Abbas meeting in Ramallah
Tamar Zandberg's Facebook page
'In a way he is normalizing the greatest danger to the free world's values,' the MK said.
Israeli Member of Knesset Tamar Zandberg, a member of the Opposition's Meretz party, criticized US President Donald Trump's original response to Saturday's white nationalist, neo-nazi march in Charlottesville, Virginia, during an interview on Sunday with CNN's Wolf Blitzer.
"I think the idea of condemning all kinds of violence of all sides is actually normalizing one specific kind of Nazi racist violence that we should all unite against," she said, referencing Trump's condemnation of "violence on many sides" during Saturday's march.
"This is the leader of the free world and in a way he is normalizing the greatest danger to the free world's values," she added.
Zandberg's remarks followed those of Education Minister Naftali Bennett, a figure who along with his Jewish Home party, is seen by pundits as being on the completely opposite side of the Israeli political spectrum with respect to the Meretz party.
Bennett earlier on Sunday, had called for US leaders in general to condemn anti-Semitism, without specifically expressing a need for the White House alone to do so. Zandberg however, said that it was incumbent upon the sitting US President to make a specific condemnation of neo-nazi groups.
"My message (to Trump) is Mr. President, you are the leader of the free world," she continued in her interview with Wolf Blitzer. "You should lead the free world against this Nazi racist violence that we have seen and unite all of us in equality and in anti-racism, anti-Nazism and anti-violence."
For its part, the White House released a statement on Sunday asserting that Trump was in fact referencing white supremacists and neo-nazis in his original remarks on Saturday.
Later on Sunday, US Vice-President Mike Pence said that such "dangerous fringe groups" have no place in the US public arena, after arriving for a visit in the South American country of Colombia.
"We have no tolerance for hate and violence, white supremacists or neo-Nazis or the KKK," Pence said during a news conference in Cartagena.
You need to be logged in in order to post comments. Sign up or log in
Pence, the lap dog of the pink hair charlatan, has as much credibility as his crooked, no morals and obese boss: ZERO !
No one on the left has condemned the vandalism of the far left and the assaults on repub congressmen.