Netanyahu's special diplomatic envoy resigns amid corruption probes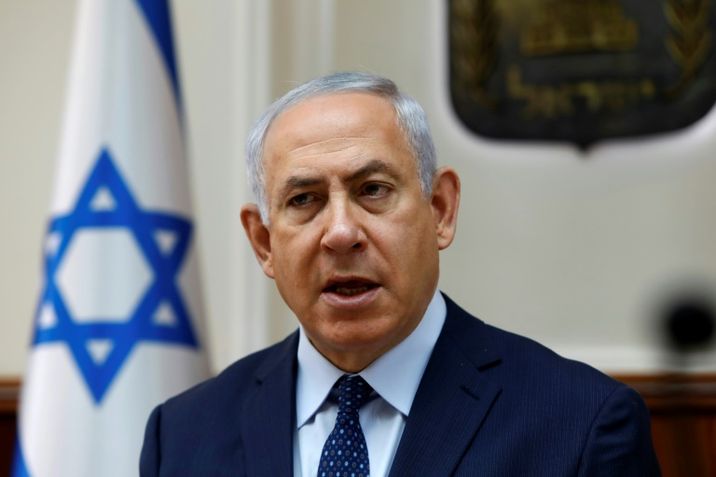 Israeli Prime Minister Benjamin Netanyahu opens the weekly cabinet meeting at his Jerusalem office on September 26, 2017
GALI TIBBON (POOL/AFP)
PM faces corruption allegation as his closest confidante submits resignation
Israeli Prime Minister Benjamin Netanyahu's personal diplomatic envoy and confidant announced Wednesday he was relinquishing his voluntary position on the backdrop of growing public criticism of his undefined function.
"Following my previous request to you," Yitzhak Molcho wrote in a letter to the Israeli prime minister, "I respectfully request that you discharge me from my position as emissary and special diplomatic adviser to the premier."
In a responding letter, also distributed by the premier's office, Netanyahu accepted Molcho's resignation and thanked his closest confidante for his devotion, service and commitment.
"I do not need to list the sensitive and important tasks you've done," Netanyahu wrote. "You did this with a rare combination of talent, experience and comprehensive knowledge of the issues."
"Israelis citizens will greatly appreciate your contribution," he added.
A trained lawyer, Molcho served as Netanyahu's political envoy between 1996-1999 and then again in 2009 when the Israeli premier took office for the second time.
Molcho led Israeli negotiating teams with the Palestinians, and was Netanyahu's pointman for resolving sensitive issues with neighboring Arab states Egypt and Jordan.
His resignation comes in the midst of a whirlwind of corruption probes against the Prime Minister, his wife, and various members of his inner circle.
Since Molcho answered to Netanyahu only and was accountable to no formal parliamentary checks, lawmakers have criticized a lack of transparency in his actions.
Molcho is partner in a law firm with David Shimron, Netanyahu's relative and personal attorney, who has been investigated as part of the graft scandal involving the purchase of submarines from Germany.
Earlier this month, six suspects were taken in for questioning by Israeli police for their alleged involvement in the ongoing corruption probe regarding the government's purchase of the three German submarines.
The so-called "submarine affair" centers on allegations that Shimron pushed for multi-billion shekel deals in favor of German conglomerate ThyssenKrupp, which is his client in Israel.
In August, a petition was filed against Molcho continuing his work with Netanyahu in the light of Shimron's involvement in the submarine affair.
Israeli police are also conducting two other cases, known as Case 1000 and Case 2000. The first probe relates to the alleged receiving of gifts from wealthy associates and the second centers on leaked conversations with Arnon Mozes, the publisher of Israel's Yedioth Ahronoth newspaper.
"In my government, there will be no Molchos and no Shimrons," head of Israel's Labor party Avi Gabbay tweeted after the news of his resignation broke.
Molcho will leave the job at the end of February 2018.
(Staff with AFP)