Israel delays 'annexation' and 'immunity' bills over political roadblocks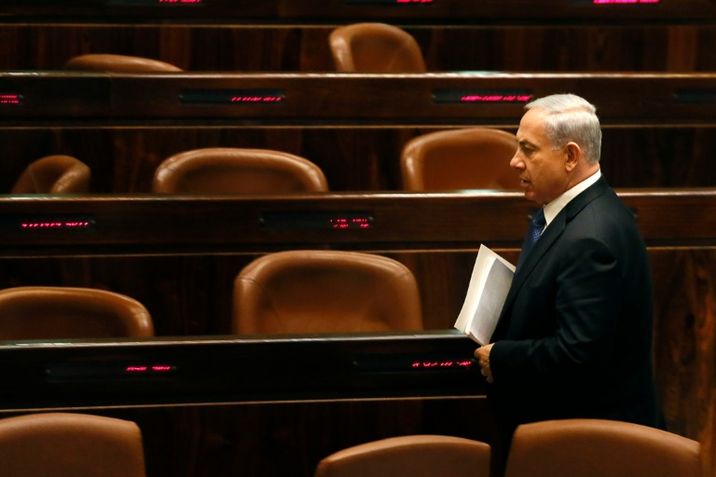 Le Premier ministre israélien Benjamin Netanyahu à la Knesset à Jérusalem, le 29 octobre 2014
GALI TIBBON (AFP/Archives)
Netanyahu says Israel 'must coordinate' with US on settlement bill
Voting on two key pieces of controversial legislation -- one which would see West Bank settlement blocs annexed into the Jerusalem city limits, and another which would shield a sitting prime minister from criminal prosecution -- was delayed on Saturday after both bills hit political roadblocks.
The Knesset's Ministerial Committee for Legislation was set to meet to vote on the controversial bills on Sunday. In addition to hitting political setbacks, raucous opposition to the "immunity bill" (also dubbed the "French law") led the government to call off the committee's planned meeting on Sunday for the second week in a row.
First, the so-called "Greater Jerusalem" bill, which would see several West Bank settlement blocs enveloped into the municipal boundaries of Jerusalem, was taken off the legislative agenda on Saturday as Israel sought to avoid a potential clash with the United States.
"The Americans turned to us and asked to understand the essence of the law," Netanyahu said at a meeting with ministers from his Likud faction on Sunday.
"As we have been cooperating with them until now, it is worth talking to and coordinating with them. We are working to promote and develop the settlement rather than to promote other considerations," Netanyahu said.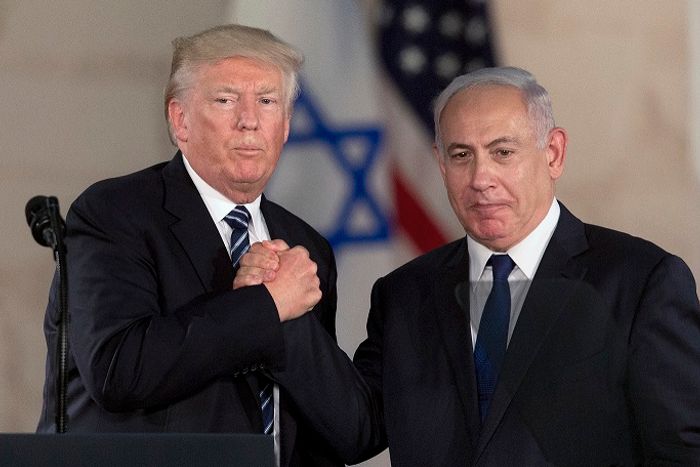 An unnamed source told Israel's Channel 10 news that the government would not advance the legislation without first consulting the Trump administration, which is reportedly preparing to advance a peace plan between Israel and Palestinians.
"The current version of the... bill invites international pressure and involves difficult legal issues," a senior figure in Netanyahu's ruling coalition told the Haaretz daily on condition of anonymity. "Prime Minister Benjamin Netanyahu cannot allow himself to advance this version at this time."
While Trump has been less outspoken than his predecessor and other Western allies on Israel's settlement activities, the issue is considered a major stumbling block to peace negotiations.
Next, a coordination conference call on Saturday night regarding the "French Law" -- which would amend Israel's Basic Laws outlining relations between the state's authorities to prohibit police from investigating a sitting prime minister for fraud, bribery and breach of trust --- broke down over staunch opposition to the bill.
The proposal, made by Likud party lawmaker MK David Amsalem, has been pushed by allies of Prime Minister Benjamin Netanyahu, who himself is currently embroiled in a web of corruption probes.
Netanyahu told Likud ministers on Sunday that he is "not interested in any law relating to the investigations now underway that are related to me, or are now being conducted and are not related to me."
Amsalem said earlier Saturday that the Likud's coalition government intended to forge ahead with the legislation on Sunday, despite both the Kulanu and Jewish Home coalition partners refusing to endorse it and contrary to reports earlier in the week that the coalition had agreed to delay voting on the bill by a month.
After the Jewish Home faction refused to back the bill during the call Saturday, coalition whip and powerful Netanyahu ally David Bitan said that the decision was made to freeze all pending legislation until further notice.
"We won't advance any coalition bills, like last week," he told the Walla news site, specifically noting opposition to the immunity bill.
Bitan earlier in the week threatened to dismantle the ruling coalition if partners did not back the legislation.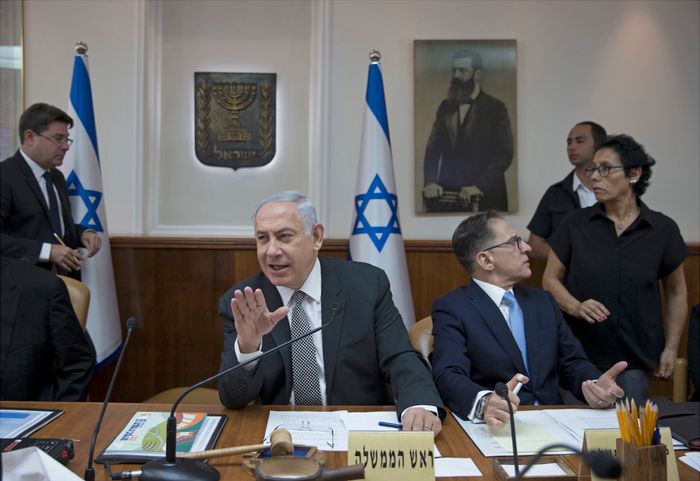 "Because this is a basic law, it can't advance without our support," sources in the Jewish Home party said, according to the Times of Israel. "There was a clear agreement that the bill would not come up now, and so, tomorrow it will also not come up for a vote."
Though the bill would not apply retroactively and would therefore not exempt Netanyahu from ongoing investigations against him, critics have said the bill undermines the rule of law and places the prime minister above the law.
Netanyahu is currently under investigation in a series of probes involving alleged financial corruption.
In one case, police are examining whether Netanyahu has received illicit gifts from Israeli and foreign businessmen worth hundreds of thousands of shekels ("Case 1000").
A separate case involves an alleged 'quid pro quo' arrangement with Israeli media mogul Arnon "Noni" Mozes that would have provided benefit to Mozes' Yedioth Ahronot newspaper in exchange for more favorable coverage for the premier ("Case 2000").
See also:
Analysis: Could France's 'constitutional anomaly' soon be transposed to Israel?
Netanyahu tells cabinet members Trump is pushing forward on peace deal