Top Netanyahu ally questioned in corruption probe ensnaring municipal officials
17 municipal officials arrested as tens of thousands protest government corruption
Coalition chairman David Bitan, a powerful ally of Prime Minister Benjamin Netanyahu, was questioned by Israeli anti-corruption police on Sunday morning as part of a widening probe that has led to the arrest of at least 17 municipal officials from the city of Rishon LeZion -- situated just south of Tel Aviv -- on suspicion of bribe-taking.
Bitan, who formerly served as the deputy mayor of Rishon LeZion is reportedly being investigated on suspicions that he used his position as head of the city's planning and construction committee to settle some NIS 7 million (around $2 million USD) in debts incurred during his time managing the then city-owned Hapoel Rishon LeZion soccer team through shady arrangements with local contractors and business people.
Police said that some 17 municipal officials had been arrested Sunday morning in connection to the probe, which is being characterized as an organized crime investigation.
Bitan's interrogation come as tens of thousands of Israelis poured onto Tel Aviv's streets for a massive protests against government corruption and attempts to push through legislation that would prevent police from recommending criminal charges to state prosecutors or from publicizing charges in certain cases.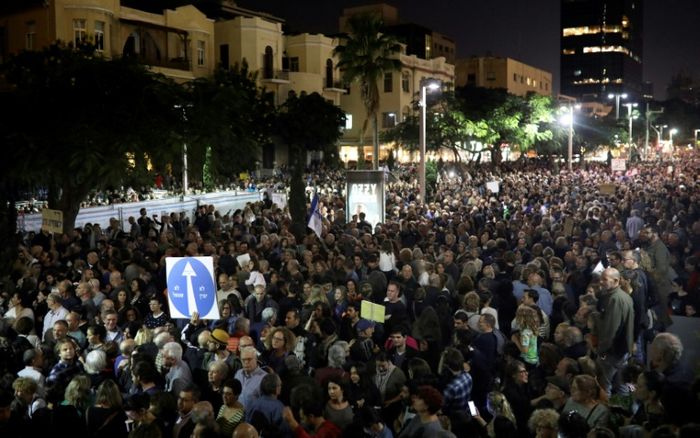 Bitan is currently spearheading efforts to see the controversial "anti-police law" fast-tracked by Israel's parliament, a move criticized as an an attempt to help Netanyahu survive several ongoing graft investigations against him.
Netanyahu has been implicated in a series of probes involving accusations corruption, including over his receipt of expensive gifts from a number of wealthy benefactors and an alleged 'quid pro quo' arrangement with Israeli media mogul Arnon "Noni" Mozes which would have provided benefit to Mozes' Yedioth Ahronot newspaper in exchange for more favorable coverage for the premier.
The investigations have stirred Israeli politics and led to speculation over whether Netanyahu will eventually be forced to step down.
Netanyahu, for his part, has adamantly denied any wrongdoing.