Likud activists advocate vote on annexation of West Bank parts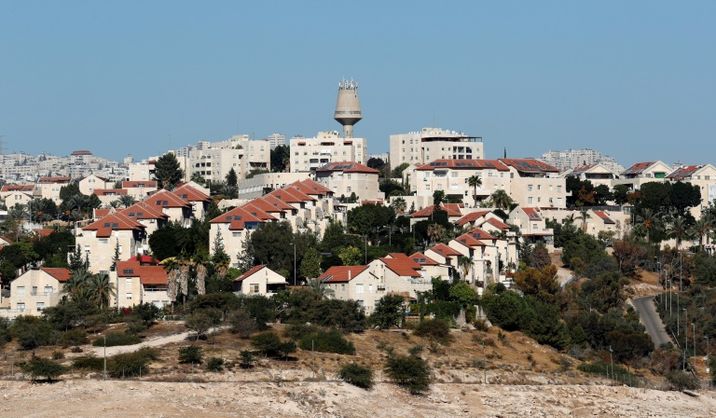 The Israeli settlement of Maale Adumim in the occupied West Bank on October 26, 2017
THOMAS COEX (AFP)
Committee 'calls on Likud's elected leaders to...allow unhindered construction...in Judea and Samaria'
Activists in Prime Minister Benjamin Netanyahu's ruling Likud party are set to convene for a vote on a resolution urging party leaders to formally annex parts of the West Bank and to allow unlimited construction settlement, the Times of Israel reported.
The vote was called by Likud activists residing in the West Bank who obtained around 900 signatures of the party's Central Committee which allows the resolution to be presented, circumventing party leader consent.
The resolution reads: "Fifty years after the liberation of Judea and Samaria, and with them Jerusalem our eternal capital, the Likud Central Committee calls on Likud's elected leaders to work to allow unhindered construction and to extend Israeli law and sovereignty in all areas of liberated settlement in Judea and Samaria."
Netanyahu will not be in attendance at the vote and despite in the past having opposed ideological pressure from the party institutions, the party activist website 'Balikud' assured that "the gathering is taking place with his full knowledge." Adding that, "he didn't try to delay or cancel the meeting."
Support for the vote has been declared by Knesset Speaker Yudi Edelstein, Public Security Minister Gilad Erdan alongside Jerusalem Mayor Nir Barkat, Environmental Protection Minister Ze'ev Elkin and Transportation Minister Yisrael Katz, according to the Times of Israel.
The 3000 member Likud Central Committee lobbying for the vote does not have a binding effect on ministers, however it can exert a sizeable political pressure.
There is debate about the legality of such a move under international law. A leaked research memo from Israel's Ministry of Foreign Affairs in 2014 said it could be legal if the people being transferred gave their consent, but warned it could do grave harm to Israel's international image.
US President Donald Trump's decision to recognize Jerusalem as Israel's capital has provided fresh impetus for right-wing groups seeking to lay a further claim to the area.
About 430,000 Israeli settlers live among 2.6 million Palestinians in the West Bank, occupied by Israel in the 1967 Six Day War.
You need to be logged in in order to post comments. Sign up or log in
December 31, 2017 2:36 PM
Like Jerusalem Judea and Samaria are part of Israel 3000 years ago.