Thousands march in Tel Aviv against government corruption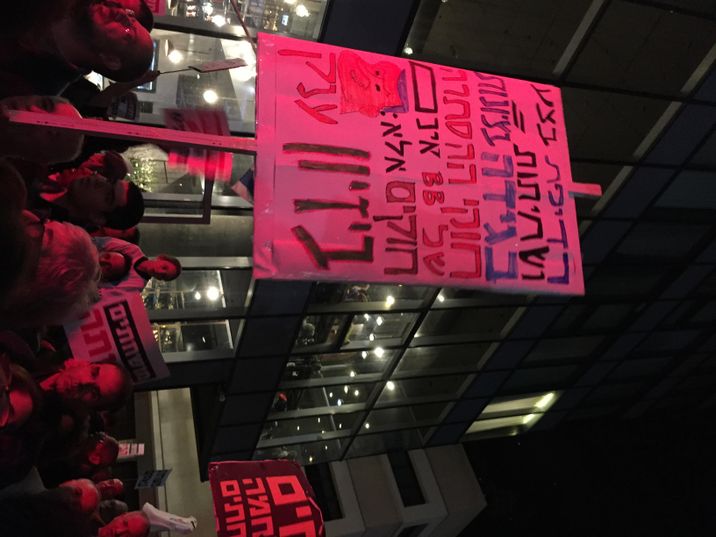 Third anti-corruption rally against Netanyahu government, Tel Aviv
Jess Manville
For the seventh consecutive Saturday, thousands flooded the central Rothschild Boulevard in Tel Aviv
For the seventh consecutive Saturday, thousands flooded the central Rothschild Boulevard in Tel Aviv to protest the Prime Minister Netanyahu and his government.
The marchers also chanted against Netanayhu's son Yair after the leaking of controversial recordings of the primier's son making crude remarks outside a Tel Aviv strip club in 2015, Haaretz reported. 
26-year-old Yair Netanyahu came under fire last week after Israeli media made the recording public. He's heard asking for cash from a friend whose father, he suggests, has benefited enormously from Netanyahu's passing a multi-billion dollar gas deal through the Knesset.
"My father secured 20 billion dollars for your father, and you're arguing with me about 400 shekels?" Yair is heard saying in the recording of the conversation with his friend, the son of the gas magnate Koby Maimon.
In central Tel Aviv, Netanyahu opponents again joined hands under the banner of the "March of Shame 2017" and called for an end to government corruption. Chants of "Bibi go home!", "the people demand a legal state" and "not leftist, not rightist but honest!" were heard from Rothschild to Habima Square.
The Israeli leader at the center of scrutiny has been under investigation in a series of probes involving alleged financial corruption, including an alleged 'quid pro quo' arrangement between Netanyahu and Israeli media mogul Arnon "Noni" Mozes, which would have provided benefit to Mozes' Yedioth Ahronot newspaper in exchange for more favorable coverage for the premier.
The investigations have stirred Israeli politics and led to speculation over whether Netanyahu will eventually be forced to step down.
You need to be logged in in order to post comments. Sign up or log in
Should be titled - "Thousands of communists march in Tel Aviv against government"!