Israeli lawmaker Yair Lapid calls UNRWA 'refugee factory' on i24NEWS exclusive
Lapid said the United Nations Relief and Works Agency need to be replaced by more capable organizations
Israeli member of Parliament and Yesh Atid Party chairman Yair Lapid said Wednesday praised the US decision to cut funds to the United Nations Relief and Works Agency (UNRWA), from $125 million dollars to a mere $60 million, asserting it was a move that needed to be done so the Palestinian issue could be handled by a more capable organization.
Lapid said that there are "5.5 million refugees that were invented by UNRWA so we need to replace UNRWA with a body that is more capable of handling it."
In an interview on i24NEWS' the RUNDOWN, Lapid expressed concern for the looming humanitarian crisis in Gaza, explaining that it required urgent attention but affirmed that the agency has not succeeded in aiding the Palestinian people.
"I'm very concerned about the humanitarian situation in Gaza and it's not in Israel's best interest not to handle this and not to do something about it I was all for renewing the electricity to Gaza and water I keep telling people you have to understand germs do not recognize borders, if there will be an epidemic in Gaza there be an epidemic in Ashkelon so it is very important for us as Jews, as humanitarians, as people with morals to do everything we can in order to help the people of Gaza not Hamas," Lapid said.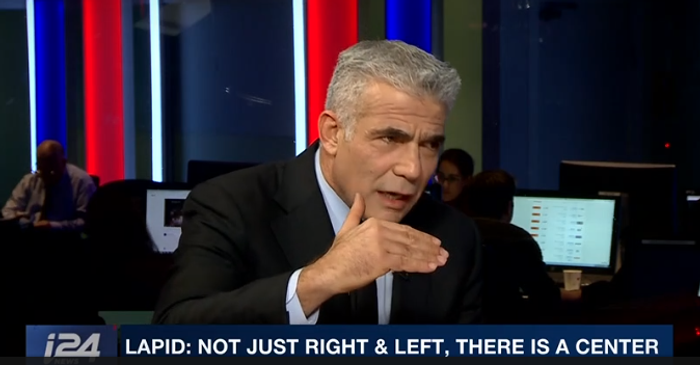 "On the other hand UNRWA is in so many ways helping Hamas," said Lapid, "instead of helping the people of Gaza - when you see terror tunnels coming from schools or kindergartens when you see the way they are helping Hamas creating this ethos of the Palestinians as the victims of not themselves but of the situation more than anything this is a refugee factory."
Lapid affirmed that the agency is feeding into a perpetual cycle of Palestinian victim hood and does more harm than good for the Palestinian people.
"In 1948 there were 700 and some Palestinian refugees, since then only a couple of thousand were expelled during the Six Day War but basically nothing and yet there are 5.5 million Palestinian refugees today," said Lapid.
"They aren't refugees, you cannot inherit the stature of a refugee, I'm not a refugee from Serbia where my father was born, so we are trying to tell the world that the fact that you can be a second, third and fourth generation refugee, the fact that you can be born and raised in New York or in Paris and still be considered a refugee doesn't make any sense," the lawmaker asserted.
Making peace with enemies
Lapid currently sits in the opposition but several recent polls show the Yesh Atid Party chairman surging past the current ruling Likud Party or trailing a close second, leaving him poised to unseat current sitting Israeli prime Minister Benjamin Netanyahu.
With regards to the peace process with the Palestinians, Lapid said that "what we need to do is go the regional conference and make sure all the players are on the table with the Egyptians, Jordanians and the international community," affirming that "if we leave this to any bilateral process it will fail."
"We have to remember that peace and even progress is something you do with enemies and the people you don't like because with people you do like you can probably live with them to start with," Lapid asserted.
Lapid criticized the Palestinians for being unwilling to speak with the American administration and said that "Jason Greenblatt has just arrived and the Palestinians refused to meet with him."
Still, Lapid hopes a solution will come through regional cooperation with moderate Sunni states.
"The Saudi initiative was offered as only some sort of framework to conduct negotiations with the Palestinians what we are offering is to put all the players around the same table in this way the more moderate or conservative Sunni states will be able to tell the Palestinians, it's time for you guys to move on," Lapid told i24NEWS.