'Day of disruption': Tel Aviv protest against judiciary reform turns violent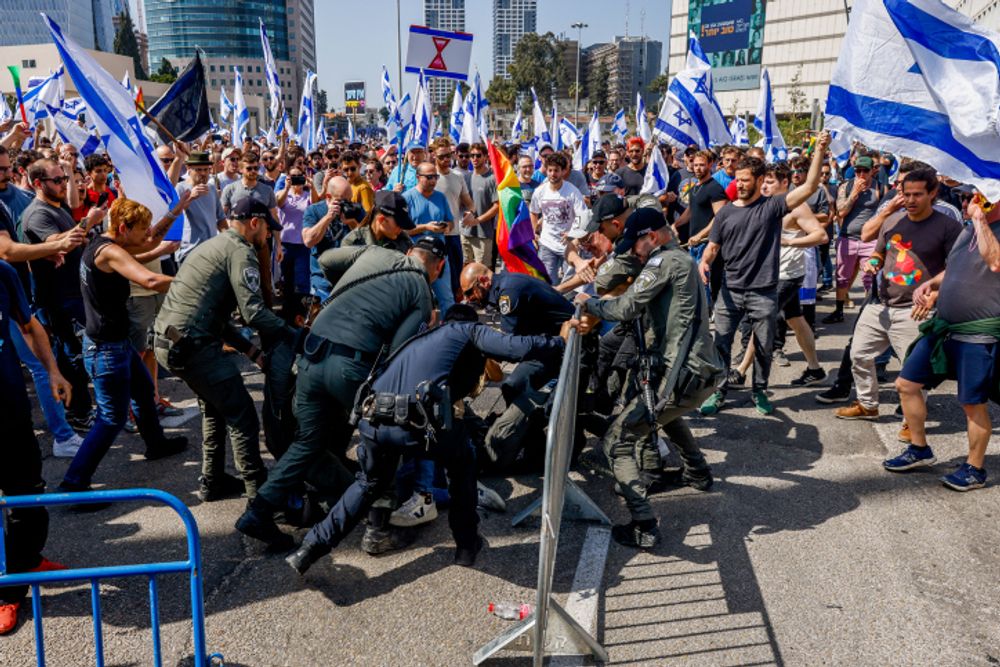 At least 16 arrested; police deploy stun grenades, horses, and water cannons against protesters
Israelis protesting against the judicial reform proposed by the government of Prime Minister Benjamin Netanyahu kicked off a "day of disruption" on Wednesday by blocking a major traffic route leading from Tel Aviv to Jerusalem.
Highway 1 was blocked off with chains and barbed wire, as the protesters made good on their promise to escalate their methods and "move on to direct action." Police said they were "preparing for spontaneous road-blocking. It appears that the organizers' plan is to act in multiple areas, so we will be ready to respond quickly and efficiently."
In Tel Aviv - the scene of the most significant gatherings against the overhaul in recent weeks - the protest turned violent with demonstrations moving on police barricades; police responded with crowd control measures, including stun grenades, horses, water cannons, and tear gas. According to authorities, 11 protesters were lightly injured and 37 detained.
"Israel will not be a dictatorship — the millions who took to the streets over the past two months made this clear — and we are now moving on to direct action," the organizers said in a statement posted to their Hebrew-language website. "Faced with a government out to disrupt the democratic order, we will disrupt the public order. Tens of thousands will turn up to rallies across the country to stop the coup, which does not have broad support among the people."
Netanyahu's new nationalist-religious government moved ahead this month with its proposed changes as parliament took the first steps in legislating limits to the Supreme Court's power to strike down laws. Another change pushed by the coalition would give it more sway in picking judges. Some of the bills won initial votes in parliament but have yet to be ratified into law.
This article received 1 comments