Lawmakers look to pass 'Jewish state bill' amid coalition chaos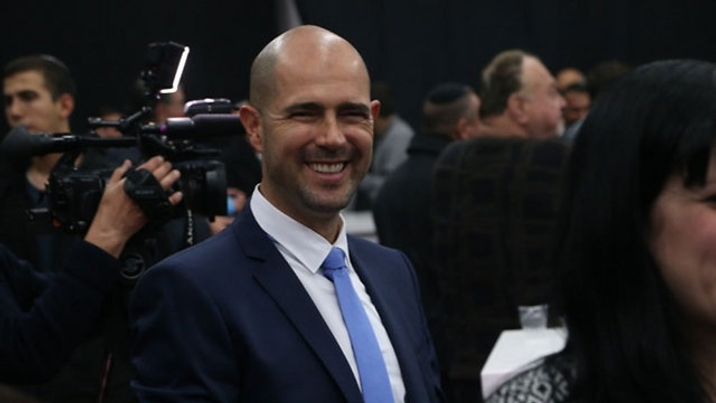 Amir Ohana, head of the Likud party's gay chapter
Courtesy Ynet/Motti Kimhi
"This is the law of all laws," Amir Ohana, chairman of the special committee said, after the vote
A controversial bill establishing Israel as "the national home of the Jewish people" has been introduced in the Knesset Tuesday, as Israel gears up for possible early elections and a potential coalition crisis.
During a special joint Knesset meeting of the House Committee and the Constitution Committee, a group chaired by Amir Ohana, member of the Likud party, agreed on a version of the Jewish State bill to present to lawmakers. The bill passed with a majority of nine votes against seven votes.
"This is the law of all laws," Ohana said, after the vote, according to the Jerusalem Post. "It is the most important law in the history of the State of Israel, which says that everyone has human rights, but national rights in Israel belong only to the Jewish People. That is the founding principle on which the state was established."
What the bill intends to do is solidify the fact that Israel is inherently a Jewish state, that Hebrew is the state's official language and that Jerusalem is the capital of Israel, codifying Israel, for the first time, as "the national home of the Jewish people".
The 'Jewish state bill' has gone through several iterations in the Knesset, even as recently as last year. The bill has been proposed several times since 2011, when Avi Dichter, then of the centrist Kadima party, proposed it.
This current iteration of the bill removes a provision that makes it a 'Basic Law,' a special legal category of provisions considered to be essential law in Israel. Some critics of the bill argue that promoting this type of language as law could be viewed as racist. Subsequent versions of the bill have tampered down its more nationalistic elements.
You need to be logged in in order to post comments. Sign up or log in
how has this not long ago been made law? come on, get to it!