Birthright grapples with wave of 'occupation' walk-offs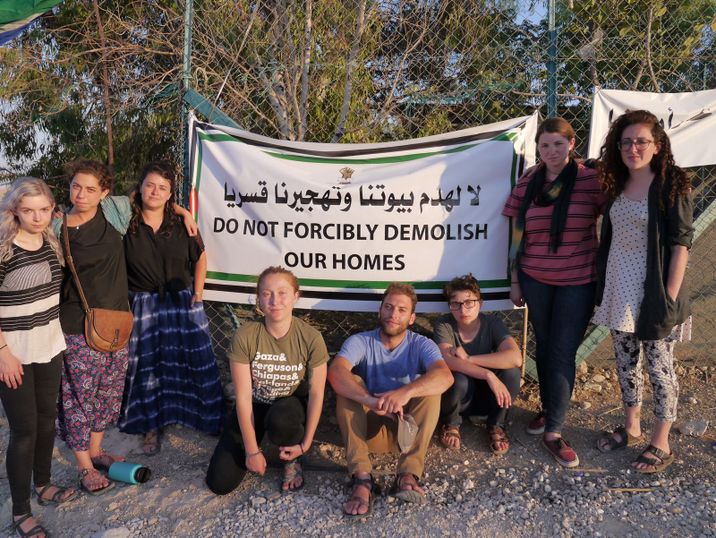 Birthright walk-offs visit Sumarin family in Silwan
Elon Glickman
i24NEWS spoke with 22-year-old Sarah Fadem, one of the individuals who chose to leave Birthright.
Birthright or Taglit, the government and donor-subsidized trip that brings nearly 40,000 North American Jews to Israel each year for a "non-political educational experience," has recently become the subject of political controversy.
On Sunday, eight individuals from two separate birthright tours "walked off" their respective trips after explaining to their new friends and trip leaders that they could no longer participate if they were not going to be exposed to "the entire truth" about Israel.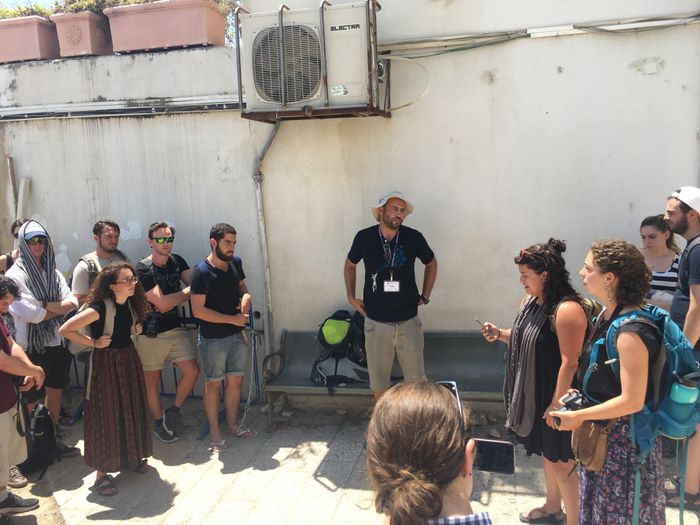 A similar incident occurred in late June when several Birthright participants walked off their trip and travelled to Hebron with Breaking the Silence looking to "hear the Palestinian perspective."
Two of the walk-offs were Facebook-lived and shared across social media, receiving both support and backlash from viewers.
There has been speculation about the relationship between participants walking off and the organization IfNotNow, which advocates for young American Jews to approach Israel critically and grapple with the political conflicts of the Jewish state.
People seem to be wondering if the individuals who chose to leave Birthright were activists with existing ties to the American-Jewish left who had an agenda before setting foot in Israel.
Several Israeli and Jewish media outlets have published editorials arguing that recent walk-offs by US Jews on summer Birthright trips may have noble intentions but their methods do not lend legitimacy to their cause.
Others have said the individuals who choose to walk-off are not courageous or noble in the slightest; their decision does not represent a "sacrifice" as they say in the Facebook videos but a slap in the face to those not given a free trip to Israel.
Now that the initial shock value has worn off, there are a few questions that need answering. Were the participants who have walked off birthright affiliated with IfNotNow before attending birthright, and how involved was IfNotNow in organizing the walk-offs? Did the participants attend the trip with the intention of leaving and posting their protest to social media?
i24NEWS spoke with 22-year-old Sarah Fadem, one of the eight individuals who chose to leave Birthright Sunday, to get the answers to these questions straight from the source.
We also spoke with Birthright and IfNotNow to receive their organizations' thoughts on the walk-offs.
"I was actually not part of the group that was on the live Facebook video at first. I was one of the two people that joined them on the walk to Silwan to meet the Sumarin family," Fadem tells i24NEWS.
"Our walk-off experience wasn't anything like the first one," Fadem said, referencing the June walk-off where the groups tour guide angrily objected to them leaving. "It was very emotional, and everyone on our bus rushed to get our contact information and wish us well. It was really beautiful."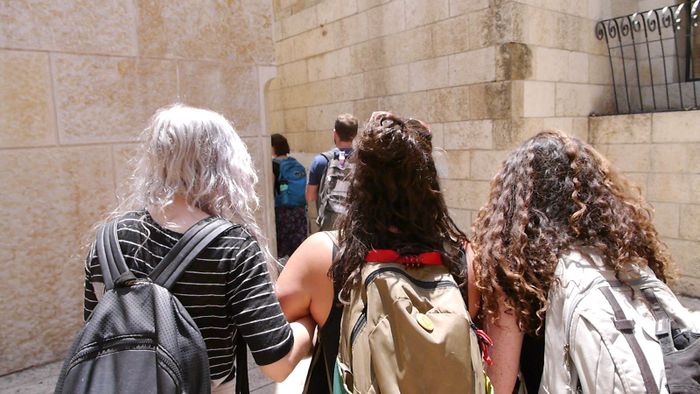 Sarah's trip leaders were less enthused, but they also wished them well as they signed their release paperwork and left the bus.
"One of the people from Israel Tours threatened to sue us in addition to charging us for the remainder of the trip and not giving us back our deposit. We knew about the money, and I also new that them threatening to sue was an empty threat, so we left anyway," Fadem said.
In both widely shared videos, the participants express that their "questions about the occupation" have gone unanswered and that they are leaving because Birthright will not show them "the Palestinian narrative."
The group that walked off in June can be seen leaving their trip with Dean Issacharoff, Spokesperson for Breaking the Silence, who commended them for their courage and escorted them for a tour of Hebron to see the Palestinian area of the city that surrounds the Jewish settlement Kiryat Arba.
Fadem lives in Boston working for a non-profit that deals with state-level environmental policy. She was affiliated with IfNotNow before the trip and participated in several of the organization's education and activism activities for young American Jews.
"I had heard from people I knew that Birthright wants you to think certain things. I knew that my questions about the occupation would likely go unanswered, but I went anyway and asked anyway. Birthright has a responsibility to tell participants everything about Israel as the single largest educational institution for unaffiliated Jews in the world," Fadem said.
i24NEWS asked if Sarah had planned to walk off the trip before it began or if there was a moment on the trip that inspired her to make the decision.
"I came on Birthright because I wanted to learn about Israel and I had questions I wanted to ask. Our group leaders said they wanted us to think critically and ask questions, but it became clear that there were things they wouldn't talk about. I was inspired by the group of women who walked off their trip a few weeks ago, but I did not know before going that I would take that step."
When asked why their group decided to leave when they did, instead of extending their trip (as many Birthright participants do) and visiting with Palestinians after the 10-day tour was completed, Fadem said, "I knew I wasn't going to come to this region again, and I wanted to make the most of my time here."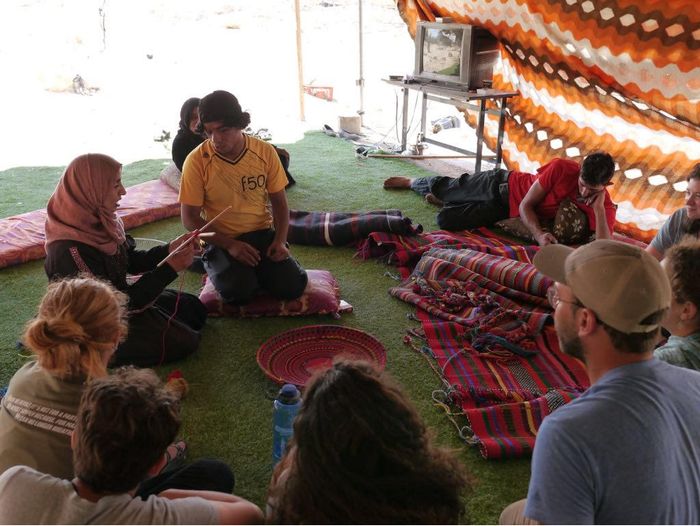 "We left before our Birthright group was supposed to tour the Davidson Center in East Jerusalem. It is owned by Elad, a pro-settlement organization that is actively working to displace Palestinians and take over their lands."
The group travelled to meet the Sumarin family who have battled Elad's efforts to evict them for their home that sits in the center of the City of David archeological park in Silwan for nearly 25 years.
"We absolutely could not patronize the place in any way," Fadem said.
Since leaving Birthright, Fadem and seven others have been taken on an alternative tour of Israel and the West Bank organized by IfNotNow and local activist groups like Free Jerusalem and Breaking the Silence.
"We have been seeing all of these really hard to witness realities that Birthright obviously would never have shown us," Fadem said.
The group of 8 travelled to Khan Al Amar, the Bedouin village that has gained international attention in recent weeks after activists have flocked there from all over the world to protests its demolition by Israeli authorities.
"We also went to Um al-Khar, a Bedouin village that keeps getting demolished and the residents keep rebuilding it. We met with a man named Awdah who is working really hard in the village's community center that has been rebuilt three times this year."
On Wednesday, the group went to Qalandia Checkpoint at 4:30am, after hearing from local activists that "soldiers are better to the waiting Palestinians when international activists are there."
The group is planning to tour more of East Jerusalem and spend time in Ramallah during the rest of their stay.
When asked about her previous affiliation with IfNotNow, Sarah said that she has been involved with the organization's chapter in Boston and that the organization has played a pivotal role in organizing the group's activities after leaving Birthright.
The activities for the group of 8 that walked out Sunday "were planned when we received word that the participants wanted to walk out due to disappointment with the lack of education around the occupation," a spokesperson for IfNotNow told i24NEWS.
"Some of the individuals who walked off had been previously involved with IfNotNow, but not all of them. IfNotNow is an organization that has mobilized tens of thousands of Jews in the U.S., so many people connected to the movement have attended and will attend Birthright."
"IfNotNow provides resources and support to Birthright participants in order to ensure they get the answers they deserve," they added.
In response to the most recent walk-off, Birthright said in a statement:
"Birthright Israel, the leading educational venture in the Jewish world, has provided 650,000 young Jews with the gift of free tours to connect with their Jewish identity and the diversity of Israeli society. We respect the ability of all participants to formulate their own views and opinions, and engage in productive and respectful dialogue. However, we will not tolerate any attempts to use this experience to promote ideological agendas. Our program provides educational enrichment and embraces thoughtful discussions on many subjects. We will not allow this effort to be taken over by those motivated to engage in a political campaign given our commitment to providing a non-political educational experience. In order to protect the rights of all participants to enjoy this unique opportunity to explore Israel, anyone who disrupts the experience of other participants or intentionally diverts from the tours itinerary without authorization will forfeit their deposit and return home at their own expense."
But the organization did not comment as to whether it is planning any changes to programming or educational curriculum following such protests by participants.
Birthright or Taglit (which means "discovery" in Hebrew) has developed into a formative phenomenon for North American Jews, many of whom are travelling to Israel for the first time.
Birthright has received criticism in the past from left-wing Jewish groups like IfNotNow for providing young Jews with a free experience in Israel while Palestinians in the West Bank and Gaza are unable to return, but this summer's walk-offs have gained unprecedented attention, especially amongst young Jews in the US.
"It's extremely obvious to all young American Jews that this trip [Birthright] is a propaganda trip and that it's intentionally hiding the reality of the occupation from us," Elon Glickman another Birthright walk-off told i24NEWS.
Earlier this year, the Jewish Agency stated that young American Jews are increasingly "turning away from Israel," seeing the Jewish state as incongruent with their typically liberal sociopolitical beliefs.
Whether or not Glickman's sentiment is as widespread as he claims, it is clear that Birthright may be dealing with the manifestation of the discrepancy between contemporary American Jewish values and Israel's current political agenda.
Ellie Stern is a journalist and news editor for the i24NEWS English web desk.