Israel's Zionist Union falls apart as Gabbay calls it quits with Livni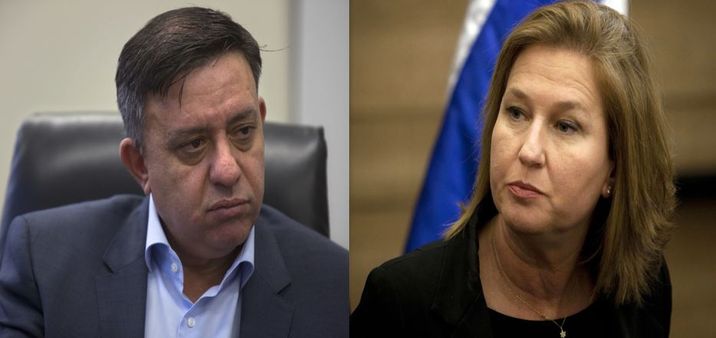 A side-by-side photo shows Israel Labor party leader Avi Gabbay and Hatuna leader Tzipi Livni
AP photos
Gabbay tells party-fellows he 'ate sh*t from Livni'; Livni says Gabbay all about 'me, me, me'
In a dramatic shakeup of Israel's center-left political bloc on Monday, opposition Labor party leader Avi Gabbay ended his partnership with Hatnuah leader Tzipi Livni and dismantled the Zionist Union alliance.
The breakup, which played out live on television and stunned political veteran Livni, plunges Israel's opposition into further disarray as it struggles to mount a serious challenge to incumbent Prime Minister Benjamin Netanyahu and his right-wing partners.
Gabbay made the shock announcement during a press conference alongside Livni, who was visibly taken aback by the news and declined to give an immediate response.
"I still believe in partnership, in connections, in uniting a large camp committed to change, but successful connections necessitate friendship, upholding agreements and commitment to a course," Gabbay told a meeting of Zionist Union parliament members.
"The public is smart. They see that this is not the case and have moved away," Gabbay said.
A stunned Livni approached the podium immediately afterwards and said tersely she would take time to reflect on Gabbay's announcement before responding.
.@HavodaParty leader @GabbayAvi made a shock announcement to the press that he was breaking off the Zionist Union partnership with Hatnua party leader @Tzipi_Livni, who appeared taken aback by the news. #IsraElex19

Read more HERE: https://t.co/jtsYSxinUj pic.twitter.com/T0Rp04gxvp

— i24NEWS English (@i24NEWS_EN) January 1, 2019
Israeli media reports said that Gabbay's decision to split with Livni on live television had been deeply personal.
He reportedly only invited a handful of journalists to cover the press conference so as not to arouse suspicion of a major announcement, and switched off his teleprompter so as not to alert Livni to what was about to happen.
Gabbay was quoted as telling his Labor party-fellows after the dramatic press conference that he constantly "ate shit" from Livni.
"I only ate shit from her. I let her lead the opposition, and she had nothing positive to say about me," sources close to Gabbay quoted him as saying.
In a later press conference addressing the split, Livni responded to Gabbay's remarks quipping: "I didn't look at his plate, so I don't know what he was eating."
The veteran politician blasted the public dissolution of their partnership saying that "what you heard today [in Gabbay's speech] is what I heard throughout this entire period: Me, me, me."
"Gabbay was right on one thing — there was no partnership between us. He doesn't want a partnership. The way he ended things today proves that," she said.
Gabbay's relationship with Livni has been strained since he inherited the partnership from the previous Labor leader, Isaac Herzog.
Livni insisted that she had fulfilled her end of the alliance, and said that more important to her than Zionist Union breakup is to break away from current government's path and fight for state's security and diplomacy.
The Zionist Union faction had been the second-largest party in Israel's recently dissolved parliament, holding 24 seats.
But polls conducted after snap elections were called showed the party's popularity waning steadily, with projections showing them earning as few as nine seats ahead of the April 9 vote.
Netanyahu, who is currently visiting Brazil, responded to the shakeup saying that he would not interfere in the division of the left-wing vote.
"I don't interfere in how the left divides its votes. What's important to me is that the right will also establish the next government, and continue to lead the State of Israel. For this, we need to vote only Likud," he said.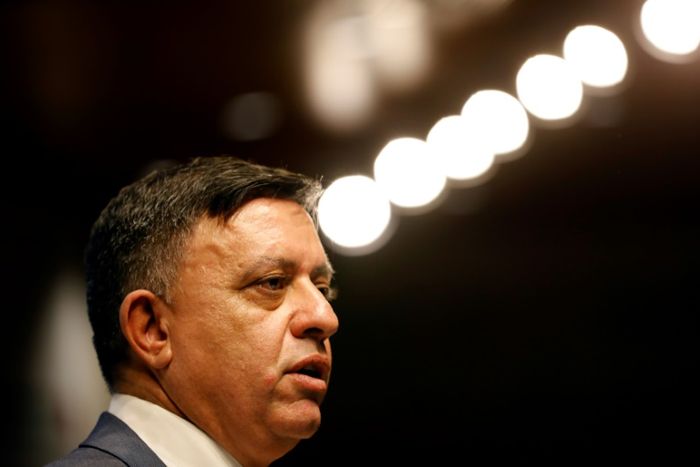 Gabbay's Labor now joins Yair Lapid's Yesh Atid, former IDF chief Benny Gantz's new "Israeli Resilience" party, Moshe Kahlon's Kulanu party, a new party headed by lawmaker Orly Levy-Abekasis, Meretz, and the Joint (Arab) List in vying for the center-left vote.
Both Gabbay and Livni are reported to be eyeing a partnership with Gantz who has emerged as a popular wildcard candidate.
Sources close to Gabbay said the dramatic announcement was aimed at signalling to Gantz his interest in joining forces on a new centrist bloc.
While Livni's next political move remains unclear, Gantz is reportedly wary of bringing her into his fold because she is regarded as too left of center.
The Zionist Union divorce stole the spotlight, meanwhile, from another press conference given at the same time by Lapid, who announced his joining forces with Orna Barbivai, the first female IDF Major General, ahead of the April vote.
By adding an ex-@IDF major general and a former Mossad deputy, is @YeshAtidEng trying to beef up its security credentials? 'I think I'm doing pretty well strengthening our spine in terms of security,' party leader @yairlapid tells @Mike_Wagenheim: #IsraElex19 pic.twitter.com/6UdzJM2a65

— i24NEWS English (@i24NEWS_EN) January 1, 2019
Lapid said that he intends to have Barbivai serve as a senior minister if he is in the next coalition.
Gabbay's decision is the latest realignment ahead of the election and more are expected.
Seeking a better chance to challenge Netanyahu's grip on power, right-wing ministers Naftali Bennett and Ayelet Shaked announced on Saturday their break from the religious-nationalist Jewish Home faction in order to head a new party at the ballot box: Hayamin He-Hadash or "The New Right".
Reports have speculated that the move was aimed at winning over secular voters ahead of the April vote, and that they intend to re-join the Jewish Home party post-election for the purpose of coalition talks with Netanyahu's Likud party which appears poised for electoral victory.
You need to be logged in in order to post comments. Sign up or log in
Generals rarely make good politicians. The mind set is short term vs longterm.
the snake Gabay should be expelled from Labour to the wilderness where he belongs