Israeli Arab MK Zoabi to step down after 10 years of controversial politics
Arab Israeli Knesset member Hanin Zoabi
AFP
After over a decade in Israel's parliament (Knesset), firebrand Arab lawmaker Hanin Zoabi announced on Saturday she would be vacating her post as a prominent member in the Balad (Arab nationalist) party.
"After 10 full years, I thank everyone and I feel that the time has come to change the location, but not the way," Zoabi said in a statement. The controversial parliamentarian insisted she would carrying working to "strengthen Balad's model for a stronger Palestinian generation and a more determined struggle, in the belief that justice will be done."
Zoabi's fellow lawmakers have, in the past, accused her of inciting violence against Israel and condoning terrorism. Moreover, Zoabi has caused further controversy by more than once drawing parallels between Israel's relationship with Palestinians and Hitler's genocide against the Jews during World War II.
"This is a moment when it is customary to conclude a period of self-examination and look into the future. I will not give myself a grade," Zoabi's statement read. "There were those who appreciate and even supported my actions and what I represented, and there were many more who hated and fought against me and my views."
Zoabi's views angered her fellow lawmakers so much as to prompt members of the Central Election Committee in 2013 to disqualify her Balad party from running in that year's election. The decision ended up being overturned by Israel's High Court of Justice, much to the dismay of officials across the political spectrum.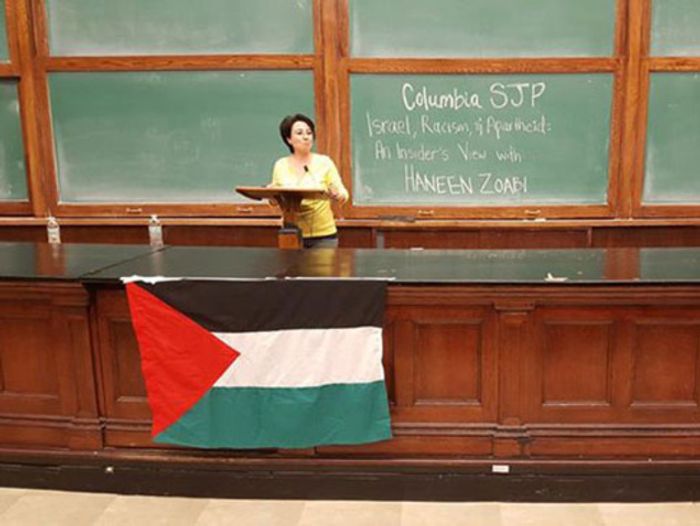 "The High Court, in one of its worst decisions of all time, brought her back, forcing the entire country to endure her for another six full years in the Knesset," said Science Minister Ofir Akunis of Prime Minister Benjamin Netanyahu's governing Likud party.
MK Yoel Hasson, of Tzipi Livni's left-wing Hatnua party, on Saturday called Zoabi "one of the more extreme voices in this Knesset, including in the eyes of the Arab public. Zoabi did everything she could to destroy coexistence in Israel and lent dangerous legitimacy to terrorism."
"It's good that she's gone, and she would do well to be more careful in her actions now that she has no [parliamentary] immunity to protect her. Goodbye and good riddance," Hasson added.
In 2010, Zoabi was one of the individuals on the Mavi Marmara that attempted to break the naval blockade on the Hamas-ruled Gaza Strip. She referred to the Israeli soldiers (IDF) who stopped the attempt as "murderers," after 10 of the boats passengers - who tried to attack the soldiers - were killed by IDF fire.
According to Israel, the naval and land blockade it imposes on Gaza (in cooperation with Egypt) is necessary to prevent Hamas' arms trafficking and maintain the security of Israeli civilians.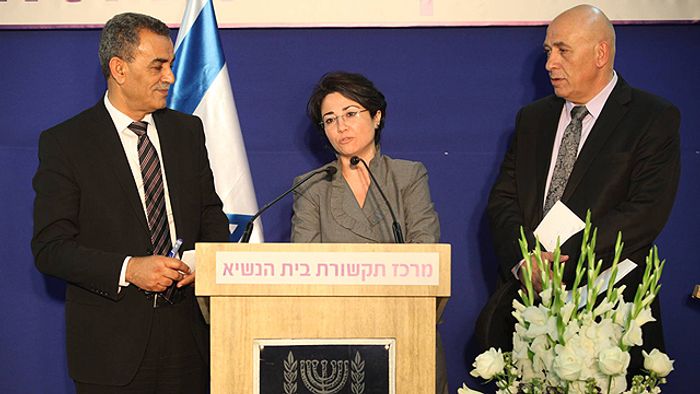 In April of 2018, Zoabi called for Israel, in its current form, to be eradicated and replaced with either two states -- one Palestinian and one secular, or one binational civic state.
She has been banned from participating in Knesset for weeks at a time, including most recently in May when the Ethic Committee banned her for a week after she accused the IDF of arbitrarily "murdering" Palestinians on the Gaza border.
She was banned for a period of six months in 2014 after arguing that the abductors and murderers of three Israeli teenagers in the West Bank
In 2015, Zoabi came under fire after accusing Israel of ethnic cleansing while speaking at a Kirstallnacht commemoration event in Holland.
The Kristallnacht pogrom occurred on November 9-10 in 1938 when Nazi thugs plundered Jewish businesses throughout Germany, torched synagogues and rounded up about 30,000 Jewish men for deportation to concentration camps. At least 90 Jews were killed in the orgy of violence also known as 'The Night of Broken Glass', which historians say ushered in the start of the Nazis' drive to wipe out European Jewry.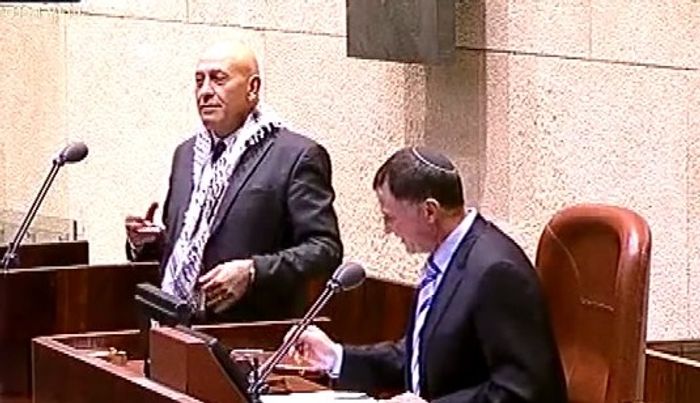 "It is my honor to speak on behalf of the Kristallnacht victims...on behalf of all the Jews in history who have resisted oppression." Zoabi said, according to the report.
"During Kristallnacht thousands of Jewish businesses and synagogues were burned, while the Germans remained silent. Today, as the homes of Palestinians are burned, as churches and people are burned alive - the majority in Israel remains silent," she said, drawing a comparison between Nazi Germany and and the current situation in Israel and the West Bank.
Former defense minister Avigdor Liberman has referred to Israel's Arab population as a "fifth column" of society that should be separated from Israel to become part of a future Palestinian state.
"It's good that a senior representative of the fifth column is leaving the Knesset," Liberman tweeted on Saturday. "I wish her all success in Gaza or Beirut."
Liberman received a warning in June 2018 after labelling Zoabi a "terrorist" on social media.
MK Ayman Odeh, who frequently worked with Zoabi as the head of the Arab Joint List, said that while he had "argued with Hanin often," he would stand by her in the face of "conflict with the right and an assault by the media against her."
The Arab Joint List received 13 seats in the 2015 elections and is expected to maintain significant representation in the upcoming elections April 9.