Muslim woman running for Netanyahu's right-wing Likud party shunned by family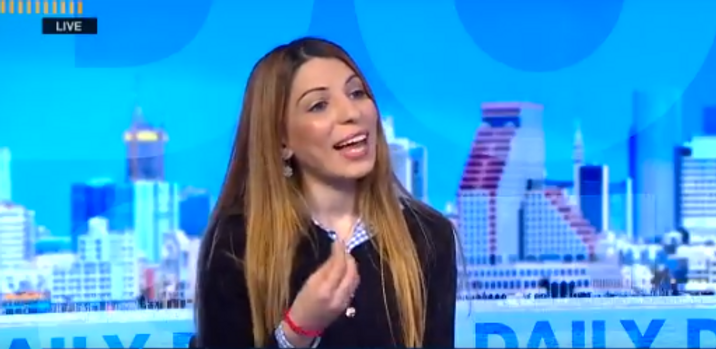 Dima Tayeh, a Muslim woman running in the right-wing Likud party primaries, speaks to i24NEWS
i24NEWS
Dima Tayeh tells i24NEWS that Arab parliamentarians not fully representing Israel's Arab minority
A Muslim Arab woman running as a candidate for Prime Minister Benjamin Netanyahu's right-wing Likud party defended her decision in an interview with i24NEWS on Tuesday, despite her having been shunned as "disloyal" by her family.
Dima Tayeh, from the village of Kafr Manda in Israel's northern Galilee region, announced earlier this week that she would be seeking a spot on the Likud list.
If elected, she would be the first Muslim Arab lawmaker to join the Likud party.
Tayeh praised Prime Minister Benjamin Netanyahu as a strong leader and dismissed his potential indictment on bribery and corruption charges. She also brushed aside criticism of the party's spearheading of the recently-passed Nation State law, which outraged the country's Arab minority by declaring Israel the nation state of the Jewish people.
"I'm proud of this party," Tayeh told i24NEWS. "It's time for Arab minorities to start listening to good voices about Israel."
Arab-Israeli candidate for the @Likud_Party Dima Tayeh explains to @JeffSmithi24 why she joined, and says the party is open to Arabs — it's just all about respect: pic.twitter.com/11ujfiBrHa

— i24NEWS English (@i24NEWS_EN) January 8, 2019
Tayeh, who participated in a campaign against the anti-Israel BDS movement in the US last year, said that she does not identify with the ideologies of other Muslim Arab members of parliament.
"Arab Knesset (parliament) members...are not doing anything for the sector and they are not representing all of the Arabic sector," Tayeh told i24NEWS.
She acknowledged receiving "threats" as a result of her choice to run for Likud, but said she was unmoved by the backlash.
On Wednesday, Tayeh's family released a statement denouncing her opinions and shunning her until she "declares loyalty to her people and her faith".
"Due to her statements, we will not make contact with her or give her any assistance until she retracts her words and declares loyalty to her people and her faith," the statement said.
Arab citizens make up some 17.5 percent of Israel's more than eight million population.
Arab-Israelis have strongly criticized the Nation State law for legally marginalizing their civic identity and enshrining inequality among citizens.
The law speaks of Israel as the historic homeland of the Jews and says they have a "unique" right to self-determination within its borders.
It also downgraded Arabic from an official language of the state to one with "special" status, while cryptically stipulating that the law "does not harm the status given to the Arabic language before this law came into effect."
Israel's Attorney-General Avichai Mandelbit has argued that the law's vague wording gives it little to no practical effect and has emphasized that it in no way supersedes Israel's quasi-constitutional Basic Laws which guarantee equality among all of Israel's citizens.
You need to be logged in in order to post comments. Sign up or log in
Tlaib is a congresswoman from Michigan. She is a foul mouth lady with hate in her side. She was a naturalized citizen. I would love to have her citizenships removed and send her back to the Palestine she loves. Watch out for wolves in sheep's clothing.
GreenTree absolutely right. She should b ashamed of herself ! Not representative of the office. Boooo!!!