Wildcard Gantz unveils election campaign slogan: 'Israel Before Everything'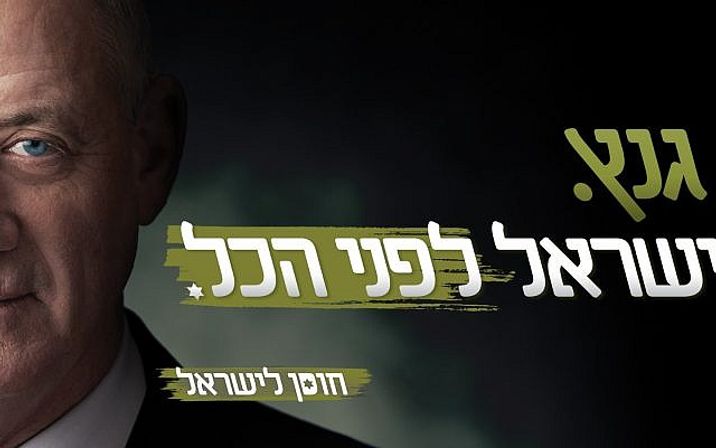 Former IDF chief Benny Gantz's 'Israel Resiliance' party logo and slogan: 'Israel before everything'
Israel Resilience
Former IDF chief-of-staff Benny Gantz, a top challenger to incumbent Prime Minister Benjamin Netanyahu in Israel's upcoming national elections, unveiled his party's election campaign slogan on Thursday: "Israel Before Everything".
"For me, Israel comes before everything," Gantz said in a video published across his Hosen L'Yisrael (Israel Resilience) party's social media platforms. "Join me and take a new path. Because we need something different, and we will do something different."
The 15-second promo marked the launch of Gantz's party's social media campaigning.
"We've started" the party tweeted from its official Twitter account along with the hashtag #BG19 and a link to the party's official campaign website.
Gantz, who appears to pose the greatest threat to Netanyahu at the polls, has kept his platform under tight wraps making only rare and short remarks to the press since registering his candidacy in December.
Poking fun at his own conspicuous silence, Gantz ends the promo saying jokingly "I think I've said too much."
מתייצב מחדש #BG19 https://t.co/7bKsPLxLXt pic.twitter.com/VyGHdC9Cog

— חוסן לישראל (@hosen2israel) January 17, 2019
In his first public remarks on Monday, Gantz said that if elected he would work to "correct" Israel's controversial Jewish nation-state law. The former IDF chief was speaking to members of Israel's 150,000-strong Druze community who say that the controversial bill, which deems Israel a Jewish nation state, has legally marginalized their civic identity and enshrined inequality among Israeli citizens.
Gantz's position on the controversial legislation made him an immediate target for right-wing lawmakers who said he had clearly aligned himself with the left-wing camp.
Gantz's party list also remains shrouded in mystery, but the former IDF chief has reportedly eschewed veteran lawmakers in favor of non-parliamentarians. Gantz has reportedly filled at least a dozen slots with names floated including Israeli television journalist Miki Haimovich, former Tel Aviv deputy mayor Asaf Zamir, educator Chili Tropper, former Yeruham Mayor Michael Biton, and Alon Schuster, a former head of the Sha'ar Hanegev Regional Council.
Gantz, who retired in 2015 and had to wait a three-year "cooling off" period before pursuing political office, is projected in a Hadashot TV news poll published Wednesday as earning 13 seats in the April 9 election -- trailing well behind the 32 seats projected for Netanyahu's right-wing Likud.
While Netanyahu appears to be maintaining a firm lead over political rivals, the prospects of a centrist alliance led by Gantz and Lapid, whose Yesh Atid party is projected to earn 14 seats, could mount a powerful opposition.
The run-up to the April 9 vote has already been tumultuous, with dramatic fragmentation at all ends of the political spectrum leaving a crowded playing field at both the right, left, and center.
Netanyahu has been prime minister for a total of more than 12 years, from 1996 to 1999 and again since 2009.
If re-elected, he could next year surpass the record set by Israel's founding father David Ben-Gurion, who spent more than 13 years in office.