Israel's Blue and White said to oppose Jerusalem split, settlement withdrawal
Israel's Blue and White party -- headed by former IDF chief Benny Gantz and former finance minister Yesh Atid -- is set to release its long-awaited platform on Tuesday, which will reportedly include hawkish positions on permanent status issues involved in the Israeli-Palestinian conflict.
According to Israel's Channel 13 television news, the platform will also include a willingness to enter negotiations with the Palestinians while maintaining strong support for a united Jerusalem as Israel's capital, continued Israeli control over the Jordan Valley as well as the retention of Jewish settlement blocs in the West Bank.
These positions are decidedly center-right on the Israeli political spectrum, and the latter three positions would make it particularly difficult for a Blue and White-led government to entice the Palestinians toward any form of discussion.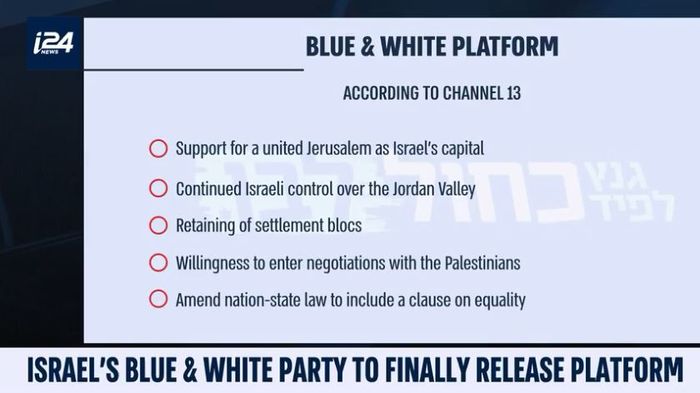 However, unlike the Likud and other secular right-wing parties, the Blue and White party platform will reportedly include a plan to amend the controversial Jewish nation-state law to include a clause on the equality of all religions.
In January, in a rare moment of public openness, Gantz declared his intention to amend the law, which has quasi-constitutional power as on of Israel's Basic Laws.
Some of Israel's right-wing lawmakers were quick to condemn Gantz' remarks, saying the candidate chose to show he leans to the left in one of his first public statements regarding his political positions.
While Lapid's Yesh Atid party has a full booklet laying out its stances on the foremost issues facing Israel as country, Gantz' Israel Resilience party has appeared to keep almost all of its public statements regarding major policy issues purposefully vague.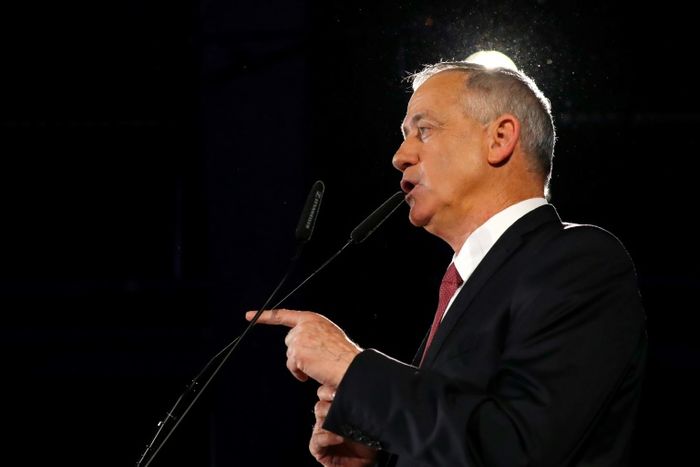 On Monday, while on a tour in Israel's north, Gantz and Lapid visited the Syrian border where they vowed to never give up Israeli sovereignty over the Golan Heights and continue fighting any "threats" facing the Jewish state.
Earlier in the day, while meeting farmers in the village of Yesod Hama'ale near the Syrian border Gantz accused the ruling Likud party headed by Prime Minister Benjamin Netanyahu of "making things up" about the Blue and White party's positions in response to "taking a nosedive in the polls."
The Likud party earlier Monday smeared Gantz, claiming his party is supported by anti-Zionist Arab parties running in the elections.
According to Times of Israel, anonymous text messages were sent to current and former Likud party members claiming Gantz is aligned with Arab parties as well as that Blue and White would not rule out forming a coalition with right-wing, extremist Jewish Power party.
The text messaging campaign may have originated with the Likud itself, according to the report.
This comes a week after Netanyahu facilitated the Jewish Power party's potential inclusion in a ruling coalition should he succeed in the elections, in a move that inspired outrage from Israelis and US Jews.
"We will call for a unity government will all parties, including with Likud, which will join us, and anyone else who is Zionist and sane," Gantz responded.
However, the Likud clapped back that Blue and White lawmakers have publicly stated their party would not sit with Netanyahu now that he officially faces potential indictment.
"The question is simple: Bibi or Tibi. That's what the election is about," the Likud party statement said, claiming Israelis must choose between Netanyahu (referred to by his widely-used nickname "Bibi") and Arab-Israeli lawmaker Ahmed Tibi, who the Likud is associating directly with Gantz and Lapid.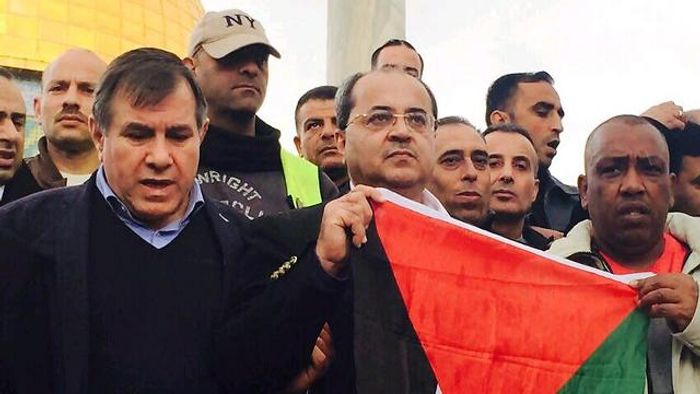 After Israel's Attorney General Avichai Mandelblit announced his intention to indict Netanyahu in three cases of corruption last week, the Likud party took a sharp dive in public opinion polls - with the centrist alliance headed by Gantz now projected to unseat the incumbent premier.
A poll published by Israel's public broadcaster Kan between February 28 and March 1 showed Likud falling to 29 seats to Blue & White's 37 seats, and with 41% of respondents listing Gantz as the most suitable candidate for prime minister, compared to 40% who favored Netanyahu.
A Reshet (Channel 13) poll put the Blue & White party with a six seat lead over Likud (at 36 to 30 seats).
An i24NEWS-Israel Hayom poll conducted prior to Attorney General Avichai Mandelblit's decision on Thursday already projected Likud trailing the centrists with 29 seats to Blue & White's 38 seats.
But it also showed Netanyahu hanging on to voters' confidence as the most suitable candidate for prime minister, with 43% of voters favoring him compared to 36% who favored Gantz.