Israeli lawmaker: Israel is doing Arabs a favor by giving them citizenship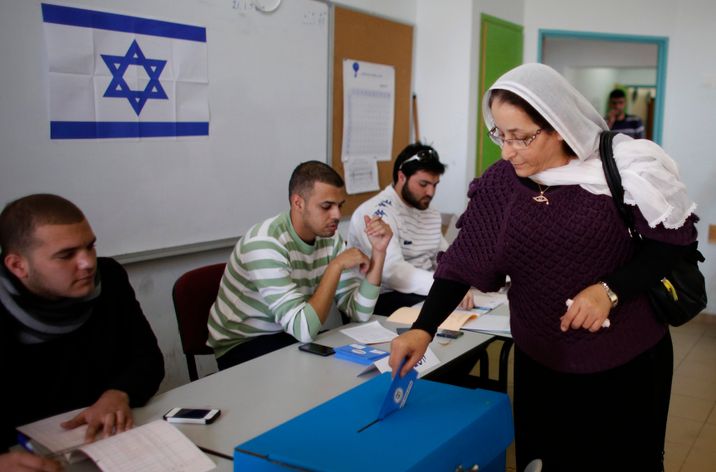 Israeli Arab woman voting, March 17, 2015
AFP
Adding fuel to the fire PM Netanyahu didn't condemn the remark, accusing instead Israeli Arabs of 'hypocrisy'
A commotion broke out at a Knesset session on Wednesday after Deputy Interior Minister Yaron Mazuz (Likud) uttered a racist remark against Israeli Arabs and refused to apologize.
During a discussion on the Citizenship and Entry into Israel Law, Mazuz told Arab MK Aida Touma Sliman​ that the State of Israel was "doing you a favor by letting you sit here. You should give back your [Israeli] ID cards."
Mazuz took the stand in the plenum to explain the government's position, rejecting bills by Touma-Sliman (Joint Arab List) and Zehava Gal-On (Meretz) that would allow Palestinians married to Israelis to become citizens.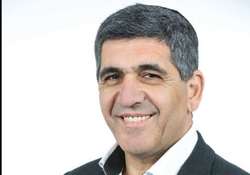 The Citizenship and Entry into Israel Law prohibits citizens of certain countries (Iran, Afghanistan, Lebanon, Libya, Sudan, Syria, Iraq, Pakistan, Yemen, the West Bank and Gaza Strip) from automatically receiving Israeli citizenship after marrying an Israeli national.
The law is a temporary provision, and was approved by the Knesset on July 31, 2003.
Left wing Meretz MK Michal Rozin stepped up to the podium with her ID card and demanded that Mazuz apologize.
Mazuz then addressed another Joint List MK, Hanin Zoabi, and told her "those who support terrorism cannot be here."
Prime Minister Benjamin Netanyahu took to the podium, but did not condemn Mazuz's racist remark.
"I want to say two things: the right to be elected and to elect is a universal right - that is not the discussion. I am talking about the issue of hypocrisy. I can tell the difference between the two things, you have the right to say these things, and the right is given, and we will protect that right, I will protect it. But we don't have to agree with the hypocrisy. I didn't hear condemnations from the MKs here on the real war crimes happening in Syria, and Yemen. I didn't hear a word on these issues, all I hear is false preaching against IDF soldiers," the PM said.
"All citizens of Israel, Jews and non-Jews, have a right to vote and be elected, however every citizen has the duty to obey the laws of the land. No one has the right to raise false accusations of war crimes against IDF soldiers who protect all of us," he added.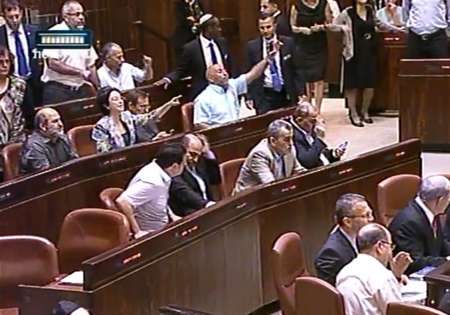 Sliman responded to Netanyahu, saying, "Those who expected the prime minister to defend our right to do our jobs must have been dreaming. The prime minister is justifying Yaron Mazuz's campaign of indictment. We are being slandered. A government built on rampant incitement, only such a government can pass a law that collectively disinherits the right to family life from the Palestinians. Those talking about terrorism should see that they are using terrorism. No one is doing me a favor by giving me an ID card."
Sliman also turned to Facebook, posting: "My citizenship comes from the fact that I am a member of the native people. My father was born here, in this country, even before the establishment of the state. No one is doing me a favor by giving me citizenship. The prime minister, Netanyahu, instead of distancing himself from the incitement by the deputy interior minister, continues the racist line of 'Arabs coming to ballot stations in droves.'
"At the end of the day, Arabs and Jews will live here together in equality despite the incitement to racism."
Sliman referred to Netanyahu's own controversial remarks on the day of Israel's general elections on March 17.
Netanyahu, who ended up winning a third consecutive term, and his fourth overall, wrote on his Facebook page about four hours after the polls opened that "the Arabs are flocking in droves to the polling stations," calling on his supporters to turn up en masse at the ballots. "The right wing rule is in danger," he added.
Netanyahu's remarks were widely denounced as racist and even drew a public rebuke from the US President.
Barack Obama harshly criticized Netanyahu's statements, telling the Atlantic that a portrayal of Arab voters as "an invading force that might vote" is contrary to the very language of the Israeli Declaration of Independence, which explicitly states that all people regardless of race or religion are full participants in the democracy."
You need to be logged in in order to post comments. Sign up or log in
Why bother with the animals?They will never be satisfied until Israel disappear from the face of the Earth.Give them what they deserve , NOTHING.