Tel Aviv turns into a battlefield... for medieval knights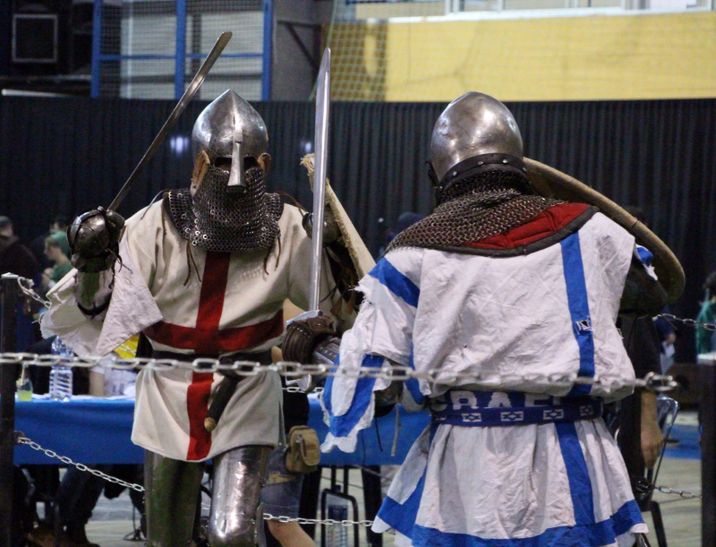 World Medieval Fighting Championship tournament, Tel Aviv University's sports center, January 23, 2016
Jessi Satin/i24news
For some it's a fantasy, for others a way to manage anger. Israel hosts World Medieval Fighting Championship
Many young Israelis choose to leave their fighting careers behind them once they complete their compulsory military service. But a few years after her service, Ira Rogozovsky chose to take up a different kind of fighting career - Medieval sword battles.
Rogozovsky was one of the Israelis who took part Saturday in the WMFC: Israeli Challenge, an international sports competition that saw competitors from across Europe battling it out in a medieval-style arena.
This was the third year in a row that Israel hosted a World Medieval Fighting Championship tournament. The main hall at Tel Aviv University's sports center was full of burly European men and women dressed in full medieval knight garb doing battle with swords and shields.
Some 17 representatives from 10 countries took part in the unique competition that replicated duels from the 14th century. Competitors hailed from Ukraine, Russia, Germany, UK, Estonia, Denmark, Moldova, France and Israel.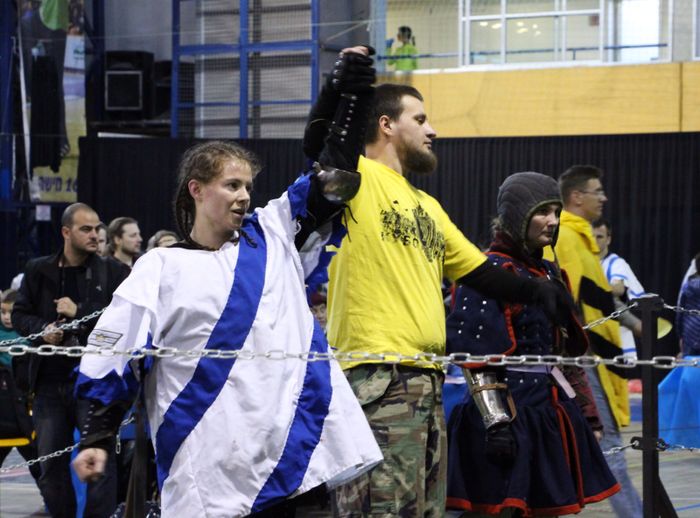 Rogozovsky, who has enjoyed international success in the world of medieval fighting, said she was proud to represent her country in such a prestigious event.
Rogozovsky entered the world of historical medieval battles by accident, she told i24news on the sidelines of the competition. "I was hitchhiking in Poland and a guy from the Polish knights' team gave me a ride, and told me all about this style of medieval fighting," she said. "He made the connections for me with Team Israel and I came to a practice and have been doing it ever since."
Despite only winning two of her four fights, Rogozovsky was still in high spirits. "I had really strong opponents. I'm really happy that so many strong female competitors came," she said. This was in fact the first time this type of event in Israel has included a female category.
While she is proud to represent Israel, she is disappointed that the country does not recognize medieval fighting as a sport and therefore it does not receive any official support. "I still wear blue and white and a Magen David [Star of David] on my outfit and I'm really proud to fight under my flag," she said.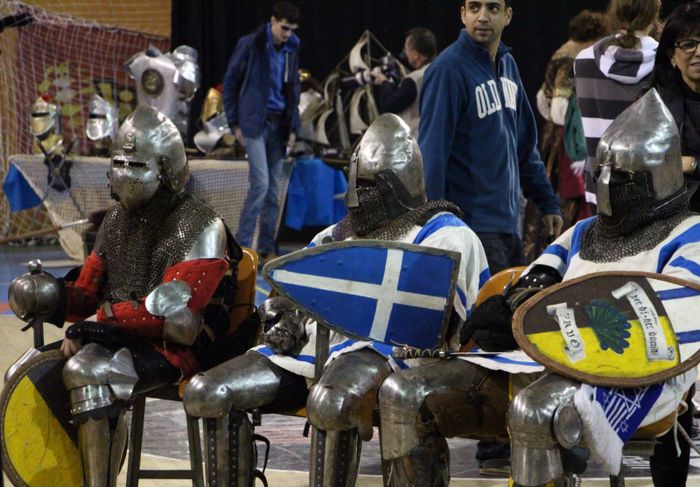 With no official support, organizers of Saturday's event used their own money to pay for the use of the gym, to finance sideline activities and to organize a tour of the country for the foreign participants.
Knights taking part in the competition must show a high level of combat techniques during each fight that consists of three, two-minute rounds, with one minute rest between rounds.
The winner is the one with the most points after three rounds. It is strictly forbidden to stab or choke an opponent and certain parts of the body are off limits.
Medieval knight fighting has developed in recent years into a sport throughout the world. The Israeli team has participated in international battles in Russia, France, Austria and Croatia.
Pavel Zhuned, who represented the United Kingdom and won the Lightweight category, said he could not be happier to be in Israel for such a competition. "I believe in a world without borders. I came to Israel and I'm seeing Jews from all around the world. I love the international style," he told i24news.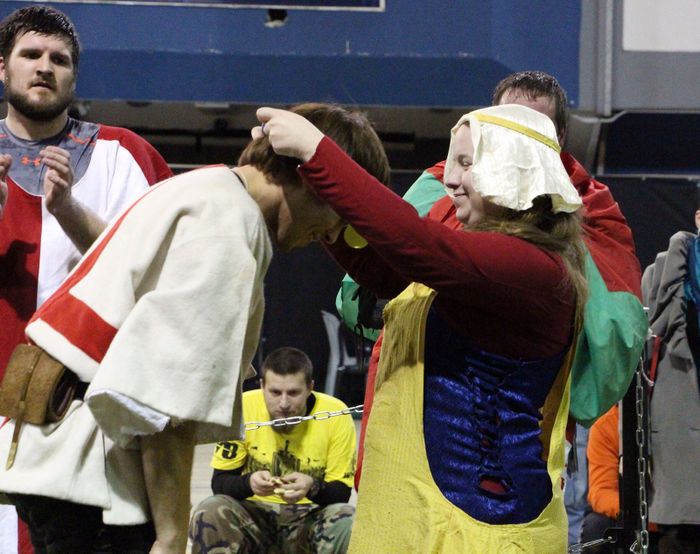 For Zhuned, competing in medieval fighting competitions has a lot to do with his anger management issues and he sees it as a way of releasing tension. After coming out of a bad relationship with a woman, he was left with a broken heart. "This kind of sport keeps me normal. We live a society where you can't just hit someone you don't like because they will hit you back," he said. "You need to go to special place to release all that anger. It's about courage. It's about fighting with your fears and yourself and your bad mind."
Amit Aharoni, one of the commentators for the competition, told i24news that her love of the Middle Ages and passion for dressing up are what led her to the magical world of medieval fighting. "I fell in love with the escape from reality. It's all about the fantasy," she said.
Dressed in a floor-length blue 14-century dress, Aharoni, who said she "felt like a Barbie", was tasked with giving the crowd a blow-by-blow account of each match. Despite the sometimes violent nature of the battles, Aharoni said the people involved are all pleasant and kind. "People here are so nice. You can talk to them about anything."
Yonatan Cohen is an i24news web editor.