Rivlin welcomes German Catholic pilgrims celebrating Reformation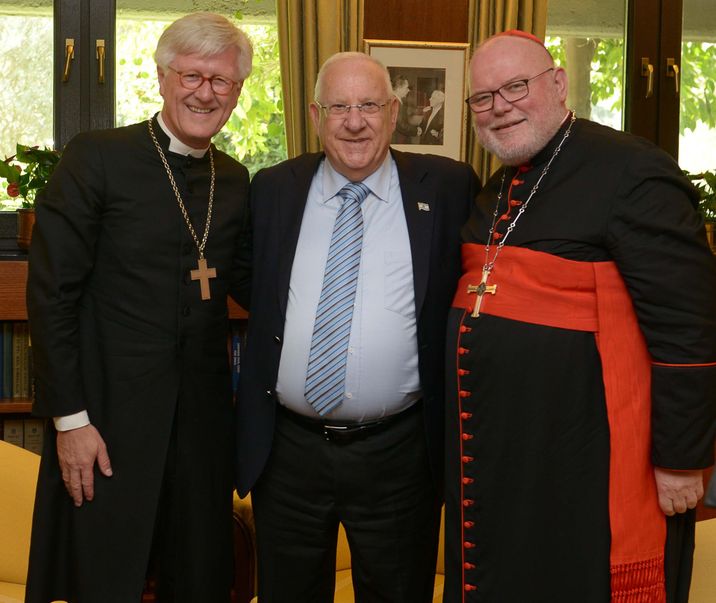 Reuven Rivlin with Bishop Dr. Heinrich Bedford-Strohm and Reinhard Kardinal Marx
Roy Berkovich (Courtesy)
Trip aimed to highlight 'common roots of our faith in spite of our separation'
Israeli President Reuven Rivlin on Wednesday welcomed Germany's ambassador to Israel, Dr. Clemens von Goetze, together with an ecumenical delegation from the Catholic German Bishops' Conference and the Council of the Evangelical Church in Germany, to the President's Open Sukkah today in Jerusalem. 
During the Jewish holiday of Sukkot, which lasts for seven days in Israel, and eight days elsewhere, Jews celebrate by eating outdoors in a sukkah, or booth, constructed specifically for the holiday which are often decorated. 
Some 6,000 visitors came to the Rivlin's Open Sukkah. 
The religious delegation were visiting Israel on an ecumenical pilgrimage to the Holy Land to mark the 500th anniversary of the beginning of the Reformation which would be commemorated in 2017.
Reinhard Kardinal Marx, President of the German Bishops' Conference, and Bishop Dr. Heinrich Bedford-Strohm, Chairperson of the Council of the EKD, told the President that the trip was aimed at highlighting the "common roots of our faith in spite of our separation".
During the meeting, Rivlin spoke with the delegation about the shared historical roots of the Christian and Jewish faiths, and of the importance of dialogue between the all the communities in Israel and further afield.
Rivlin then gave the delegation a tour of the Sukkah, saying "The Sukkah is a symbol of how we can all come together under one roof in partnership."