Israeli police suspect arson in fires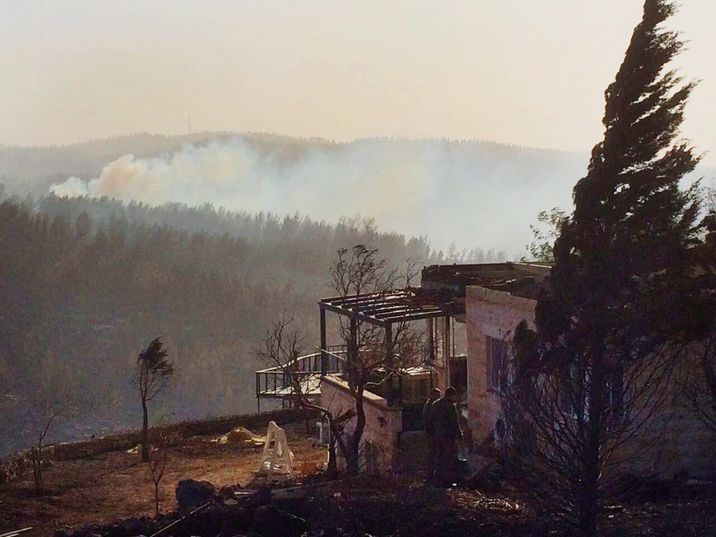 Personnel survey the remains of a house near Nataf as a forest fire burns in the background
Ariel Levin-Waldman/ i24news
Four employees of a contractor have already been detained over suspicion of negligence.
Israeli police are reportedly suspecting that the raging fires across the country were caused by a wave of arson. The Israeli police have already detained four employees of a contractor who worked on a road where one of the fires broke out on suspicion that they may have had a negligent role in igniting the blaze.
Israel has already reached out to other countries for assistance in extinguishing the fires, an effort that the fire service has described as the "largest firefighting operation since the Carmel Disaster."
The Carmel disaster in 2010, the deadliest fire in Israeli history and claiming 44 lives, started on Mount Carmel, located just south of Haifa, burnt 50 square kilometers (12,000 acres) and destroyed 74 buildings.
Prime Minister Benjamin Netanyahu has extended calls for assistance from his counterparts in Greece and Croatia. Cyprus, Italy and Russia will reportedly join Greece and Croatia in flying 6 planes into Israel tomorrow, containing some 60 tons of fire retardants.
Aerial footage from Israeli police shows thick clouds of smoke from fire near Nataf. pic.twitter.com/f0GK5GvtEb

— Jessi Satin (@JessSatin) 23 בנובמבר 2016
Over the last 36 hours firefighting teams have been engaged in fierce battles against the fires that have largely been fueled by dry weather and high winds, and they do not expect the fight to get any easier in the coming days.
"We have gone through a tough couple of days and we are expecting the next couple to be no less difficult," Police Chief Roni Alsheikh told reporters at a command center in Zichron Yaakov, near one of the more dangerously blazing fires.
In a post to its Facebook page, the Magen David Adom (MDA) paramedic service said that it too was preparing for conditions to get worse.
"Due to weather conditions and fear of fires MDA teams have deployed reinforcements to risk centers around the country, and are prepared to respond to when needed," the post said, a few hours before new fires flared in the West Bank, Galilee, Nahariyah and the Jerusalem hills.
Residents in several communities have been warned of poor air quality and advised to stay indoors with all floor and window openings sealed.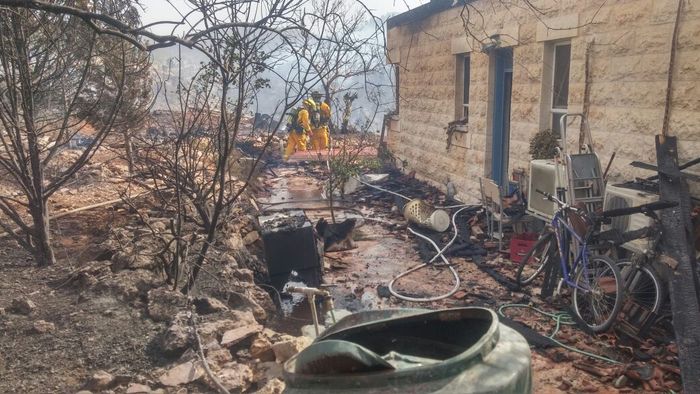 In the Jerusalem mountains, a large fire has begun burning its way towards the village of Nataf close to the green line, and the community has begun evacuating residents. At least four firefighting teams and four aircraft have been dispatched to begin working on the blaze.
Police have said that two homes near Nataf have been destroyed by the fire and Fire Sergeant Udi Gal told i24news that they believe this fire was caused by tourists having a barbeque.
Additional fires have been reported near Kiryat Gat and Kibbutz Revadim in Southern Israel and close to villages outside of Acre and near Atlit and Nazareth in the North, as well as a few brush fires in the Galilee region.
Residents of certain neighborhoods in the northern coastal city of Nahariya have been advised Wednesday to stay indoors as a brush fire began spreading near the city.
Meanwhile, in the West Bank a fire is burning near the settlement of Dolev, where residents have been evacuated and crews have been working through the night. Two people from the settlement were treated for smoke inhalation. To the south, in the Etzion block of the West Bank a second fire is burning near the settlement of Rosh Tzurim.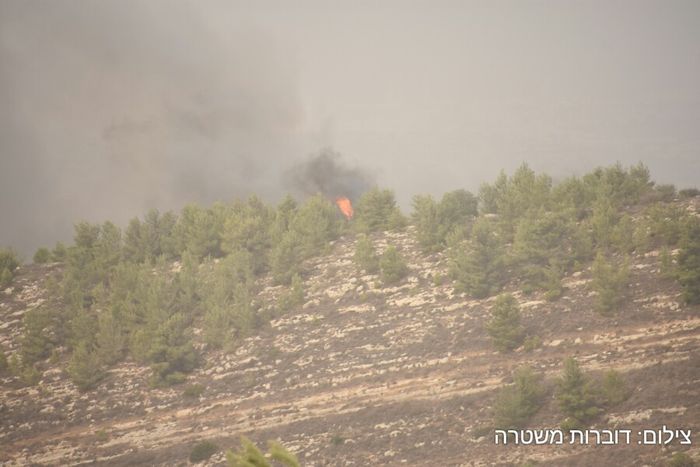 Residents of the hill top town of Zichron Yaakov were evacuated Tuesday as flames crept up the hill and into the streets.
Israel Radio reported that at least ten homes were destroyed by the fire and MDA reported treating at least 13 people for smoke inhalation including two children and two infants.
Videos and photographs of Zichron Yaakov showed thick smoke wafting through the town and flames encroaching on playgrounds and homes.
Due to the dangerous nature of the fire residents have been asked not to try to return to their homes until Friday.
Alsheich said that residents had "no cause to fear or to try and return to the danger area. It is important to continue to follow police instructions," while adding that additional police forces were sent to the area to prevent looting and theft.
Firefighters continued to fight the blaze through the night but strong winds sparked flares and pushed the fire to spread. As of Wednesday morning, at least 12 civilian and 13 military firefighting crews and four aircraft were working on the Zichron Yaakov fire, said Ynet news.
According to Channel 2 news, the potential threat from a forest fire was well known by the city council. The community council fire authority had advised over recent months that dead material be cleared out and that a four-meter buffer zone be created around homes. The recommendations were not acted upon, said the report, because of budgetary shortfalls.
Elsewhere in the country new fires continue to spring up, and there is no rain predicted in the weather forecast until Wednesday of next week.
The first fire to erupt late Monday near the co-existence community of Neve Shalom, between Jerusalem and Tel Aviv, has been extinguished.
You need to be logged in in order to post comments. Sign up or log in
November 24, 2016 10:35 AM
In a country where enforcement of public safety legislation is treated as a joke by enforcers and citizens alike, it is all too easy to try and scapegoat the usual suspects. As this so often is attributed to "cultural" reasons certain measures need to be immediately adopted to protect life and property from avoidable imperilment: 1. Activation and enforcement of speed limits appropriate to traffic density and road conditions on highways; 2) strict monitoring of traffic violations in urban environments; 3) prohibition of smoking in all public places and spaces; 4) prohibition of barbecues and cooking in all public places and spaces except for specifically designated areas; 5) legislation without enforcement is useless; 6) legislation is binding on all without exception or favor. These are a few of the actions needed to discipline the undisciplined and uncultured.