Artist behind Golden Netanyahu statue says work was 'test of free speech'
A 4.5 meter tall gilded statue of Israeli PM Netanyahu appeared in Tel Aviv's Rabin Square Tuesday morning
"I deal with freedom and freedom of speech," Israeli artist Itay Zalait told i24news on Tuesday, shortly after the Tel Aviv municipality toppled a four and a half meter tall gilded statue of Prime Minister Benjamin Netanyahu that Zalait had erected earlier in the day.
"I wanted to test is it possible in Israel in 2016 to say what I want to say and find out if I'm going to be sent to jail or it I could get away with it."
Crowds gathered around the gold effigy, taking selfies and gawking at the towering figure for hours after it was erected. When city officials came to pull it down, video shared on social media showed people gathering excitedly as it was toppled with some laying next to take more photos.
The statue evoked a wide range of reactions from amusement to disgust.
Reut, a 30-year-old resident of Tel Aviv told i24news that she decided to check the statue out for herself after seeing it on the news.
Its amazing, she notes, "but not in a good way."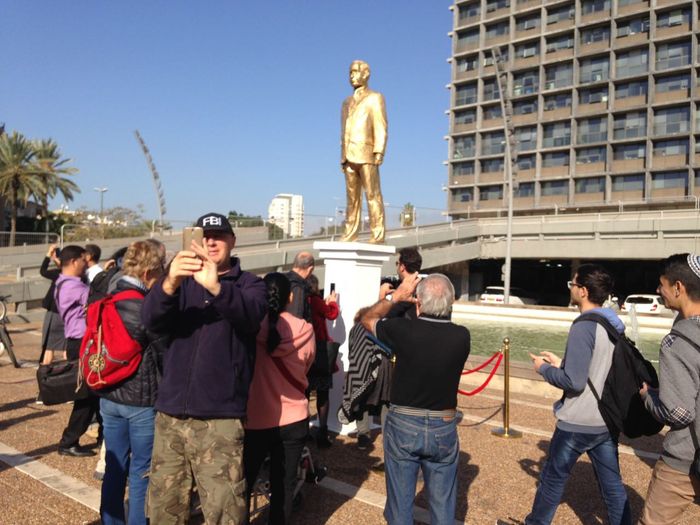 "I'm actually thinking about what other people think of it- whether people take it as sarcasim or whether they take it as something that we should do," Reut said, adding "I think its funny, I like it. Its art and I like the idea."
Former chairwoman of the Tel Aviv city council Yael Dayan told i24news that the statue is a "provocation" which needs to be "removed immediately."
"It's a provocation, the municipality is going to remove it and it's a pity that they didn't do it immediately," she said. "The sick idea of putting a golden calf --a statue of Benjamin Netanyahu in Rabin Square, which is the square where Rabin was assassinated upon the incitement of Netanyahu- he is a winner, a golden calf of the bible and people are what, expected to respect it?"
"If it is a joke it is a bad joke," she adds. "If it is not a joke it is illegal and should be removed immediately."
Photographs of the statue showed the infraction notice posted on the statue warning the artist to remove the piece, and Dayan said that if they do not remove by 13:00 (1100 GMT) the city will.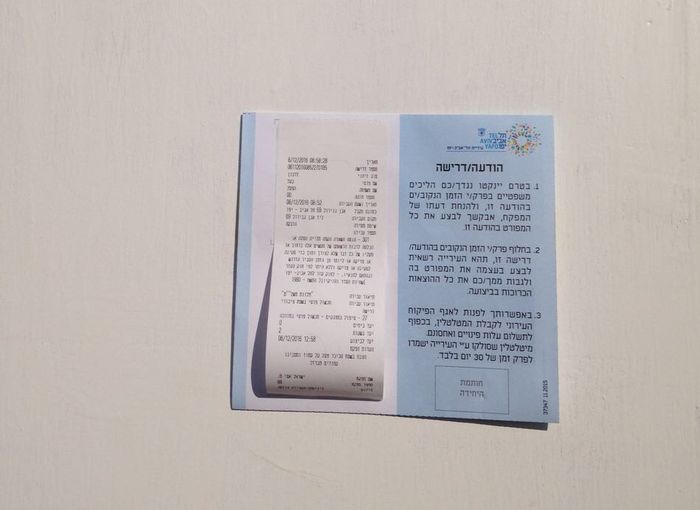 Culture Minister Miri Regev slammed the piece in a Facebook post, writing that the artist was "detached from reality" and that the statue is only significant for those "whose only golden calf is the hatred of Netanyahu."
Responding to the criticism from the culture minister, Zalait told i24news that Regev missed the point.
"That wasn't the point," he explains. "Im dealing with art, it is a political artwork -- I'm dealing with the effect of the action and I think she got it wrong."
He goes on to say that "there are two-sides-- it could be possible that part of the people seriously would really like the power of the leader standing in the center of Rabin square and I saw a lot of people getting a lot of power and inspiration from it."
Zalait explained to Israel's Channel 2 that it took three months to complete the project, which they undertook of their own accord.
The artist added that the golden Netanyahu statue is "just the beginning."
You need to be logged in in order to post comments. Sign up or log in
December 6, 2016 12:25 PM
I think that this experiment is healthy. Freedom of viewpoint and opinion are being trampled on. A viewpoint should not be criminalized. The artist is gauging reactions....will there be only shaking of heads with wry smiles and a removal of the statue? If so, then that is good. Will there be reviling and criminalization of the artist and the viewpoint expressed by the statue? Then that is bad.
Socialists pack your bags, there is no future for any of you in Israel or Europe for that matter. Try Cuba or North Korea.