Hundreds across Israel protest Bedouin home demolitions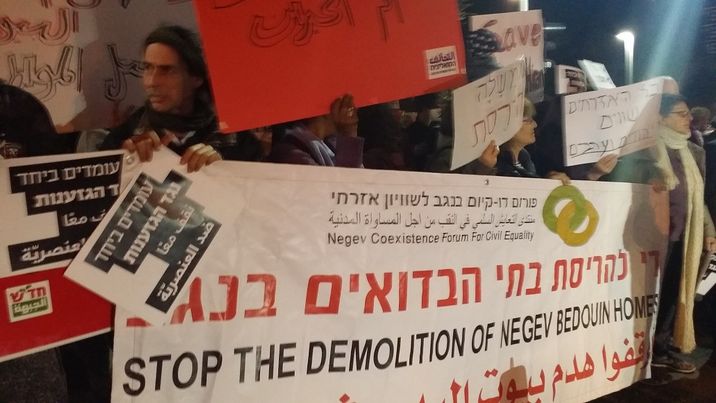 Demontrators in Tel Aviv protesting the demolition of Bedouin village on 1/18/2017
Max Schindler
Tensions ran high after an incident that left a Bedouin man and a police officer dead
Hundreds of left-wing demonstrators gathered across Israel on Wednesday evening to protest plans to demolish an Arab Bedouin village.
Earlier in the day, police prepared to bulldoze illegally-built structures in the southern Bedouin village of Umm al-Hiran. The area is slated to be replaced by a new Jewish town.
In Tel Aviv, protesters began their demonstration outside the governing Likud party's headquarters, along with a separate protest in historically Arab Jaffa. The demonstration was held under the slogan, "Emergency protest! Stop the killing of civilians and the demolishing homes!"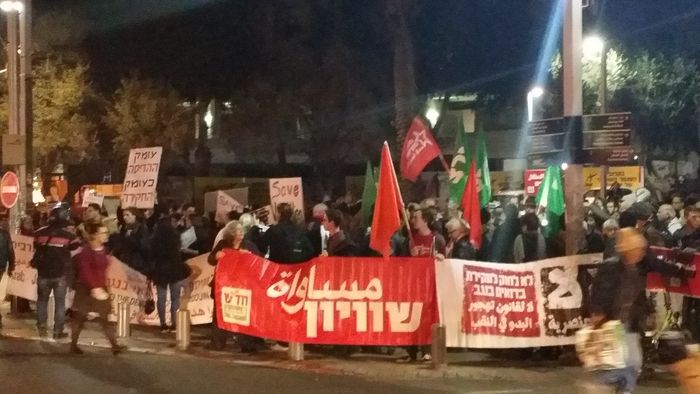 Two members of Israel's parliament spoke, Joint List MK Dov Khenin and Meretz MK Issawi Freij, rousing the crowd into action.
A few miles to the south, in Jaffa, protesters unfurled Palestinian flags and chanted in Arabic for justice and against military occupation. Separate protests also occurred in Nazareth and Wadi Ara.
Haia Noach, director of the Negev Coexistence Forum and one of the organizers of the event, told i24news that the protest came in response to clashes earlier in the day, which left an Israeli police officer and an Arab Bedouin man dead. Among others, a member of Israel's parliament, Joint List's Ayman Odeh, was injured.
Another organizer, Alon Lee-Green, said that co-existence is the message.
"We need to fight the Israeli government's attempts to characterize Arabs as enemies. We need to stand together, Jews and Arabs, so we can actually picture a better society."
The turnout was brisk for short planning, Lee-Green said.
While the main protest was proceeding near Dizengoff Center, a handful counter-demonstrators gathered across the street, unfurling Israeli flags. A bicyclist glided by, shouting, "Stop living in a movie!"
Other groups behind the protest included the left-wing political party Meretz, the Communist party, and a left-wing NGO, Standing Together.
Max Schindler is an i24news reporter