Tattoos with heritage: Jerusalem artist inks pilgrims to the Holy Land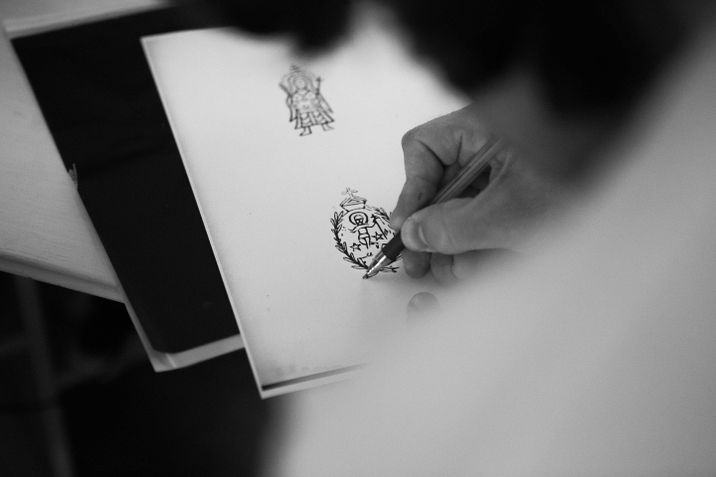 Wassim Razzouk traces a traditional religious motif based on a hand-carved olive wood stamp
Shiran Golan
The Razzouks' hand-carved olive wood blocks are considered the beginning of the modern stenciling technique
In the heart of Jerusalem's Old City, Christian Palestinian tattoo artist Wassim Razzouk is carrying on his family's centuries old heritage of tattooing pilgrims to the Holy Land, a tradition that has been handed down through the Razzouk family from generation to generation for some 700 years.
In fact, Wassim's great, great grandfather is widely recognized as the first tattoo artist not only in the City of Jerusalem -- but in all of Israel.
"My ancestors come from Egypt. We are Copts. And this is a tradition that has been done in the Christian Church in Egypt for centuries," Wassim explains.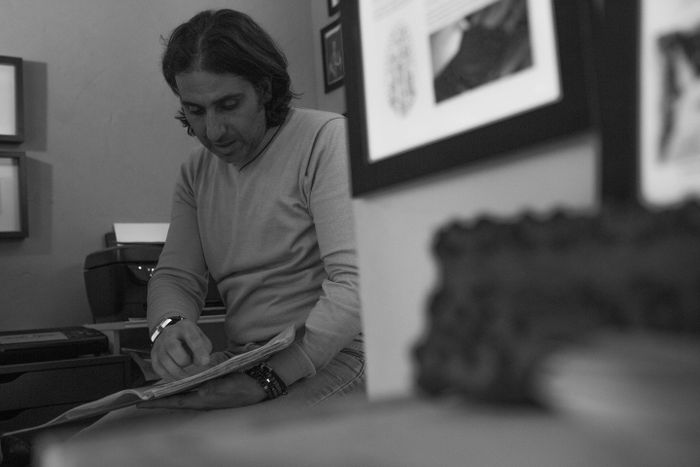 Christian pilgrimage tattoos date back to the early 7th century, to the spread of Islam into Egypt, which at the time was a mainly Coptic Christian society. After being conquered by Muslim armies, many of Egypt's Copts were forced to convert to Islam, coerced by threats and high taxation of non-Muslims.
But some resisted, and were tattooed by the state with a cross on their inner right wrist identifying them as Christians -- a practice borrowed from the ancient Greeks who tattooed convicts on their faces. Over time, Coptic Christians adopted this tradition and began tattooing themselves with the cross, and for many centuries, the Coptic Churches would only grant entry to those who could prove their Christian identity with a tattoo.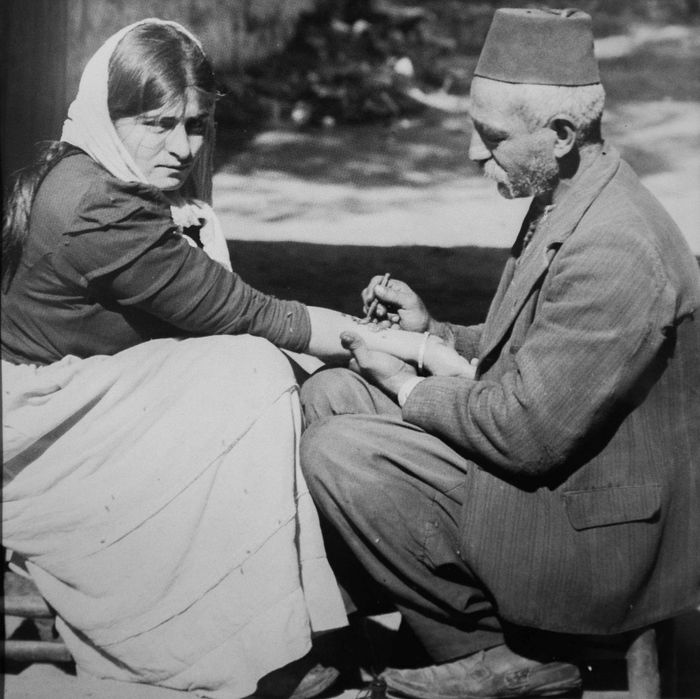 When Wassim's great, great grandfather settled in Jerusalem in the early 18th century for trade, he brought tattooing with him and began marking those who had made pilgrimages from all over the world to the Holy City of Jerusalem.
"These days it's easy, you go on Google and you buy a ticket and come here the next day. But hundreds of years ago it wasn't like that," Wassim explains. "You would prepare all your life for a trip like this and it would take you months to get here. This was an experience of a lifetime. Not many people could make it more than once."
"The tattoo is a symbol of their journey to the Holy Land. It's a symbol of their identity and it's something they want to take home as a souvenir, as proof, and as a source of pride of their Christianity and of their pilgrimage to the Holy Land," Wassim says, comparing the practice to the Catholic Church's issuing of pilgrimage certificates. The Orthodox Church, to which most Coptic Christians belong, does not issue such certificates.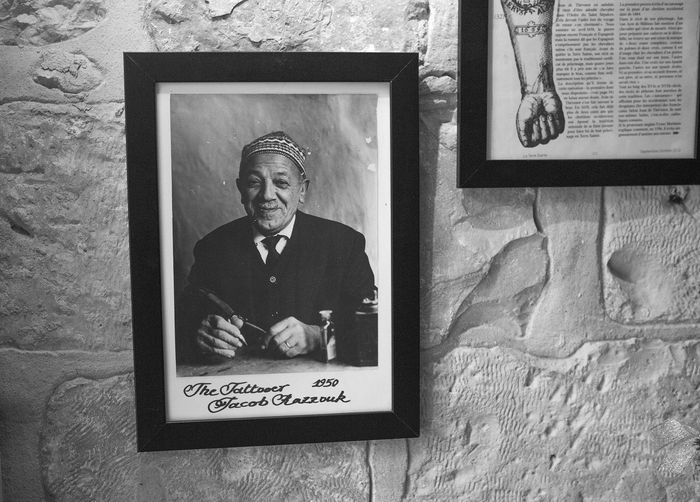 Today, for many Christian pilgrims to Jerusalem, a tattoo is a must. Wassim says that during Easter pilgrimages, he might tattoo groups of more than 50 people who wait hours in line to be inked with traditional designs such as the emblematic Jerusalem cross (also known as the "Crusaders' cross" or "Five-fold Cross") as well as the date of their pilgrimage.
"Some pilgrims don't want it, but they do it regardless because they have seen it on their parents' and grandparents' arms all their lives. Nowadays you see people that even come every year, and every year they tattoo a new date on their arm."
Traditional olive wood stamps
The Razzouks' impact on the art of tattooing is undeniable, and the family has been featured by numerous tattoo magazines in articles dealing with the history of the craft.
Wassim's grandfather, Yacoub Razzouk, was a carpenter by trade. Yacoub and his father before him hand-carved olive wood blocks with intricate religious motifs such as the crucifixion, resurrection, and the Virgin Mary, which would then be used to stamp the design onto the skin of the pilgrim.
"Those Coptic tattoo blocks are actually considered to be the very beginning of modern-age stenciling techniques," Wassim explains, adding that his grandfather Yacoub was also the first tattoo artist in Israel to use an electric tattoo machine (powered by a car battery) and color ink.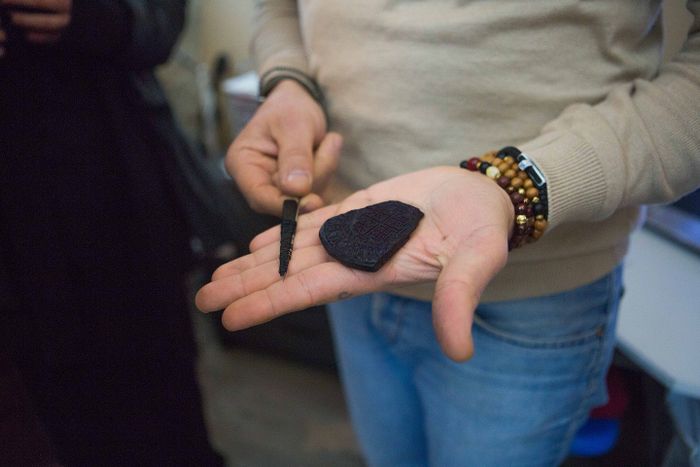 Wassim still has many of the wooden blocks, hundreds of which were catalogued by historian John Carswell in 1956. Others have found their way into the hands of collectors and tattoo artists in San Francisco, London, Paris, and Amsterdam, where they were traded for modern tattoo machinery.
Despite the Razzouk family's long heritage of tattooing, Wassim is the first to have pursued the profession full-time. Today, Wassim's east Jerusalem studio, "Razzouk Ink - Tattoos with Heritage" is a landmark, with tour guides regularly stopping to explain the studio's historic and cultural significance on the way to the nearby Church of the Holy Sepulchre.
"Lately there has been a lot of demand for using those wooden blocks. Interestingly, more so from Western pilgrims," Wassim says.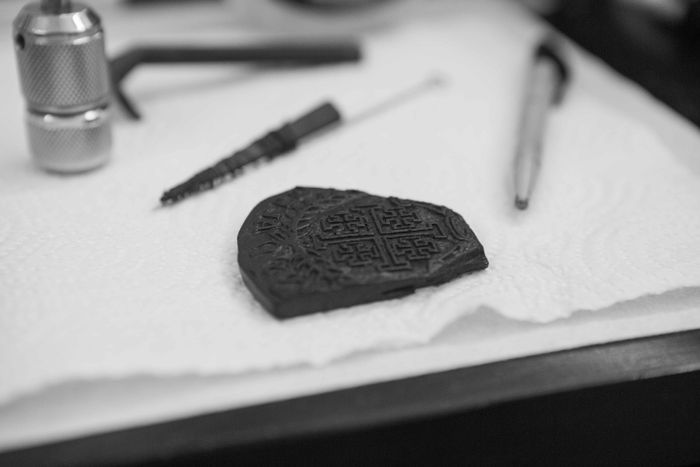 "In the West, tattoos have become so commonplace that it is very rare to see somebody not tattooed. Now, you see more and more people going back to old school tattoos… Sailor Jerry tattoos with thick outlines and strong colors. And when people come here and they see those blocks, this is much more authentic and ancient than any sailor Jerry tattoos," he adds.
For visitors from Arabic countries, a Jerusalem pilgrimage tattoo has even more significance.
"Originally because they are from Arabic countries they could never really make it here. But now that they have become citizens of Sweden, or have immigrated to Canada, they can make it to Israel. So they come here and they get tattooed," Wassim says.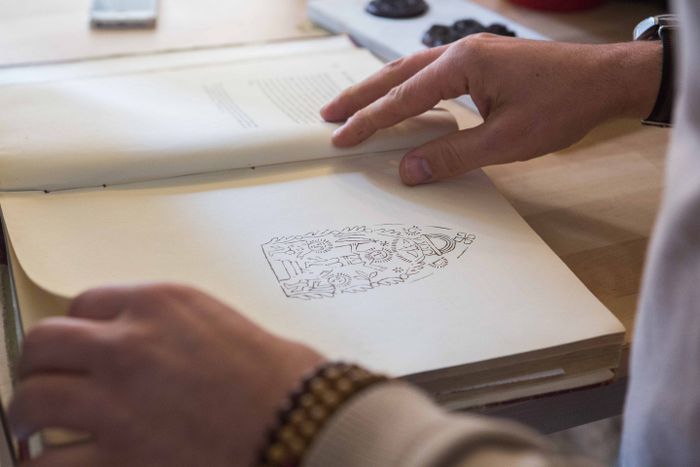 Not a typical tattoo experience
Despite his prominence on Israel's tattoo scene, Wassim differentiates himself from other artists in the country, especially from those working out of the modern metropolis of Tel Aviv.
Wassim declined an offer to participate in Tel Aviv's tattoo convention, saying he felt it was "not my world." On the other hand, Razzouk family artifacts were recently featured in an exhibit at Tel Aviv's Eretz Israel Museum, which Wassim felt was "more historic and relevant to us."
"I don't consider myself to be a typical tattoo artist with a typical clientele. We tattoo religious pilgrims, elderly people, priests and monks," he says, adding proudly that his grandfather once tattooed the then-leader of Ethiopia.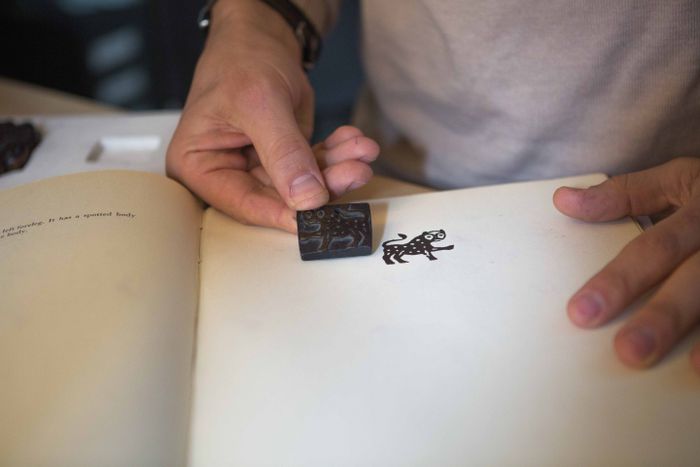 Wassim also recently participated in non-profit organization Artists4Israel's "Healing Ink" initiative, which offered free tattoos to Israeli victims of terror and war.
"It was a very touching and beautiful experience," Wassim says of the event, in which he tattooed a Jewish prayer on the wrist of a survivor of a brutal stabbing attack. "I thought it would be much stronger that a Palestinian tattoo artist would tattoo an Israeli woman who was attacked by Palestinians. It's a very strong message that we can send out, that Arabs are not all terrorists, and Israelis are not all occupiers."
The Razzouk family legacy has thrust Wassim's shop onto nearly every tattoo aficionado's radar. Wanderlust magazine even named his shop as among one of the 5 best destinations in the world to get tattooed.
"It's strange when you say Israel is among the top 5 destinations in the world for tattooing, and then you relate to Judaism, which prohibits tattooing," Wassim says.
Nonetheless, demand for Wassim's work has only increased, with religious pilgrims, regular tourists, and locals alike eager to mark their bodies with the most traditional and culturally authentic relics available in the Holy Land.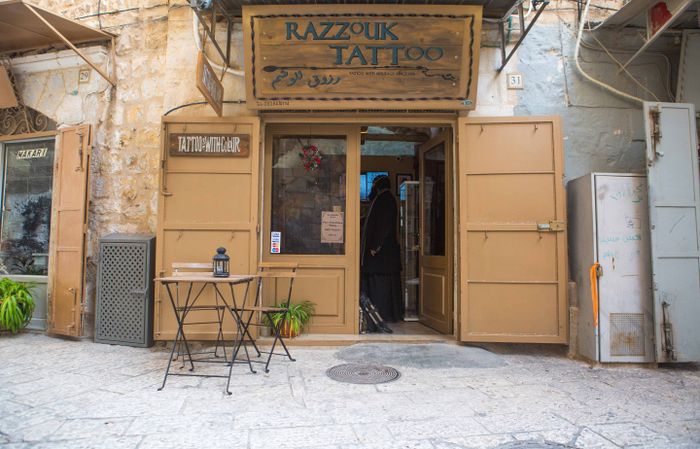 Razzouk Ink is located at 31 St. George Street near Jaffa Gate in the Old City of Jerusalem.
Emily Gatt is a journalist and news editor for the i24NEWS English web desk.