Israel launches national food security program benefiting over 10,000 families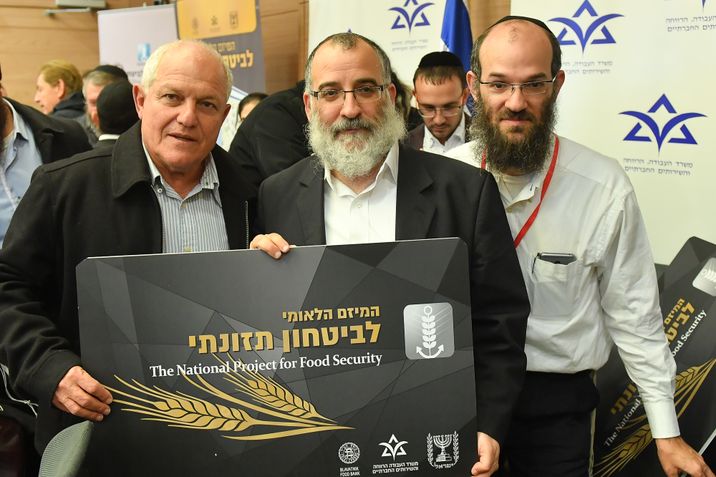 Welfare Minister Haim Katz with Mendy Blau (center) and Tzvi Blau (Right) of Colel Chabad
Israel Bardugo
Project to use food assistance as means to stop hunger and downward spiral many families face into poverty
Israel announced on Tuesday the launch of the new National Food Security Project which will benefit more than 10,000 needy families across the country.
A report carried out by Latet, an umbrella organization of NGOs which was published in December revealed that about 2.4 million citizens of Israel, comprising about 29 percent of the country's population, live in poverty.
More than a million of them are children, with some 35 percent of children living in poverty, said the report.
The National Food Security Project aims to use food assistance as a means to stop both hunger, and the downward spiral many families face into poverty.
"In 2016, we allocated 225 million shekel worth of food for schools, employment centers for the disabled and senior citizen centers in addition to the 55 million in food packages. We are now embarking on an initiative whose purpose is to provide needy families with food security throughout the year in a respectful way," Welfare Minister Haim Katz said in a statement. "This is a project that includes all segments of our society – North, South, Center, Ultra Orthodox, Secular, Jews and Arabs. I hope that these activities are successful and hope to expand the program to more families across the country."
Participating families will be supplied with monthly assistance totaling 500 NIS ($133).  Half of the monthly allowance can be used to purchase fresh produce from Leket Israel- the national food bank and food rescue service.  The second half of the monthly allowance can be spent at approved grocery stores, with exception of purchasing alcohol or tobacco products.
Gidi Kroch, CEO of Leket Israel hailed Minister Katz's "courage in recognizing this problem and taking the necessary actions to solve it."
"This is not only a courage of social responsibility but also of economic responsibility. With the support of the Welfare Ministry, in partnership with Colel Chabad, Leket Israel will be providing the weakest population in Israel with fresh rescued produce," Kroch continued, adding "Leket Israel is pleased to play an integral part in this very important first step of governmental support for food rescue to benefit Israel's poor."
The Welfare ministry was allocated a yearly budget of 60 million NIS ($16 million) to fund the project. The initiative will be managed and coordinated by the longest operating social services organization in Israel, Colel Chabad, and its food distribution division Eshel Jerusalem.  Colel Chabad has been operating since 1788.
Mendy Blau, Israel Director of Colel Chabad said that they are "honored" to have been chosen to be a part of the project. 
"As the oldest continuously run organization in the country providing food and support for those in need, we are honored to have been chosen to embark on this major first step in revolutionizing food security across Israel" Blau said. "This is the first time that such a large scale program has been initiated by the Ministry, working to help those suffering from food insecurity in a meaningful and respectful way. Our ultimate goal is not just about giving handouts but inspiring these families to change their habits to become more self-sufficient and escape poverty. We thank the minister for his sincerity and for bringing this important project to the forefront of public concern."